About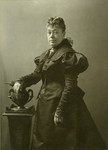 The papers of Jane L. Stanford pertain largely to the founding and administration of Stanford University, along with her personal and social affairs; included in the papers are correspondence, business records, legal and financial papers, speeches, news clippings, and biographical materials.
Works
ALS new edition of Mrs. Hurst's books Jan 27, 1891 ALS would like a Leland Stanford Memorial Hall at his university Aug 10, 1893 ALS personal note Jan 19, 1894 Metadata: Available Online: https://purl.stanford.edu/cy308ny6053 Title: Correspondence (incoming): Hurst, John F.,...
8 pages: 13% indexed, 50% transcribed, 38% needs review
ALS congratulations on opening of university Oct 17, 1891 ALS inquires after Leland's health Jan 13, 1893 ALS personal Oct 3, 1893 ALS sending some verses undated Metadata: Available Online: https://purl.stanford.edu/tm202wp6128 Title: Correspondence (incoming): Ingalls, Ethel, (see...
12 pages: 0% indexed, 33% transcribed
ALS to Camille Leach. Reorganization of Roble Hall. Oct 23-24, 1891 ALS re. first commencement and graduates. June, 24, 1892 ALS re. university affairs; visit to Hopkins Seaside Laboratory; new Univ. of Chicago; marriage of Chas. Edward Hodges. Aug 1, 1892 ALS. sympathy note re. death of...
34 pages: 0% indexed, 62% transcribed, 3% needs review
Telegram. Congratulations. March 2, 1896 ALS. Invitation to come see the Faculty. March 4, 1896 TLS. re. separate county school district for Stanford. Mar 5, 1898 Telegram. Unauthorized statement in Chronicle. Mar 23, 1898 TLS. Mr. Cox associated Stanford with Summer School in Pacific...
18 pages: 0% indexed, 83% transcribed, 17% needs review
TLS. re. needs of the Engineering depts. 20-Mar-03 ALS. re. Dr. Stillman, Dr. Marx, other faculty matters, new baby 2-Mar-04 ALS. re. controversy over location of Junior Ball. 11-Mar-04 Memo re. use of Leland Stanford Jr. Scholarship. July 16, 1904 TLS. re. Rev. R. J. Campbell. July...
28 pages: 0% indexed, 18% transcribed
Kappa Kappa Gamma, telegram [no signature]. Congratulations March 2, 1896 Keane, John, TLS Congratulations March 9, 1896 Kearney, Denis, ALS would like to get back his letters to Sen. Stanford July 8, 1893 Keesling, F.V., ALS re. his history of the passage of the constitutional...
22 pages: 0% indexed, 9% transcribed
Knott, Regina, ALS thanks for photograph undated Knox, Mrs. G. R., ALS congratulations, news of her father A. L. Downer March 6, 1896 Kohl, Mary, ALS appreciation for kindness on death of her father January 16, 1894 Kohl, Mrs. William, 2 telegram congratulations June 29, 1895; March 3,...
21 pages: 5% indexed, 90% transcribed, 10% needs review
Telegram re. Mexican Int. RR. 6-Aug-01 TLS re. Pacific Improvement Co.; finance; labor troubles in city. 7-Aug-01 TLS Salviati and Co. 4-Nov-01 ALS re. Mr. Loeser's request for soil fill for his campus residence. 14-Nov-01 TLS re. carpentry work on the Natural Sciences bldg....
26 pages: 0% indexed, 73% transcribed
Telegram. Measurements for bedroom. 14-Jan-02 TLS financial matters; Memorial Church construction and other construction on campus. 14-Jan-02 TLS window screens, leave terrace contract until you return, certificate of deposit received 16-Jan-02 Telegram re. draperies 17-Jan-02 ...
33 pages: 0% indexed, 45% transcribed
Lawton, Jennie Lathrop ALS re. article on Lathrop genealogy in Albany newspaper. 1-Oct-02 Lawton, Jennie Lathrop ALS couldn't visit because of illness undated Lawton, Geo. P. ALS re. Shields genealogy May 3, 1902 Lawton, Geo. P. ALS re. admission of son to Stanford University...
13 pages: 0% indexed, 69% transcribed, 8% needs review
Displaying Work 81 - 90 of 180 in total
Subject Categories