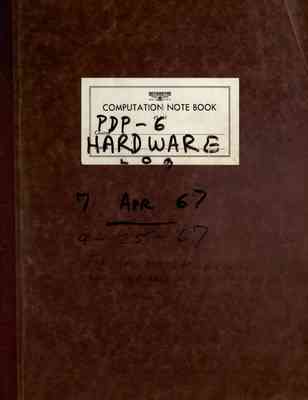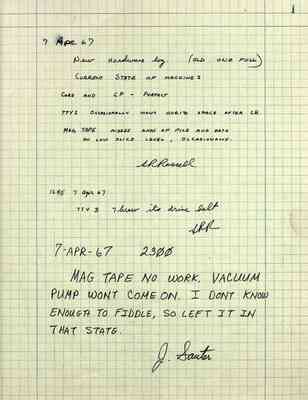 1
7 Apr 67 New Hardware log (OLD ONE FULL)
CURRENT STATE OF MACHINE:
CORE AND CP - PERFECT
TTY2 OCCASIONALL WONT HORIZ SPACE AFTER CR.
MAG TAPE MISSES ENDS OF FILE AND DATA ON LOW SLICE LEVEL, OCCASIONALLY.
S R Russell
1245 7 Apr 67
TTY 3 Threw its drive belt
S R R
[end first writer] [second writer]
7 - APR - 67 2300
MAG TAPE NO WORK. VACUUM PUMP WONT COME ON. I DONT KNOW ENOUGH TO FIDDLE, SO LEFT IT IN THAT STATE.
J. Sauter
Last edit 7 days ago by
Jannyp