About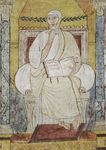 We're incredibly proud to have been able to loan eleven manuscripts to the British Library for their exhibition, Anglo-Saxon Kingdoms: Art, Word, War, making the Parker Library the single largest lender to the exhibition as a whole. As the holder of a quarter of all Old English Manuscripts that survive to the modern day, our loans form the core of the exhibition, from one of the earliest objects, the sixth century Gospels of Saint Augustine (MS 286) in the second case, to the portrait of King Æthelstan offering a book to Saint Cuthbert (MS 183), to the haunting polyphony of the tiny Winchester Troper that can be heard for the first time in almost 1000 years (MS 473). Billed as 'once in a generation' exhibition, we're proud that the Parker's loans take their rightful place alongside treasures from across Europe clearly showing that the 'Dark Ages' really weren't 'dark' at all. Here you have the chance to try your hand at reading the texts themselves, of turning the pages, and joining an international effort to transcribe these works, making them more accessible for generations of students and readers to come.
You can explore the whole collection at https://parker.stanford.edu
Works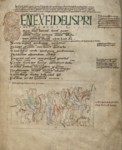 CCCC MS 23 consists of two volumes bound together. The first is a famous illustrated manuscript of works by Prudentius (fl. 384-410), most significantly his Psychomachia, a poem about spiritual warfare between personifications of the vices and virtues. Many line drawings in coloured ink...
336 pages: 14% transcribed, 11% needs review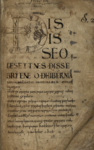 MS 41 contains the Old English translation of Bede's Ecclesiastical History. This text is one of those made as part of Alfred the Great's campaign to translate into English "those books most necessary for men to know". MS 41 was written in the first half of the eleventh century probably somewhere...
504 pages: 3% transcribed, 16% needs review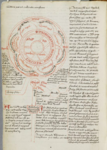 CCCC MS 100 contains sixteenth-century transcripts, predominantly of medieval texts. Of particular interest is the transcript of Asser's De rebus gestis Ælfredi regis which was transcribed from London, BL MS Cotton Otho A. XII, a manuscript which was destroyed by a fire in Sir Robert Cotton's...
400 pages: 8% transcribed, 1% needs review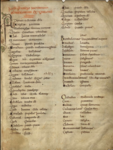 The Corpus Glossary, CCCC MS 144, written in the early ninth century, is an early witness to the Old English language, and also attests to Latin learning in England at this time. It contains several glossaries; most of the glosses are in Latin, but there are over 2000 in Old English. It is...
148 pages: 11% transcribed, 3% needs review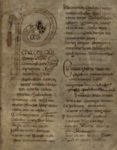 In CCCC MS 173 is found the Parker Chronicle, one of the most important manuscripts for our understanding of Anglo-Saxon history. The Anglo-Saxon Chronicle, the earliest history written in English, seems to have originated under the impetus of Alfred the Great's educational reforms, and a core...
178 pages: 7% transcribed, 2% needs review
CCCC MS 183 is one of several manuscripts associated with Æthelstan, King of the English (924/5-39), but the only one of these written in England in his reign. He seems to have commissioned it for presentation to the community of St Cuthbert, which at this point was at Chester-le-Street in...
204 pages: 17% transcribed, 52% needs review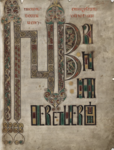 This manuscript constitutes the surviving portion of the 'Cotton-Corpus' Gospels; the larger part, now London, BL MS Cotton Otho C. V, was badly damaged in the Cottonian fire of 1731 and only burnt fragments remain. A bifolium of canon tables, probably also from this manuscript, survives as...
84 pages: 18% transcribed, 17% needs review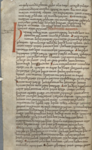 CCCC MS 201 is a composite volume which can be divided chronologically into three parts, probably first bound together by Parker. Pp. 1-7 and 161-7 are the oldest, written in the early eleventh century; they contain a fragment of the Old English Regularis concordia, the code of monastic...
280 pages: 4% transcribed, 9% needs review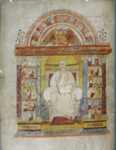 CCCC MS 286 is the famous manuscript known as the St Augustine Gospels. This is a late sixth-century gospel book which has for centuries been held to have been sent by Pope Gregory the Great with Augustine of Canterbury (d. 604) when he arrived to christianise the English in 597. Certainly the...
566 pages: 3% transcribed, 4% needs review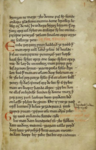 CCCC MS 383 is a late eleventh- or early twelfth-century manuscript, possibly from St Paul's Cathedral in London. It contains a very early version of the Anglo-Saxon law codes as they were gathered together to form part of the textual tradition known as the Quadripartitus. Parker was no doubt...
164 pages: 23% transcribed, 4% needs review
Displaying Work 1 - 10 of 11 in total