About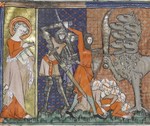 Welcome to the 2nd annual Parker Transcribathon! If you're working with us beyond the boundaries of the Reading Room here at the Parker, join the conversation at https://stanford.zoom.us/j/793068504!
Getting Started
Register for a free account at From the Page here: https://fromthepage.com/users/sign_up, this will allow you to see changes that you make and are made by others
In a new tab, open http://bit.ly/CCCCMS20 and select a page that is open for transcribing. Add your name in the second column (optional) and set the third column to 'In progress'.
Return back to From the Page, select the page you indicated in the Google sheet, and start transcribing!
Works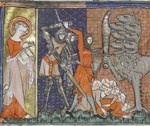 CCCC MS 20 is richly illustrated Apocalypse, made for Sir Henry de Cobham in the decade before his death in 1339. He kneels in the historiated initial at the beginning of the book. It subsequently passed to Juliana de Leybourne, Countess of Huntingdon (d. 1367) who bequeathed it to St Augustine's...
166 pages: 26% transcribed, 12% needs review