Description
A Brayakaulung man who attended the 1884 Jeraeil. In 1867 Billy gained some local notoriety for rescuing a Mr McLachlan who was swept into the Macalister River with his horse. Billy quickly prepared a canoe, got McLachlan out of the water and returned them both to shore. The reporting on this rescue not only highlighted Billy's skills, but his calm demeanour in dealing with a drowning man who was unable to swim. Rev Hagenauer noted in 1880 that Billy remained 'left out' living on Country and not in Ramahyuck. In 1887 Billy accompanied Howitt on a journey of 'discovery' as guide and knowledge holder across Billy's Country to Lake Tali Karng near Mount Wellington, a place Billy had childhood memories of. He shared knowledge of plants and place names as well as other cultural knowledge with Howitt. Billy died shortly after his travels with Howitt.
References:
A. W. Howitt, 'The Tourist', The Australasian, 23 April 1887, p. 3, accessed 25 June 2020, http://nla.gov.au/nla.news-article142179105.
'Country News', Argus, 17 October 1867, p. 7, accessed 25 June 1867, http://nla.gov.au/nla.news-article5780833.
'Death of an Aboriginal', Gippsland Times, 3 June 1887, p. 3, accessed 25 June 2020, http://nla.gov.au/nla.news-article62247451.
Billy Wood, Inquest Deposition Files, State Coroner's Office, PROV, VPRS 24/P0 unit 514, item 1887/668.

Related Subjects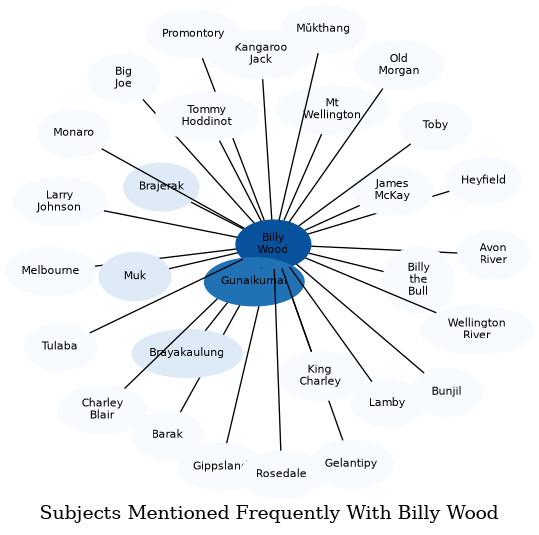 The graph displays the other subjects mentioned on the same pages as the subject "Billy Wood". If the same subject occurs on a page with "Billy Wood" more than once, it appears closer to "Billy Wood" on the graph, and is colored in a darker shade. The closer a subject is to the center, the more "related" the subjects are.