Description
Lamby was recorded as a Tatungalung man by Lake Tyers manager John Bulmer. He had two wives, Mary or Yetbun and Ellen. Ellen was recorded by John Bulmer as being from Tara and Mary from Bruthen. By the time of the Jeraeil in 1884, Lamby's wife Mary had died. Lamby attended the Jeraeil and played an important role, being an initiated man. He was a skilled canoeist and whilst is recorded at spending time at Lake Tyers and Ramahyuck reserves, he also lived away from them, continuing to move across country. One journalist recorded meeting Lamby living near Cunninghame in the late 1880s, and described Lamby's skill at 'spearing flounders for breakfast' and as 'a good companion on a visit of duck shooting to Lake Bunga'. John King recalled Lamby living on country at Metung in the 1880s. He also travelled to Melbourne on at least one occasion, although became ill on the journey. Lamby died at Lake Tyers in 1895 aged around 80 years of age.
See:
http://nla.gov.au/nla.news-article138024366
http://nla.gov.au/nla.news-article4065641
Fourteenth Report, Board for the Protection of Aborigines, John Ferres, Government Printer, Melbourne, 1878, p. 9
Thirty-first Report, Board for the Protection of Aborigines, Robt. S. Brain, Government Printer, Melbourne, 1895, p. 8.

Related Subjects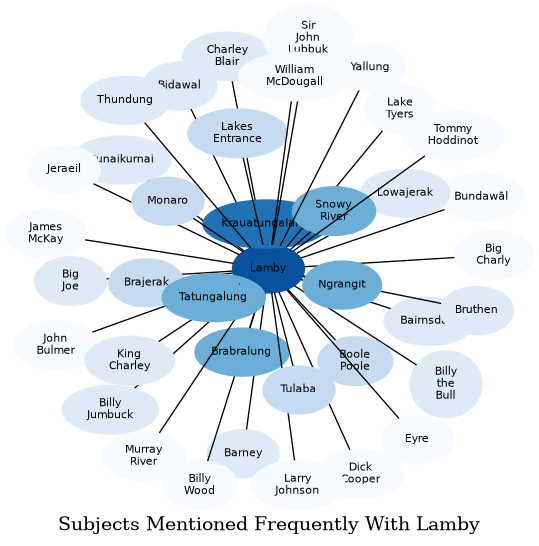 The graph displays the other subjects mentioned on the same pages as the subject "Lamby". If the same subject occurs on a page with "Lamby" more than once, it appears closer to "Lamby" on the graph, and is colored in a darker shade. The closer a subject is to the center, the more "related" the subjects are.