Description
Possibly referring to Pat Coady Buckley who had leases at Coady Vale (1843-1873), Tarra Creek (1844-1851) and Maryville (1861-1872). He also had leases at Tongeo Mungie (1839), Ensay (1839-1845), Woologoramerang (1851-1859; 1866-1874), Neoyang (1862-1867), Benambra (1862-1875), Gelantipy (1864-1875). He died in 1872.
Alternatively, it could reference Edmond Buckley who leased Gammon Creek from 1844-1858 - he died in 1859.
Billis and Kenyon, Pastoral Pioneers of Port Phillip, p. 24.
Related Subjects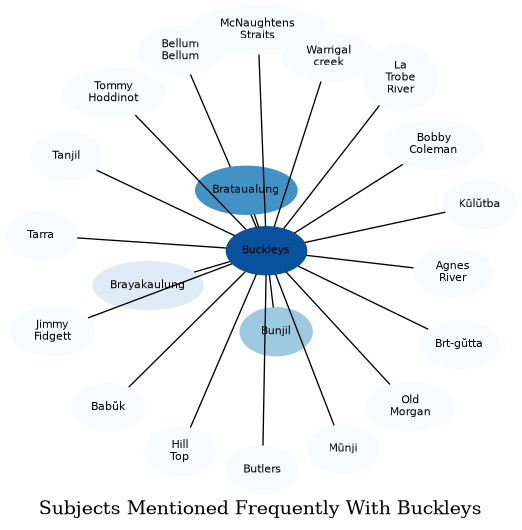 The graph displays the other subjects mentioned on the same pages as the subject "Buckleys". If the same subject occurs on a page with "Buckleys" more than once, it appears closer to "Buckleys" on the graph, and is colored in a darker shade. The closer a subject is to the center, the more "related" the subjects are.