Description
Healesville and Yarra Glen Guardian (Vic. : 1900 - 1942), Friday 19 March 1909, page 2
OBITUARY. MR JOSEPH SHAW. The death on Monday last of Mr Joseph Shaw, J.P., has removed one of Healesville's foremost citizens. For some considerable time the deceased gentleman has not enjoyed good health, and latterly he had become very frail and was confined to his bed for some time. He was in his 70th year. The funeral took place on Tuesday after-noon, when the remains were followed to the Healesville cemetery by a large procession of the late Mr Shaw's fellow townsmen and friends. A short service was conducted at the house prior to the funeral by the Rev. R. M. Brett, who referred touchingly to Mr Shaw's career and dwelt particularly upon his life work, his mission among the aborigines of Victoria. Mr Brett also conducted an impressive service at the graveside. The funeral arrange-ments were carried out by Mr T. J. Phillips. Among the floral tributes was a handsome wreath from the Bowling Club, of which the deceased was one of the oldest members. The late Joseph Shaw has been very prominently identified with Heales-ville for 27 year, during which period he has superintended the Coranderrk aboriginal station. His calling was that of a missionary to the natives there ; it was his pleasure and joy. The natives loved and revered him, and the whole Coranderrk popula-tion demonstrated that love and reverence in their demeanor at the graveside. Their dusky faces bore pathetic expressions of sorrow at the death of him who had been to them a friend protector and counsellor. The late Mr Shaw has also taken an active part in public life, and he has been prominently identified with the me-chanics' institute (of which he was one of the founders), and the Bowling Club. A true Churchman, also, he had for many years officiated as lay representative of St. John's on the Synod. Only a short time since he relinquished the charge of Coranderrk, and since then has been living privately at Kooyura, on Lilydale-road. He leaves a widow, two sons and two daughters, for whom the deepest sympathy has been expressed.
https://trove.nla.gov.au/newspaper/article/60188814#

Related Subjects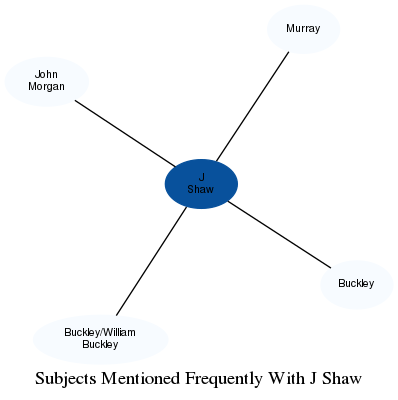 The graph displays the other subjects mentioned on the same pages as the subject "J Shaw". If the same subject occurs on a page with "J Shaw" more than once, it appears closer to "J Shaw" on the graph, and is colored in a darker shade. The closer a subject is to the center, the more "related" the subjects are.