Description
AIATSIS code: D48
AIATSIS reference name: Parrintyi
See: https://collection.aiatsis.gov.au/austlang/language/d48
Linguist Luise Hercus noted ALP Cameron was an early source of recording information about the Parrintyi after colonisation. She stated Parrintyi means 'belonging to the scrub'.
Reference:
Luise Hercus (1989) 'Three Linguistic Studies from Far South-Western NSW', Aboriginal History, vol. 13, no 1, pp. 45-62.
See also: 106758
Related Subjects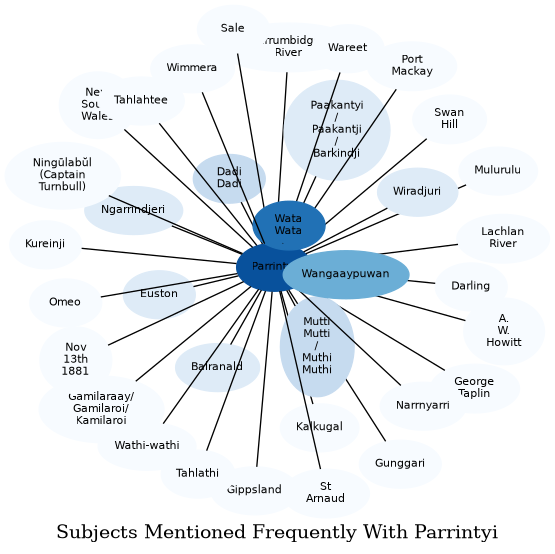 The graph displays the other subjects mentioned on the same pages as the subject "Parrintyi". If the same subject occurs on a page with "Parrintyi" more than once, it appears closer to "Parrintyi" on the graph, and is colored in a darker shade. The closer a subject is to the center, the more "related" the subjects are.