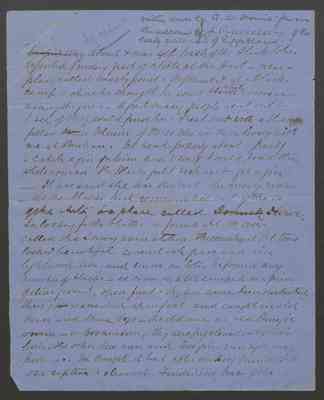 [written at top of page] Written down by A. W. Howitt from the account by J. C. Macleod of the early settlement of Gippsland.
[In April 1849 - crossed out] About Xmas 48 [??] of the Black Police reported finding part of a bible at the [??] - near a place called Marly Point. He found it at a Blacks camp - where he thought he saw a [black- crossed out] white woman among the gins. A great many people went out to see if they could find her. I went out with a black fellow Ulmin of Omeo who was then living with me at Buchan. We went poking about – partly to catch a gin for him and to see if I could find the white woman. The Blacks greatest wish was to get a gin. - It was said she was down at the Snowy river - that the blacks had removed her out of the way of the whites to a place called [Dooruck - crossed out] Duroc. In looking for the Blacks we found what is now called the Snowy River station. The country at that time looked beautiful covered with grass and nice lightwood trees, and emus in lots. We found any number of blacks – we came on a lot camped in a piece of clear ground, open forest – they had never been disturbed there; we sneaked up on foot and caught an old man and three boys – the old man was old Bunyil woorin – or Brokensun. They were frightened out of their lives. The other two men and two gins ran right away from us. We thought it best after making friends with our captives to clear out. Finding no trace of the
Last edit 2 months ago by
ALourie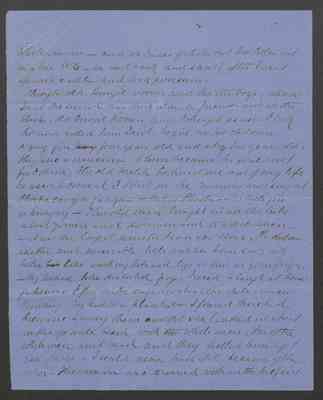 2 white woman – and no traces of whites but two letters cut in a tree W G.- we went back and shortly after I went up with cattle and took possession.
Through old Bunjil woorin and the two boys, when I went the second day there I made friends with all the blacks. Old Bunjil woorin and I changed names - I took his and called him Jacob, he give me two children a young gin [two y- crossed out] four years old and a boy two years old. They were a nuisance to him because he could not feed them. The old wretch bothered me out of my life he used to come at 3 o'clock in the morning and sing out Phoebe canyu ganyuce - that is Phoebe – the little gin is hungry – This old man brought in all the tribe about 70 men and 30 women and 15 or 16 children – it was the largest muster I ever saw there. The children were the most miserable little wretches I ever saw, with bellies like washing tubs and legs as thin as your finger – they looked like distorted frogs?. I used to laugh at them for hours. I then made enquiries about the white woman thinking they had her planted - I found there had been one among them and that she landed in a boat in the 90 mile beach with two white men. One of the white men went mad and they killed him to get rid of him. I could never trace what became of the other. The woman was drowned with her two half cast
Last edit 5 months ago by
ALourie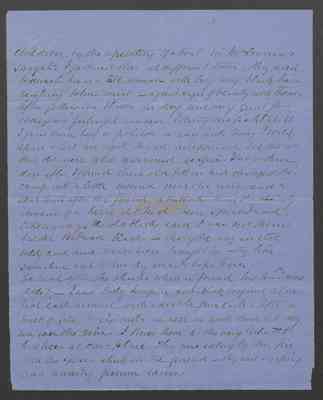 3 children by the upsetting of a boat in McLennans Straight. I gathered this at different times. They used to describe her as a tall women with long very black hair reaching to her waist - a great sign of beauty with them. After getting the blacks in they were very quiet for 10 days or a fortnight - used to bring me fish for which for which I gave them beef or potatoes or any little thing I could spare – till one night they all disappeared but two or three old men who remained as spies. Two or three days after I found these old fellows had changed their camp into a little mound near the river and a short time after we found a bullocks head the only remains of a beast that had been speared and taken away. The old blacks said it was not them but the Bidwall blacks – who by the way are still wild and have never been brought in – they live somewhere out to this day towards Cape Howe. We went after the blacks when we found [?but we had none?] killed – I and Billy Simpson, and a black boy went out on foot each armed with a double gun each. After a walk of five tiring miles we fell in with them but they were over the river. I knew them as the very tribe that had been at our place. They were sitting by this fire with the spears stuck in the ground - they were scraping and ressing possum skins.
Last edit 3 months ago by
ALourie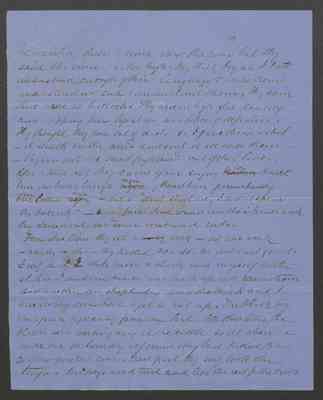 4 We wanted them to come over the river but they said the river was too high. My black boy and I both understood enough of their language to make them understand us and to understand them. They said there were no bullocks. They were in high glee, dancing and slapping their legs at us as a token of defiance. They thought they were out of reach so I gave them a shot, it struck in the mud and sent it all over them. They ran into the scrub frightened out of their lives. After a time out they came again, singing "Knart bun, a burry burrya nyu, Knart bun jerrumbuddy boorlooka nyu" – that is – "Don't shoot me, I didn't spear the bullock". So we fired three rounds over their heads and they cleared out into a dense scrub and reeds. From this time they set to work – in one week - rainy weather, they killed 20 to 30. We could not go out. I only had 2 white men, a black and myself on the station and one man was laid up with reumatism [sic], and another was shepherding and the third and I were doing our best to get a hut up. The black boy was afraid to go away from the hut. All this time the blacks were working away at the cattle so that when we rode out Sunday we found that they had killed 15 or 20 of out quietest cows. Most part they only took the tongues, kidneys and tails and left the rest for the crows
Last edit 5 months ago by
ALourie
5 They left the rest for the crows - their friends who they believe brought them fire. They call them narroot. We were out for days but could never fall across them. They could get over the river and through the high ferns like wallabies – we had flying shots but never got any. The very next thing we found they had killed a lot of cattle at the bottom end of the run. I went down to see as I did not believe my black boy. I rode down unarmed as I had a young horse, About two miles or more from the hut I saw a native dog and having no gun took out my stirrup leather intending to kill him with the iron – my horse took fright a [sic] pitched me and the saddle on the ground. Instantly the scrub between me and the river seemed alive with blacks – I am sure the whole tribe were there, the yells made my flesh creep. I was in a deuce of a fright but I always had a brace of pistols in my belt and this was known to the blacks – so I took out a round brass tinderbox and holding it like a pistol made the best of my way home and although they followed me up in the scrub I never saw one – I think the fright was mutual – they were afraid to show up in reach of my supposed pistol and could not use their spears in the scrub. When I got home we went out armed but could not fall in with any of them
Last edit 5 months ago by
ALourie