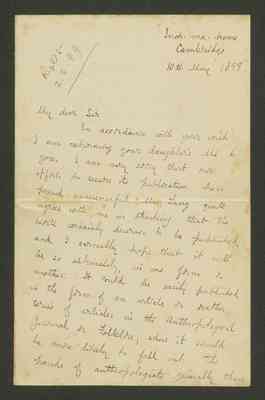 Inch-ma-home Cambridge 10th May 1899
My dear Sir In accordance with your wish I am returning your daughter's MS to you. I am very sorry that our efforts to secure its publication have proved unsuccessful. Mr Lang quite agrees with me in thinking that the work certainly deserves to be published, and I earnestly hope that it will be so ultimately, in one form or another. It could be easily published in the form of an article or rather series of articles in the Anthropological Journal or Folklore, where it would be more likely to fall into the hands of anthropologists generally than
[written at top of page] Replied to 2.8.99
Last edit 5 months ago by
ALourie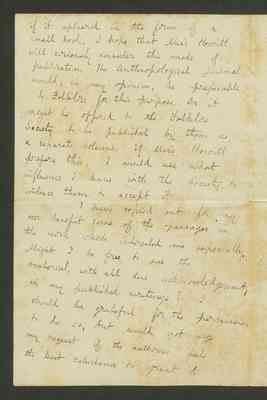 if it appeared in the form of a small book. I hope that Miss Howitt will seriously consider this mode of publication. The Anthropological Journal would, in my opinion, be preferable to Folklore for this purpose. Or it might be offered to the Folklore Society to be published by them as a separate volume. If Miss Howitt prefers this, I would use what influence I have with the Society to induce them to accept it.
I have copied out for my own benefit some of the passages in the work which interested me especially. Might I be free to use the material, with all due acknowledgement, in my published writings? I should be grateful for the permission to do so, but would not urge my request if the authoress feels the least reluctance to grant it.
Last edit 5 months ago by
ALourie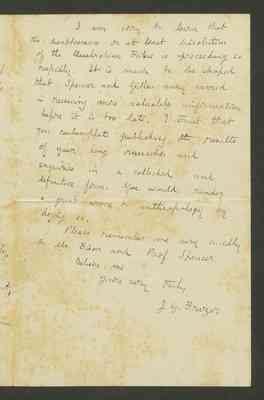 I am sorry to learn that the disappearance or at least dissolution of the Australian tribes is proceeding so rapidly. It is much to be hoped that Spencer and Gillen may succeed in rescuing more valuable information before it is too late. I trust that you contemplate publushing the results of your long researches and enquiries in a collected and definitive form. You would render a great service to anthropology by doing so.
Please remember me very kindly to Mr Fison and Prof. Spencer Believe me Yours very truly J G Frazer
Last edit 5 months ago by
ALourie