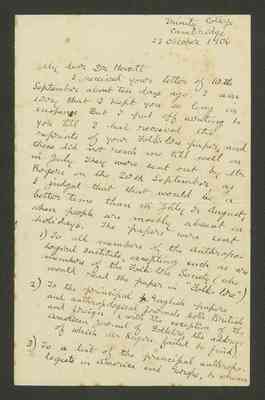 Trinity College Cambridge 23 October 1906
My dear Dr Howitt I received your letter of 10th September about ten days ago. I am sorry that I kept you so long in suspense. But I put off writing to you till I had received the reprints of your Folklore paper, and these did not reach me till well on in July. They were sent out by Mr Rogers on the 20th September, as I judged that that would be a better time than in July or August, when people are mostly absent on holidays. The papers were sent 1) To all members of the Anthropological Institute, excepting such as are members of the Folklore Society (who would read the paper in "Folklore") 2) To the principal English papers and anthropological journals both British and foreign (with the exception of the American Journal of Folklore, the address of which Mr Rogers failed to find). 3) To a list of the principal anthropologists in America and Europe, to whom
Last edit 21 days ago by
ALourie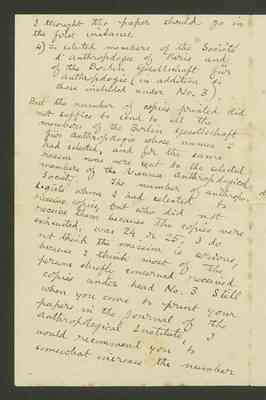 I thought the paper should go in the first instance. 4) To selected members of the Societe d'Anthropoligie of Paris and of the Berlin Gesellschaft für Anthropologie (in addition to those included under No. 3)
But the number of copies printed did not suffice to send ot all the members of the Berlin Gesellschaft für Anthropologie whose names I had selected, and for the same reason none were sent to the selected members of the Vienna Anthropological Society. The number of anthropologists whom I had selected to receive them because the copies were exhausted, was 24 or 25. I do not think the omission is serious, because I think most of the persons chiefly concerned received copies under head No. 3. Still when you come to print your papers in the Journal of the Anthropological Institute, I would recommend you to somewhat increase the number
Last edit about 1 month ago by
Budja07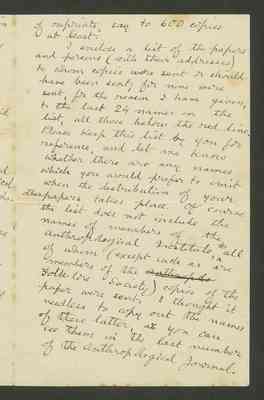 of reprints, say to 600 copies at least.
I enclose a list of the papers and persons (with their addresses) to whom copies were sent or should have been sent; for none were sent, for the reason I have given, to the last 24 names on the list, all those below the red line. Please keep this list by you for reference, and let me know whether there are any names which you would prefer to omit when the distribution of your other papers takes place. Of course the list does not include the names of members of the Anthropological Institute, to all of whom (except such as are members of the [Anthropolo - crossed out] Folk-lore Society) copies of the paper were sent. I thought it needless to copy out the names of these latter, as you can see them in the last number of the Anthropological Journal.
Last edit about 1 month ago by
Budja07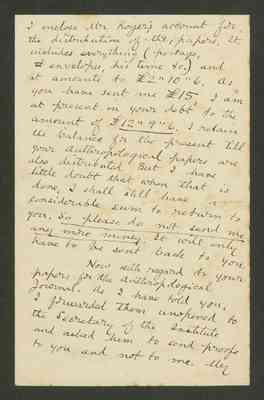 I enclose Mr Roger's account for the distribution of the papers. It includes everything (postage, envelopes, his time +c) and it amounts to £2"10"6. As you have sent me £15, I am at present in your debt to the amount of £12"9"6. I retain the balance for the present till your Anthropological papers are also distributed. But I have little doubt that when that is done, I shall still have a considerable sum to return to you. So please do not send me [underlined] any more money [underlined]. It will only have to be sent back to you.
Now with regard to your papers for the Anthropological Journal. As I have told you, I forwarded them unopened to the Secretary of the Institute and asked him to send proofs to you and not to me. My
Last edit about 1 month ago by
Budja07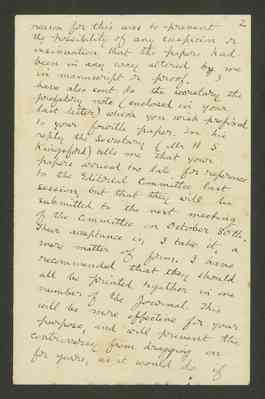 2 reason for this was to prevent the possibility of any suspicion or insinuation that the papers had been in any way altered by me in manuscript or proof. I have also sent to the secretary the prefatory note (enclosed in your last letter) which you wish prefixed to your fourth paper. In his reply the Secretary (Mr H S Kingsford) tells me that your papers arrived too late for reference to the Editorial Committee last session, but that they will be submitted to the next meeting of the committee on October 30th. Their acceptance is, I take it, a mere matter of form. I have recommended that they should all be printed together in one number of the Journal. This will be more effective for your purpose, and will prevent the controversy from dragging on for years, as it would do if
Last edit 19 days ago by
ALourie