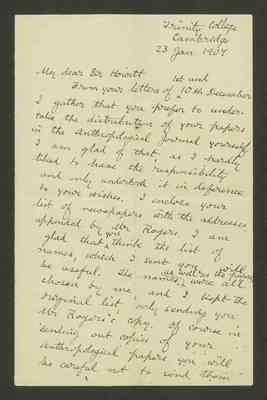 Trinity College Cambridge 23 Jan 1907
My dear Dr Howitt From your letters of 1st and 10th December I gather that you prefer to undertake the distribution of your papers in the Anthropological Journal yourself. I am glad of that, as I hardly liked to have the responsibility and only undertook it in deference to your wishes. I enclose your list of newspapers with the addresses appended by Mr Rogers. I am gald that you think the list of names which I sent you will be useful. The names, as well as the papers, were all chosen by me, and I kept the original list, only sending you Mr Roger's copy. Of course in sending out copies of your Anthropological papers you will be careful not to send them
Last edit 5 months ago by
ALourie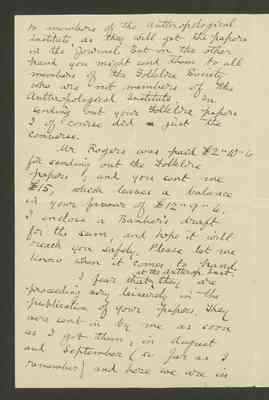 to members of the Anthropological Institute, as they will get the papers in the Journal. But on the other hand you might send them to all members of the Folklore Society who are not members of the Anthropological Institute. In sending out your Folklore papers I of course did just the converse.
Mr Rogers was paid £2"10"6 for sending out the Folklore papers; and you sent me £15, which leaves a balance in your favour of £12"9"6. I enclose a Banker's draft for the sum, and hope it will reach you safely. Please let me know when it comes to hand.
I fear that at the Anthrop. Inst. they are proceeding very leisurely in the publication of your papers. They were sent in by me as soon as I got them, in August and September (so far as I remember), and here we are in
Last edit 5 months ago by
ALourie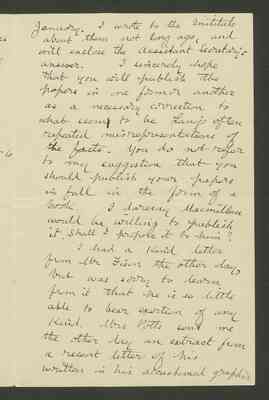 January. I wrote to the Institute about them not long ago, and will enclose the Assistant Secretary's answer. I sincerely hope that you will publish the papers in one form or another as a necessary correction to what seem to be Lang's often repeated misrepresentations of the facts. You do not refer to my suggestion that you should publish your papers in full in the form of a book. I daresay Macmillan would be willing to publish it. Shall I propose it to him?
I had a kind letter from Mr Fison the other day, but was sorry to learn from it that he is so little able to bear exertion of any kind. Mrs Potts sent me the other day an extract from a recent letter of his written in his accustomed graphic
Last edit 5 months ago by
ALourie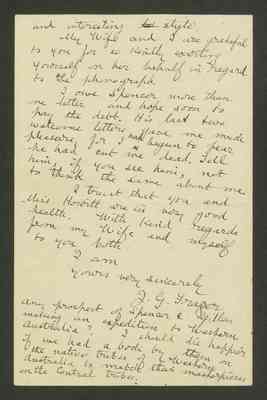 and interesting style.
My wife and I are grateful to you for so kindly exerting yourself on her behalf in regard to the phonograph.
I owe Spencer more than one letter and hope soon to pay the debt. His last two welcome letters gave me much pleasure, for I had begun to fear he had cut me dead. Tell him, if you see him, not to think the same about me.
I trust that you and Miss Howitt are in very good health. With kind regards from my wife and myself to you both. I am Yours very sincerely J G Frazer
Any prospect of Spencer + Gillen making an expedition to Western Australia? I should die happier if we had a book by them on the native tribes of Western Australia to match their masterpieces on the Central tribes.
Last edit 3 months ago by
ALourie