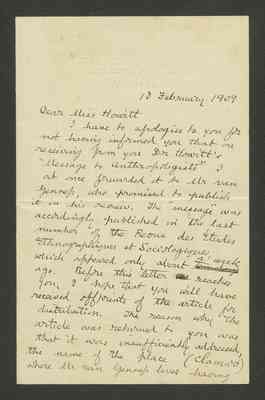 Dear Miss Howitt I have to apologise to you for not having informed you that on receiving from you Dr Howitt's "Message to Anthropologists" I at once forwarded it to Mr van Gennep, who promised to publish it in his review. The "message" was accordingly published in the last number of the Revue des Etudes Ethnographiques et Sociologiques, which appeared only about [ten days - crossed out] a week ago. Before this letter [was- crossed out] reaches you, I hope that you will have received offprints of the article for distribution. The reason why the article was returned to you was that it was insufficiently addressed, the name of the place (Clamart) where Mr van Gennep lives having
Last edit 5 months ago by
ALourie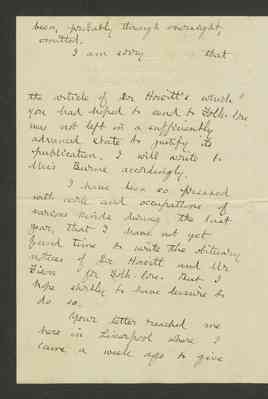 been, probably through oversight, omitted.
I am sorry that
the article of Dr Howitt's which you had hoped to send to Folklore was not left in a sufficiently advanced state to justify its publication. I will write to Miss Burne accordingly.
I have been so pressed with work and occupations of various kinds during the last year, that I have not yet found time to write the obituary notices of Dr Howitt and Mr Fison for Folklore. But I hope shortly to have leisure to do so.
Your letter reached me here in Liverpool where I came a week ago to give
Last edit 5 months ago by
ALourie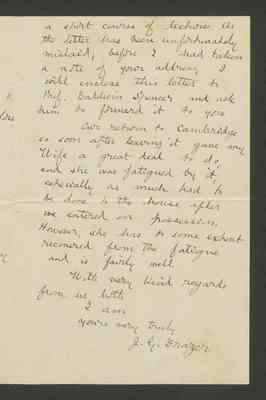 a short course of lectures. As the letter has been unfortunately mislaid, before I had taken a note of your address, I will enclose this letter to Prof. Baldwin Spencer and ask him to forward it to you.
Our return to Cambridge so soon after leaving it gave my wife a great deal to do, and she was fatigued by it, especially as much had to be done to the house after we entered on possession. However, she has to some extent recovered form the fatigue and is fairly well.
With very kind regards from us both I am Yours very truly J. G. Frazer
Last edit 5 months ago by
ALourie