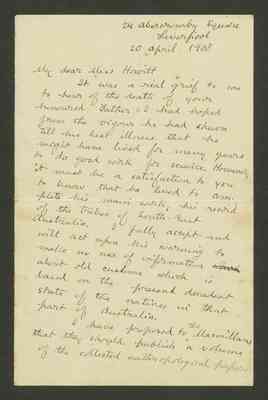 24 Abercromby Square Liverpool 20 April 1908
My dear Miss Howitt It was a real grief to me to hear of the death of your honoured Father. I had hoped from the vigour he had shewn till his last illness that he might have lived for many years to do good work for science. However, it must be a satisfaction to you to know that he lived to complete his main work, his record of the tribes of South-East Australia. I fully accept and will act upon his warning to make no use of information [which - crossed out] about old customs which is based on the present decadent state of the natives in that part of Australia.
I have preposed to the Macmillans that they should publish a volume of the collected anthropological papers
Last edit 6 months ago by
ALourie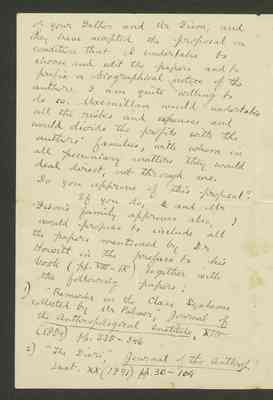 of your Father and Mr Fison, and they have accepted the proposal on condition that I undertake to choose and edit the papers and to prefix a biographical notice of the authors. I am quite willing to do so. Macmillan would undertake all the risks and expenses and would divide the profits with the authors' families, with whom in all pecuniary matters they would deal direct, not through me. Do you approve of this proposal?
If you do, and Mr Fison's family approves also, I would propose to include all the papers mentioned by Dr Howitt in the preface to his book (pp. VIII-IX) together with the followign papers: 1) "Remarks on the Class Systems collected by Mr Palmer", Journal of the Anthropological Institute [underlined], XIII (1884) pp. 335-346. 2) "The Dieri", Journal of the Anthrop. Inst. XX (1891) pp. 30-104
Last edit 7 days ago by
ALourie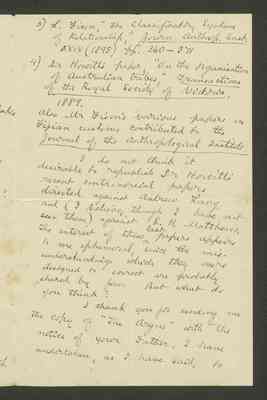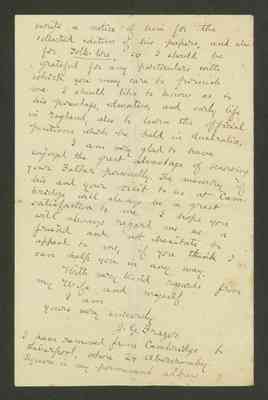 write a notice of him for the collected edition of his papers, and also for Folklore, so I should be grateful for any particulars with which you may care to furnish me. I should like to know as to his parentage, education, and early life in England, also to learn the official positions which he held in Australia.
I am very glad to have enjoyed the great advantage of knowing your Father personally. The memory of his and your visit to us at Cambridge will always be a great satisfaction to me. I hope you will always regard me as a friend and not hesitate to appeal to me, if you think I can help you in any way.
With very kind regards from my Wife and myself I am yours very sincerely J. G. Frazer
I have removed from Cambridge to Liverpool, where 24 Abercromby Square is my permanent address.
Last edit 6 months ago by
ALourie