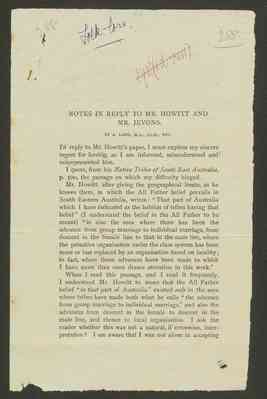 288 [handwritten] Folk lore [handwritten] 1906 (vol XVII) [handwritten] 288 [handwritten]
NOTES IN REPLY TO MR. HOWITT AND MR. JEVONS
BY A. LANG, M.A., LL.D, ETC.
In reply to Mr. Howitt's paper, I must express my sincere regret for having, as I am informed, misunderstood and misrepresented him.
I quote, from his Native Tribes of South East Australia [italic], p. 500, the passage on which my difficulty hinged.
Mr. Howitt, after giving the geographical limits, as he knows them, in which the All Father belief prevails in South Eastern Australia, writes : "That part of Australia which I have indicated as the habitat of tribes having that belief" (I understand the belief in the All Father to be meant) "is also the area where there has been the advance from group marriage to individual marriage, from descent in the female line to that in the male line, where the primitive organisation under the class system has been more or less replaced by an organisation based on locality ; in fact, where those advances have been made to which I have more than once drawn attention in this work."
When I read this passage, and I read it frequently, I understood Mr. Howitt to mean that the All Father belief "in that part of Australia" existed only [italic] in the area where tribes have made both what he calls "the advance from group marriage to individual marriage," and also the advances from descent in the female to descent in the male line, and thence to local organisation. I ask the reader whether this was not a natural, if erroneous, interpretation? I am aware that I was not alone in accepting
Last edit 4 days ago by
amyhumphriesuk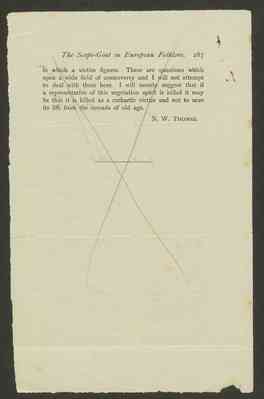 The Scape-Goat in European Folklore. 287
in which a victim figures. These are questions which open a wide field of controversy and I will not attempt to deal with them here. I will merely suggest that if a representative of this vegetation spirit is killed it may be that it is killed as a cathartic victim and not to save its life from the inroads of old age.
N.W. THOMAS.
[large X in pencil through page]
Last edit 4 days ago by
amyhumphriesuk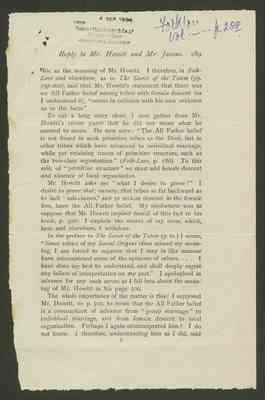 [stamp] 4 Sep 1906 FROM Robert MacLehose & Co. Ld. University Press Anniesland Glasgow
[handwritten] Folklore Vol ----P 2080[underlined]
Reply to Mr. Howitt and Mr. Jevons. 289
this as the meaning of Mr. Howitt. I therefore, in Folklore [italic] and elsewhere, as in The Secret of the Totem [italic] (pp. 197-200), said that Mr. Howitt's statement that there was no All Father belief among tribes with female descent (so I understood it), "seems in collision with his own evidence as to the facts."
To cut a long story short, I now gather from Mr. Howitt's recent paper that he did not mean what he seemed to mean. He now says: "The All Father belief is not found in such primitive tribes as the Dieri, but in other tribes which have advanced to individual marriage, while yet retaining traces of primitive structure, such as the two-class organisation" (Folk-Lore [italic], p. 186). To this relic of "primitive structure" we must add female descent and absence of local organisation.
Mr. Howitt asks me "what I desire to prove?" I desire to prove that [italic]; namely, that tribes so far backward as to lack "sub-classes," and to reckon descent in the female line, have the All Father belief. My misfortune was to suppose that Mr. Howitt implied denial of this fact in his book, p. 500. I explain the source of my error, which, here and elsewhere I withdraw.
In the preface to The Secret of the Totem [italic] (p. ix.) I wrote, "Since critics of my Social Origins[italic] often missed my meaning, I am forced to suppose that I may in like manner have misconstrued some of the opinions of others. . . . I have done my best to understand, and shall deeply regret any failure of interpretation on my part." I apologized in advance for any such errors as I fell into about the meaning of Mr. Howitt in his page 500.
The whole importance of the matter is this: I supposed Mr. Howitt, on p. 500, to mean that the All Father belief is a concomitant of advance from "group marriage" to individual marriage, and from female descent to local organisation. Perhaps I again misinterpreted him? I do not know. I therefore, understanding him as I did, said
T
Last edit 4 days ago by
amyhumphriesuk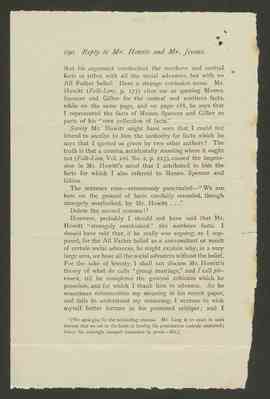 290 Reply to Mr. Howitt and Mr. Jevons.
that his argument overlooked the northern and central facts in tribes with all the social advances, but with no All Father belief. Here a strange confusion arose. Mr. Howitt (Folk-Lore[italic], p. 175) cites me as quoting Messrs. Spencer and Gillen for the central and northern facts, while on the same page, and on page 188, he says that I represented the facts of Messrs. Spencer and Gillen as parts of his "own collection of facts."
Surely Mr. Howitt might have seen that I could not intend to ascribe to him the authority for facts which he says that I quoted as given y two other authors? The truth is that a comma, accidentally standing where it ought not (Folk-Lore[italic], Vol. xvi. No. 2, p. 223), caused the impression in Mr. Howitt's mind that I attributed to him the facts for which I also referred to Messrs. Spencer and Gillen.
The sentence runs-erroneously punctuated- "We are here on the ground of facts carefully recorded, though strangely overlooked, by Mr. Howitt. . ." Delete the second comma!1[reference] However, probably I should not have said that Mr. Howitt "strangely overlooked" the northern facts. I should have said that, if he really was arguing, as I supposed, for the All Father belief as a concomitant or result of certain social advances, he might explain why, in a very large area, we have all the social advances without the belief. For the sake of brevity, I shall not discuss Mr. Howitt's theory of what he[italic] calls "group marriage" and I[italic] call pirrauru[italic], till he completes the general criticism which he promises, and for which I thank him in advance. As he sometimes misconceives my meaning in his recent paper, and fails to understand my reasoning, I venture to wish myself better fortune in his promised critique; and I
1 (We apologise for the misleading comma. Mr. Lang is so exact in such matters that we are in the habit of leaving his punctuation entirely unaltered; hence the oversight escaped correction in proof. - ED.)
Last edit 4 days ago by
amyhumphriesuk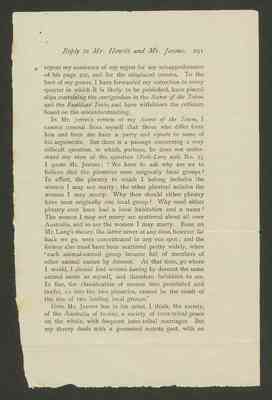 Reply to Mr. Howitt and Mr. Jevons. 291
repeat my assurance of my regret for my misapprehension of his page 500, and for the misplaced comma. To the best of my power, I have forwarded my correction to every quarter in which it is likely to be published, have placed slips containing the corrigendum[italic] in the Secret of the Totem[italic] and the Euahlayi Tribe[italic], and have withdrawn the criticism based on the misunderstanding.
In Mr. Jevon's review of my Secret of the Totem[italic], I cannot conceal from myself that those who differ from him and me have a parry and riposte[italic] to some of his arguments. But there is a passage concerning a very difficult question, in which, perhaps, he does not understand my view of the question (Folk-Lore[italic], xvii. No. 2). I quote Mr. Jevons: "We have to ask why are we to believe that the phratries to which I belong includes the women I may not marry; the other phratry includes woman I may marry. Why then should either phratry have been originally one local group? Why need either phratry ever have had a local habitation and a name? The women I may not marry are scattered about all over Australia, and so are the women I may marry. Even on Mr. Lang's theory, the latter never at any time, however far back we go, were concentrated in any one spot; and the former also must have been scattered pretty widely, when 'each animal-named group became full of members of other animal names by descent.' At that time, go where I would, I should find women having by descent the same animal name as myself, and therefore forbidden to me. In fine, the classification of women into prohibited and lawful, i.e.[italic] into the two phratries, cannot be the result of the rise of two leading local groups."
Here Mr. Jevons has in his mind, I think, the society, of the Australia of to-day, a society of inter-tribal peace on the whole, with frequent inter-tribal marriages. But my theory deals with a presumed remote past, with no
Last edit 4 days ago by
amyhumphriesuk