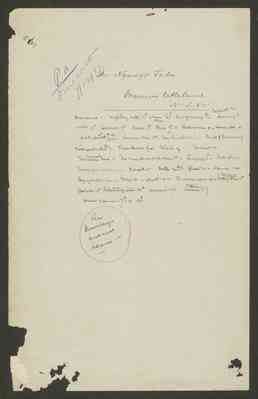 The Ngarego Tribe
Boundaries 1. Neighbouring tribes 1 12 clans 2.3 [11.17 written above] Law of marriage 9.2 Betrothal 9. Descent 3 A widow 3 A Headman 3 A [?Kradji?] 3A Bora 3A. 4 Bullroarer 4. message sticks 4 Death, Burial 4A, 7. 12 grave medicine man 4A. [Foo - crossed out] Bora food rules 6. Burial [??] 7 Messenges + Emblem 16 7. [??] 9. Totems 9 Elopement - 9. Forbidden Food Kuringal 10 "Too many blacks died there!" 10. Languages 11 113 - Ball play 11. Possum fur string 11 - Kuringal 11. Doctor 12-15. 14 ghosts 12 - Dreams 12 Bogong moths 12 - Sky 14 - Tharamulun 14 - Falling star Aurora 15 Gestures 15 Relationship terms 16 A property 17 - Totemic cousin 3 17. Division of game 17 A+18. 18A
See Munday's answers herein
Last edit about 1 month ago by
J Gibson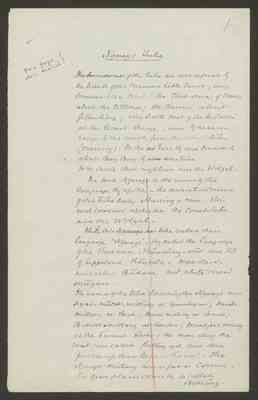 Ngarego Tribe
The boundaries of this tribe are well defined by the limits of the Maneroo tableland; being bounded to the West by the Thed-dora of Omeo about the Cobboras; the Kurnai about Gelantipy; to the South West by the Biduelli at the Coast Range, and by the same range to the south from the Coast tribes (Murring). To the East they are bounded about Bong Bong by [othe- crossed out] some tribe. To the North their neighbours were the Wolgal.
The word Ngarego is the name of the language they spoke - the distinctive name of this tribe being Murring = men. This word however includes the Coast tribes and the Wolgal.
While this [Ngarego was- crossed out] tribe called their language "Ngarego", they called the language of the Theddora, Kŭndūng-orūr and that of Gippsland Kūngela. Wild blacks were called Bŭdara and white men mūgan.
The names of the tribes bordering the Ngarego were Ngai-mŭthc-mittăng at Queenbeyan [sic]; Waralmittang at Bega; Bondi mittŭng at Bondi; Biduell-mittang at Bendoc; Woradjeri mittūng at the Tumut River; the men along the coast were called Katŭng-gal and those further up than Bega - Kŭrial. The Ngarego-mittang were as far as Cooma. The open plains country is called Bimŭng.
[in left side margin at top of page, next to title] yes = yeyo no = mūrū
Last edit about 1 month ago by
J Gibson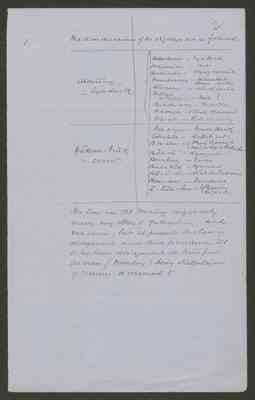 2 The class divisions of the Ngarego are as follows;
[table]
Merūng = Bellet Bellet - Lyre Bird Eaglehawk Nadjanajan - Bat Bullemba - Flying Squirrel Mundarung - [Wombat -crossed out] Lesser - ditto Namung - Black snake Mūlan or Mŭnjia - Fish ? But-the-wark - Mopoke Kaunga - Black opossum Wa-at - Red wallaby
Yŭkem-brūk Bra-a-gar - Small Hawk = crow Tchuteba - Rabbit rat Bow-wur - Flying Squirrel next in size to Bullemba Bŭr-rū - Kangaroo Berribong - Emu Budalūk - Iguana Kū-i-ūr - Native Companion Kau-au - Porcupine Ū-lūn-bau - Sleeping Lizard
The law was that Merūng might only marry any totem of Yukembrūk and vice versa; but at present this law is disregarded and there is evidence that it has been disregarded in time past. One man (Munday) being Nadjatajan of Merung is married to [sentence ends here].
Last edit about 1 month ago by
J Gibson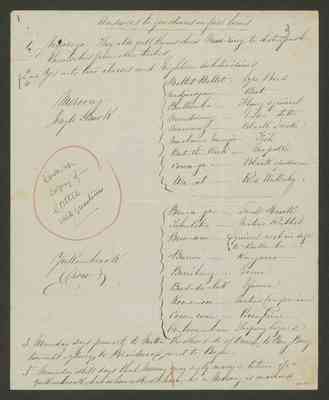 3 Answers to questions in first Series 1 Ngarego They also call themselves Mur-ring to distinguish themselves from other tribes 2 and 4 Yes into two classes and Eighteen subdivisions Meroong Eagle Hawk Bellet Bellet Lyre Bird Nadjinajan Bat Bullemba Flying squirrel Merndarung Lesser ditto Narnung Black Snake Moolauor Mungia Fish But-the-Wark Mopoke Cown-ga Black opossum Wa-at Red Wallaby
Look up copy of letter with questions
Yukembrook (Crow) Bra-a-gar Small Hawk Schuteba Native Rabbit Bow-wur Squirrel next in size to Bullemba Burroo Kangaroo Berribang Emu Bud-da-luk Iguana Koo-i-oor Native Companion Cow-wan - Porcupines Oo-loon-ban Sleeping Lizard 3 Munday says formerly to Mitta the other side of Omeo, to Bong Bong towards Sydney, to Braidwood and to Bega. 5. Munday still says that Merong may only marry a totem of Yukembrook, but when asked how, he a Merong is married over
Last edit about 1 month ago by
J Gibson