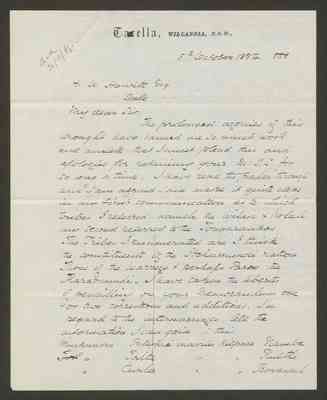 A W Howitt Esq Sale My dear Sir, The prolonged agonies of this drought have caused me so much work and anxiety that I must plead this and apologise for retaining your M.S.S. for so long a time. I have read the paper through and I am afraid I did make it quite clear in my first communication as to which tribes I referred, namely the Wilya + Bolali my second referred to the Tongarankas The Tribes I ennumerated are I think the constituents of the Itchumundi nation Those of the Warrego + perhaps Paroo the Karamundi. I have taken the liberty of pencilling on your memorandum one or two corrections and additions. In regard to the intermarriages, all the information I can gain is this Muckwarra Bilyari marries Kilpara Namba [ditto] Tirlta [ditto] [ditto] Kulthi [ditto] Curlee [ditto] [ditto] Bowanyah
[note on top left] ack 21/11/84
Last edit 19 days ago by
ALourie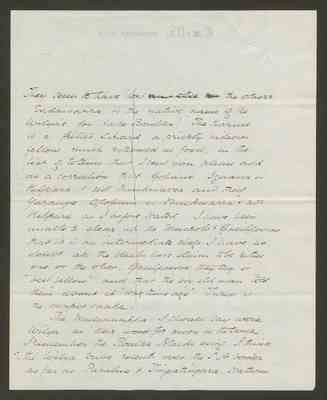 They seem to have lost the others. Endawarra is the native name of the Wilya's for Lake Boulka. The Karnie is a frilled Lizard a prickly hideous fellow much esteemed as food, in the list of totems that I sent you please add as a correction that Gohane Iguana is Kilpara + not Muckwarra and that Yarange Opossum is Muckwarra + not Kilpara as I before stated. I have been unable to clear up the Muckolo + Gneilpooroo that it is an intermediate class I have no doubt. All the blacks here claim to be either one or the other. Gneilpooroo they say is "best fellow" and that the big old man told them about it "long time ago". Turoo is the carpet snake.
The Mulyanuppa I should say were Wilya as their word for moon is the same I remember the Boulka Blacks using. I think the Wilya tribe extents [sic] over the S A border as far as Paralua + Tingatingara stations
Last edit 3 months ago by
ALourie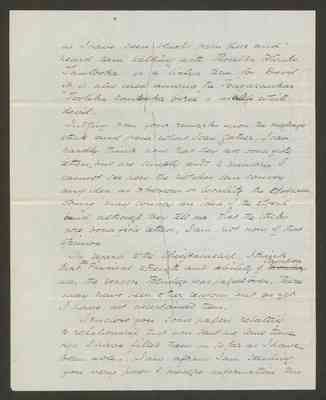 as I have seen blacks from there and heard them talking with Boulka Blacks. Tantooka is a Wilya term for Devil it is also used among the Tongarankas "Toolika tantooka boree" = useless white devil.
Judging from your remarks upon the message stick and from what I can gather, I can hardly think now that they are bona fide letters, but are simply aids to memory. I cannot see how the notches can convey any idea as to persons or locality. The opossum string may convey an idea of the object and although they tell me that the sticks are bona fide letters, I am not now of that opinion.
In regard to the Chieftainship I think that the Physical strength and ability of [Monkey - crossed out] Sampson was the reason. Bendigo was passed over. There may have been other reasons, but as yet I have not ascertained them.
I enclose you some papers relating to relationship that you sent me some time ago I have filled them in so far as I have been able. I am afraid I am sending you very poor + meagre information this
Last edit 3 months ago by
ALourie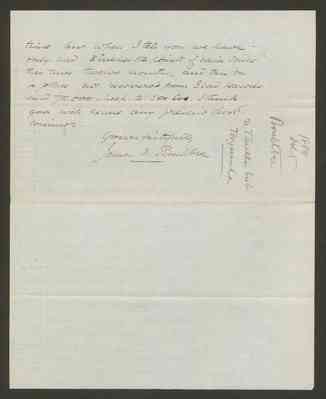 time but when I tell you we have only had 3 inches, 54 points of rain since this time twelve months, and this on a place not recovered from 3 bad seasons and 75,000 sheep to see to. I think you will excuse any present short comings.
Yours faithfully James W Boultbee
[written on right side of page] 1884 Oct 5 Boultbee
re Tarella tribes Tongaranka
Last edit about 2 months ago by
ALourie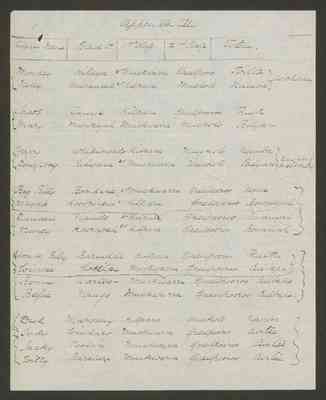 Appendix II English name Black Do 1st Class 2nd Class Totem Monkey Nihlya Muckwarra Gneilpooro [sic] Tirlta} no children Nelly Munyarah Kilpara Muckolo Namba}
Jacob Tanye Kilpara Gneilpooroo Kulthi Mary Munkajah Muckwarra Muckolo Bilyari
Yarry Whipungah Kilpara Muckolo Namba} Doughboy Eilyara Muckwarra Muckolo Bilyari} Daughter of Jacob + Mary
Big Billy Boondarie Muckawarra Gneilpooroo Karnie} Maggie Koorpirpin Kilpara Gneilpooroo Bowanyah} Duncan Nando Kilpara Gneilpooroo Bowanyah} Nancy Koornbak Kilpara Gneilpooroo Bowanyah}
Inomba Billy Barindah Kilpara Gneilpooroo Kulthi}} Winnie Weilpe Muckwarra Gneilpooroo Cultapa}} Bonny Warlbo Muckwarra Gneilpooroo Cultapa} Bessie Nango Muckwarra Gneilpooroo Cultapa}
Dick Maroday Kilpara Muckolo Namba} Judy Windary Muckwarra Gneilpooroo Curleē} Jacky Coolari Muckwarra Gneilpooroo Curleē} Willy Barelari Muckwarra Gneilpooroo Curleē}
Last edit about 1 year ago by
ALourie