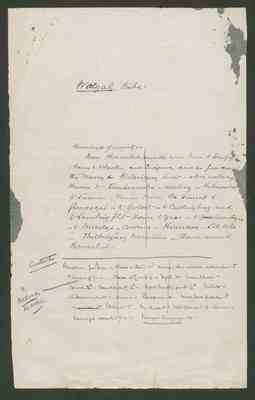 Last edit about 2 months ago by
ALourie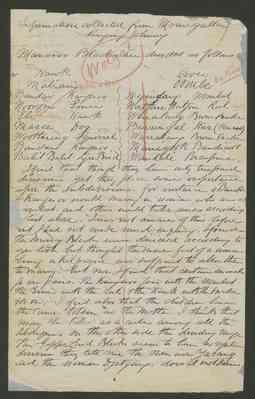 Information collected from Mrangulla Singing Johnny
Maneroo Blacks are divided as follows
Hawk Crow Malian ?Yibai=Ipai oombe ?= Kŭmb Bandar Kangaroo Megindang Wombat Nooron Emu Nutjare Nutjun Rat Bat? Ebi (malian) Hawk Werralang Brown snake Maree Dog Birringal Star (Venus) Woothering [Squirrel Warralang Brown Snake Bandar Kangaroo Maniyook Bandicoot Balil Balil Lyre Bird Wandale Porcupine I find that though they have only two grand divisions, yet they place some importance upon the subdivisions. For instance a Bandar or Kangaroo would marry a woman who was a Wombat and others would take wives according [torn] list above. I was not aware of this before but I had not made much enquiry. I found the Murray Blacks were divided according to your list but thought the mere fact of a woman being a Kilparra was sufficient to allow them to marry, but now I find that certain animals go in pairs. The Kangaroo goes with the Wombat the Emu with the Rat + the Hawk with the Snake + so on. I find also that the children have the same totem as their mother. I think that may be taken as a rule among all the Aborigines on the other side the dividing range [sic]. The Gippsland Blacks seem to have no regular division. They tell me the men are Yarang and the women Djetgang, does it not seem
[written at top of page over Maneroo Blacks] Wolgal
Last edit about 1 year ago by
ALourie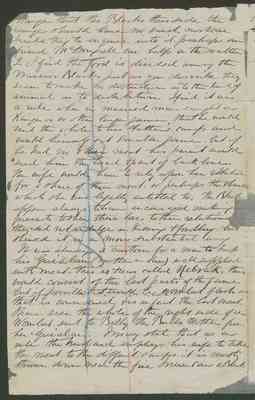 strange that the Blacks this side this range should have no such custom I will try to enquire into it perhaps our friend McDougall can help in the matter 2 I find the food is divided among the Maneroo Blacks. Just as you describe, they seem to make no distinction as to the kind of animal as to distribution. I find it was a rule when a married man caught a Kangaroo or other large game that he would send the whole to his Father's camp and would himself eat smaller game, but if he had no other meat his parent would send him the head + part of back bone. The wife would have to rely upon her relations for a share of their meat or perhaps the share which she was legally entitled to. The Blacks appear to always to have encouraged making presents to shew their love to their relations they did not indulge in kissing + fondling but shewed it in a more substantial way.
It was always a custom for a man to keep his Guiaban (mother in law) well supplied with meat. This is + was called Nebrak. This would consist of the best parts of the game but if possible it would be wombat flesh as that is considered + is in fact the best meat. I have seen the whole of the right side of a wombat sent to Billy the Bull's mother from her Guiaban. I may state that as a rule the husband employs his wife to take the meat to the different camps it is mostly thrown down near the fire. I never saw a Black
Last edit 10 months ago by
ALourie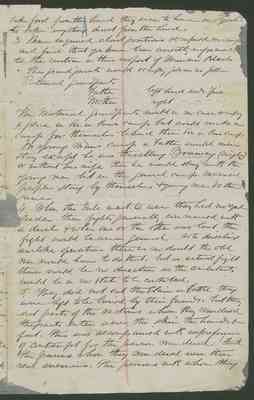 take food from the hand they seem to have an objection to take anything direct from the hand. 3 I have enquired about positions occupied in camp and find that you have been correctly informed to the custom in this respect of Maneroo Blacks The grandparents would occupy places as follows Paternal grandparents Father left hand side fire Mother right The Maternal grandparents would in no case occupy a place in son in law's camp but would make a camp for themselves behind them son in laws camp In young man's camp a Father would never stay except he was travelling Brawey (single) or without his wife then he would stay with the young men but in the general camp married people stay by themselves + young men do the same. 4 When the tribe went to war they had no regular leader. Then fights generally commenced with a duel + when one or the other was beat the fight would become general. As to directing warlike operations there is no doubt the old men would have to do that, but an actual fight there would be no direction as the combatants would be in no state to be controlled. 5 They did not eat the slain in battle they were left to be buried by their friends , but they eat parts of the victims whom they murdered The parts eaten were the skin, the hands + fat. This was accompanied with expressions of contempt for the person murdered. I think the persons whom they murdered were then real enemies. The persons with whom they
Last edit 10 months ago by
ALourie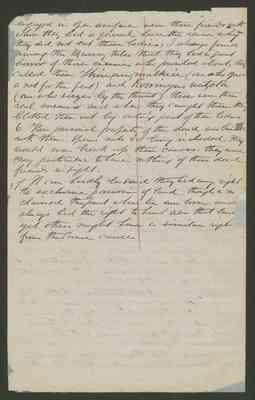 engaged in open warfare were then friends with whom they had a quarrel hence the reason why they did not eat their bodies. I always found among the Murray tribes that they had a great horror of those enemies who prowled about, they called them Thiu,an,malkiu (one who spread a net for the feet) and Koorinya, nat, ola (one who seizes by the throat) these were then real enemies and when they caught them they blotted them out by eating part of their bodies 6 The personal property of the dead was buried with them. Spears nets +c being included they would even break up their canoes. They were very particular to have nothing of their dead friends in sight. 7 It can hardly be said they had any right to exclusive possession of land, though a man claimed the part where he was born and always had the right to hunt over that land yet others might have a similar right from the same cause.
Last edit 10 months ago by
ALourie