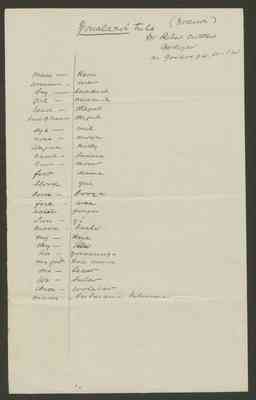 Mr Robert Crothers Bodigar via Goodooga N.S.W.
man Kain woman iner boy beraduil girl miraduil head thagul hair of head thagul eye mil nose moya tongue nilly hand binna ear morr foot dinna blood qui bone booya fire wee water gungin sun yi moon barli my kna thy inu his yermungo my foot kna dinna one beader two bular three coolebar many bularama bularama
Last edit 10 months ago by
ALourie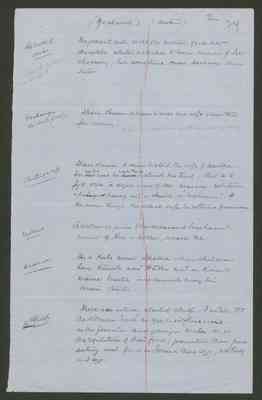 2 Yualaroi customs
Betrothal wives Has the father no voice? The general rule is that the mother gives her daughter whilst a child to some man of her choosing; but sometime men exchange their sisters
exchange or sale of wife I have known a man to sell his wife to another for money Is this in accordance with ancient custom?
Stealing a wife I have known a man to steal the wife of another. In [this - crossed out] such a case he [had - crossed out] would have to stand his trial; That is to fight with a dozen or so of the woman's relatives - he [being - crossed out] having only a shield or "Nielamon". If he passes through the ordeal safe he retains possession.
Widows As a Kubi marries Ipatha - their children being Kŭmbo and Būtha and as Kŭmbo marries Matha - he cannot marry his cousin Būtha
Chiefs There are not any elected chiefs. I notice that the old men have a great influence on the females and younger males as in the regulation of their food; preventing them from eating such food as Emu + their eggs, wood Turkey and eggs
Last edit 10 months ago by
ALourie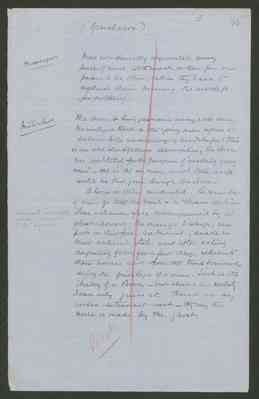 Messengers Men not specially appointed convey pieces of wood with marks on them from one person to the other, but as they have to explain their meaning the marks go for nothing
Initiation The Bora is being fast done away with among the civilised black as the young men refuse to submit to the accompanying harships. This is an old blackfellows description. The Bora was instructed for the purpose of "making young men" - that is that no man could take a wife until he had gone through the Bora
A Bora is thus conducted. A number of men go into the bush - a "chosen spot" then a chance fire accompanied by a ghost appears; the men go to sleep, are put in this fire, are burned, awake in their natural state and after eating disgusting food for a few days returns to their homes and from that time forward enjoy the priveleges of a man. Such is the theory of a Bora - but what is the reality I can only guess at. There is not any wooden instrument used - they say the noise is made by the ghost
[written in left side margin] Informant has evidently not been admitted to the "mysteries"
Last edit 10 months ago by
ALourie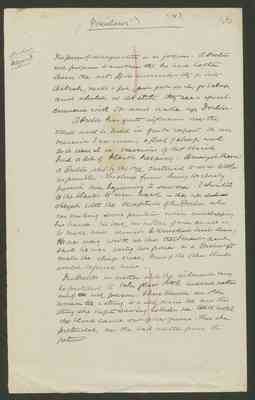 Youalaroi (4)
Doctors Wizards The process of inauguration is as follows. A Doctor will propose to another that he had better learn the art. If he consents they go into the bush, make a fire, put fat on it, go to sleep and whilst in that state they see a spirit converse with it and wake up Doctors.
A Doctor has great influence over the others and is held in great respect. On one occasion I was crossing a flock of sheep and as is usual on occasions of that kind had a lot of blacks helping. Amongst them a Doctor, who by the bye contrived to do as little as possible. The sheep form being too closely pressed were beginning to smother. I shouted to the blacks to run back - they all [did so - crossed out] obeyed with the exception of the Doctor who was making some peculiar noises and clapping his hands. He took no notice of me at all so to make him desist I knocked him down; He was very wrath at this treatment and said he was using his power as a Doctor to make the sheep cross. None of the other blacks would reprove him.
The Doctors no matter what the ailment may be pretend to take glass bottle and such matters out of the sick person. I have known an old woman tie a string to a sick man's toe and this string she kept sawing between her teeth until the blood came out of her gums. This she pretended was the bad matter from the patient.
Last edit 10 months ago by
ALourie