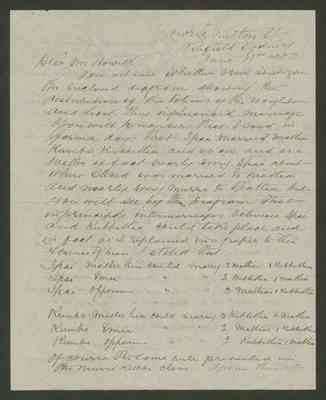 "Gowrie" Milton St Ashfield Sydney June 11th 1902
Dear Mr Howitt I am not sure whether I ever sent you the enclosed diagram showing the distribution of the totems of the Wonghibon and how they influenced marriage. You will remember that I said in former days that Ipai married Matha Kumbo, Kubbitha and so on and as a matter of fact nearly every Ipai about where I lived was married to Matha and nearly every Murri to Ipatha but you will see by the Diagram that in principle intermarriages between Ipai and Kubbitha could take place and in fact as I explained in a paper to the Science of Man I stated that Ipai mallee hen could marry 2 Mathas 1 Kubbitha Ipai Emu [ditto] [ditto] 2 Kubbitha 1 Matha Ipai opossum [ditto] [ditto] 2 Mathas 1 Kubbitha
Kumbo mallee hen could marry 2 Kubbitha 1 Matha Kumbo Emu [ditto] [ditto] 2 Mathas 1 Kubbitha Kumbo oppossum [ditto] [ditto] 2 Kubbitha 1 Matha
Of course the same rule prevailed in the Murri Kubbi class. From this it
Last edit 1 day ago by
Budja07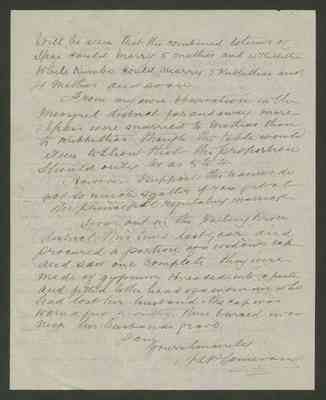 will be seen that the combined totems of Ipai could marry 5 Mathas and 4 Kubbitha while Kumbo could marry 5 Kubbithas and 4 Mathas and so on.
From my own observation in the Mossgiel district far and away more Ipais were married to Mathas than to Kubbithas though the table would seem to show that the proportion should only be as 5 to 4.
However, I suppose the names do not so much matter if you get at the principle regulating marriage.
I was out in the Darling River district this time last year and procured a portion of a window's cap and saw one complete they were made of a gypsum kneaded into a paste and fitted to the head of a woman who had lost her husband. The cap was worn a few months then buried in or near her husband's grave. I am Yours Sincerely ALP Cameron
Last edit about 1 month ago by
ALourie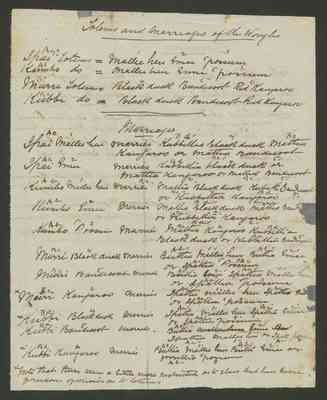 Totems and marriages of the Wonghi
Ipai Aa totems = Mallee hen 1 Emu 2 'possum 3 Kumbo Ab do = Mallee hen Emu 'possum Murri BC Totem = Black duck 4 Bandicoot 5 Red Kangaroo 6 Kubbi Bd do= Black duck Bandicoot Red Kangaroo
Marriages Ipai Aa Mallee hen 1 marries Kubbitha Bd Black duck 4 Matha Bc Kangaroo or Matha Bandicoot 5 Ipai Aa Emu 2 marries Kubbitha Bd black duck 4 or Matha Bc Kangaroo 6 or Matha Bc Bandicoot 5 Kumbo Ab Mallee hen 1 marries Matha Bc Black duck Kubbitha Bd Bandicoot 5 or Kubbitha Bd Kangaroo 6 Kumbo Ab 'Possum 3 marries Matha Bc Kangaroo 6 Kubbitha Bd Black duck 4 or Kubbitha Bd Bandicoot 5 Murri Bc Black duck 4 marries Butha Ab Mallee hen 1 Butha Ab Emu 2 or Ipatha Aa 'Possum 3 Murri Bc Bandicoot 5 marries Butha Ab Emu 2 Ipatha Aa Mallee hen 1 or Ipatha Aa 'possum 3 xMurri Bc Kangaroo 6 marries Ipatha Aa mallee hen 1 Ipatha Aa Emu or Ipatha Aa 'possum 3 xKubbi Bd Black duck 4 marries Ipatha Aa mallee hen 1 Ipatha A Emu 2 or Ipatha Aa 'possum 3 Kubbi Bd Bandicoot 5 marries Butha Ab [mallee hen -crossed out] Emu 2 [Ba- crossed out] Ipatha Aa mallee hen 1 or Ipatha Aa 'possum 3 xKubbi Bd Kangaroo marries Butha Ab mallee hen 1 Butha Ab Emu 2 or Matha Ab 'possum 3 xNote that these seem a little more restricted as to class but have more freedom of choice as to totems
Last edit 10 months ago by
ALourie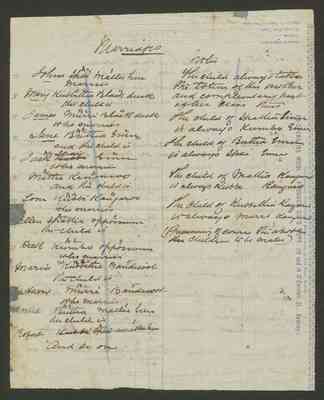 Marriages
[left side of the page] I John Ipai Aa Mallee hen 1 marries II Mary Kubbitha Bd Black duck 4 the child is III James Murri Bc Black duck 4 who marries IV Jane Butha Ab Emu 2 and the child is V Jack [Kubbi - crossed out] Ipai Aa Emu 2 who marries IV Matha Bc Kangaroo 6 and the child is IIV Tom Kubbi Bd Kangaroo 6 who marries Ellen Ipatha Aa oppossum 3 the child is IX Dick Kumbo Ab oppossum 3 who marries X Maria Kubbitha Bd Bandicoot 5 the child is Harry Murri Bc Bandicoot 5 who marries Anne Butha Ab mallee hen 1 the child is Robert [Kubbi- crossed out] Ipai Aa mallee hen 1 and so on
[right side of page] Notes The child always takes the totem of the mother and complementary part of her class thus the child of Ipatha Emu is always Kumbo Emu The child of Butha Emu is always Ipai Emu
The child of Matha Kangaroo is always Kubbi Kangaroo The child of Kubbitha Kangaroo is always Murri Kangaroo (Presuming of course the above children to be males)
Last edit 10 months ago by
ALourie