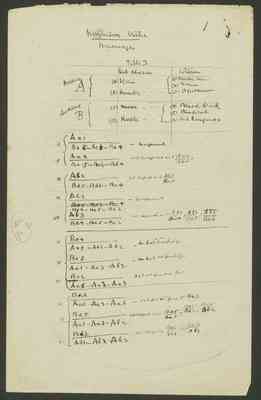 Wonghibon tribe Marriages
[table] Table 1 Sub classes totem Mukulo A (a) Ipai (1) Mallee Hen (2) Emu (b) Kumbo (3) Opossum Budthurung B (c) murru (4) Black Duck (5) Bandicoot (d) Kubbi (6) Red Kangaroo
I Aa1 Bc5-Bc6-Bd4 - reciprocal II Aa2 not reciprocal as to Aa2 Bc(5) - Bc6- Bd4 Bc5 III Ab1 not reciprocal as to Ab1 Bd5-Bd6-Bc4 Ba5 IV Ab2 [Ba5-Bd6-Bc4 -crossed out] Bc4-Bc5-Bd6 - reciprocal V Ab3 not reciprocal as to Ab3, Ab3, Ab3 Bd4-Bd5-Bc6 Bd4 Bd5 Bc6
II Bc4 Aa3-Ab1-Ab2 - [no -crossed out] Aa3 not provided for IIIBc5 Aa1-Aa3-Ab2 - [no - crossed out] Aa3 not provided for IV Bc6 Aa1-Aa2-Aa3 Aa3 not provided for IX Bd4 Aa1-Aa2-Aa3- not provided for as to Aa3 X Bd5 not reciprocal as to Bd5 Bd5 Bd5 Aa1-Aa3-Ab2 Aa1-Aa3-Ab2 XI Bd6 not reciprocal Bd6 Bd6 Ab1-Ab2-Ab3 Ab1 Ab3
[written in left side margin] see p2
Last edit about 1 year ago by
ALourie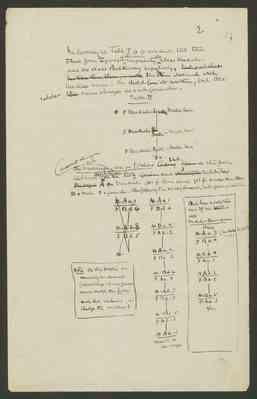 2 In looking at Table 1 it is evident that the Totems form two groups of three each representing the class Mukulo and the class Budthurung respectively. [Each sub class -crossed out] [has these three totems or rather - crossed out] The totems descend with the class name to the child from its mother, but the sub class [totem - crossed out] name changes in each generation.
Table II F Mukulo - Ipatha Mallee hen F Mukulo Butha Mallee hen F Mukulo Ipatha Mallee hen +c
The marriages and descent from your list are as follows [taking Ipai as -crossed out] I take the first instance 1 in the Lists Ipai Malle hen [given - crossed out] and I [ommitting the - crossed out] substituting [the capil- crossed out] A for Mukulo (a) for Ipai and (1) for Mallee Hen totem M=male F=female. Also following the ordinary Kamilaroi rule given [??] [M-Aa1-crossed out] M.Aa 1 [F Bd4 - crossed out] F Bd 4
[M Ab3 - crossed out] M Bc 4 [F Bd5- crossed out] FAb-2
M Aa 2 F Bc 6
M Bd 6 F Aa 3
M-Ab 3 F Bd- 5
M-Bc 5 F Ab-1
MAa-1 and to M da capo
[written in box on right hand side] But how would this run if one started with
Mukulo-Ipai-opossum thus: M-Aa 3 (see [note-crossed out] no VI on p1 FBc 4
M Bd 4 F Aa 1
MA b1 F Bd-5
M Bc5 F Aa 3 +c
[written in box on bottom left of page] note Do the Wonghi in counting the descents (relationships) of any person count through the father as in this instance, or through the mother?
Last edit 4 months ago by
ALourie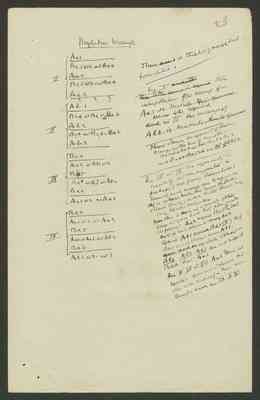 3 Wonghibon Marriages
Aa 1 Bc5 and 6 and Bd4 I Aa2 Bc5 and 6 and Bd4 Aa3 ? ? ?
Ab1 Bc4 and Bd5 and Bd6 II Ab2 Bc4 and Bc5 Bd6 Ab3
Bc4 Aa3 and Ab1 and 2 III Bc5 Aa1 and Aa3 and Ab2 Bc6 Aa1 and 2 and Aa3
Bd4 Aa1 and 2 and Aa3 IV Bd5 Aa1 and Aa3 and Ab2 Bd6 Ab1 and 2 and 3
These [are - crossed out] is the list of marriages + descent formulated
In I [and II- crossed out] [The table seems to require- crossed out] the interpolation of the marriage of Aa3 -re Mukulo - Ipai - opossum seems to be required and in II the marriages of Ab3 ie Mukulo-Kumbo opossum
Please observe the symmetry of these marriages in the run of numbersBc5+6+Bd4 in both Aa1+Aa2 and Bc4+Bd5+6 in Ab1 and Ab2
In III and IV the symmetry is wanting and the suggestion is perhaps by the following observation: Usually such marriages are reciprocal that is as Ipai Mallee Hen marries Kubbitha Black Duck, so does Kubbi Black Duck marry Ipatha Mallee Hen
Now this is seen in numbers of the cases in your list but please consider the following: Aa2 marries Bc5 (I) - but Bc5 is not shown to marry Aa2. Again Ab1 marries Bd5 (II) but Bd5 is not shown to marry Ab1 [again - crossed out] and so on with othersAb3 Ab3 Ab3 aqre not reciprocal Bd4 Bd5 Bd6 In II, VII and VIII Aa3 Ipai or Ipatha opossum is shown but there is no reciprocity. There are similar cases in IX, X, XI.
Last edit about 1 year ago by
ALourie