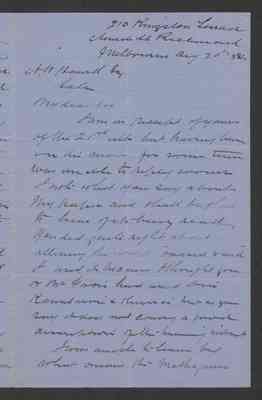 110 Kingston Terrace Church St Richmond Melbourne Aug 20th 1884
A.W. Howitt Esq Sale
My dear Sir I am in receipt of yours of the 21st ult but having been on the move for some time was unable to reply sooner I note what you say about my paper and shall be glad to have of its being read. You did quite right about allowing the word "sacred wand" I used it because I thought you or Mr Fison had used it in Kamilaroi + Kurnai but as you say it does not convey a good description of this humming instrument. I was unable to learn by what means the Mathajurri
Last edit 26 days ago by
ALourie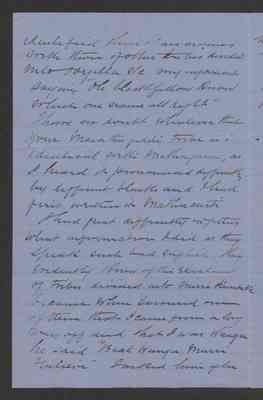 identified their clan names with those of other tribes hinder into Oorgilla etc. My informant saying "Oh blackfellow know which one name all right" I have no doubt whatever that your Marathu giddi tribe is identical with Mathaguru, as I heard it pronounced differently by different blacks and I had first written it Matha curti I had great difficulty in putting what information I did as they speak such bad English. They evidently know of the existence of tribes divided into Murri Kumbathe because when I assured one of them that I came from a long way off and that I was Wungu he said "Baal Wungu, Murri I believe" I asked him if he
Last edit 3 months ago by
ALourie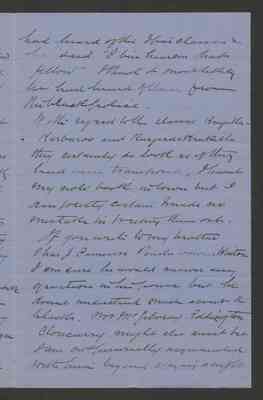 had heard of the Ipai classes + he said "I bin hearem that fellow" I think it most likely he had heard of them from the black police.
With regard to the classes Krugilla Karbaroo and Kurgira= Krukilla they certainly do look as if they had been transposed. I haven't my note book in town but I am pretty certain I made no mistake in writing them out. If you write to my brother Chas J Cameron Penola Downs Winton I am sure he would answer any question in his power but he doesn't understand much about the blacks. Mr McGilvray Eddington Cloncurry might also assist but I am not personally acquainted with him beyond staying a night
Last edit 3 months ago by
ALourie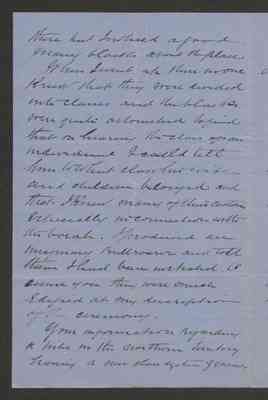 there but I noticed a good many blacks about the place When I went up there no one knew that they were divided into classes and the blacks were quite astonished to find that on hearing the class of an individual I could tell him to what class his wife and children belonged and that I knew many of their customs especially in connection with the borah. I produced an imaginery Bullroarer and told them I had been initiated. I assure you they were much edified at my description of the ceremony.
Your information regarding a tribe in the Northern Territory having a new class systeem of 8 names
Last edit 3 months ago by
ALourie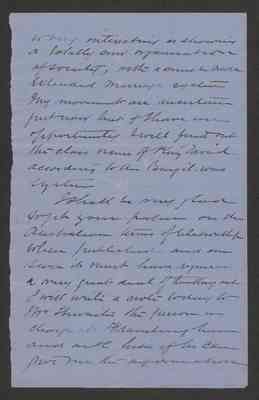 is very interesting in showing a totally new organisation of society, with a much more extended marriage system My movements are uncertain just now but if I have an opportunity I will find out the class name of King David according to the Bunjil waa system.
I shall be very glad to get your paper on the Australian terms of relationship when published and am sure it must have required a very great deal of thinking out I will write a note today to Mr Thwaites the person in charge at Framlingham and ask him if he can give me the information
Last edit 3 months ago by
ALourie