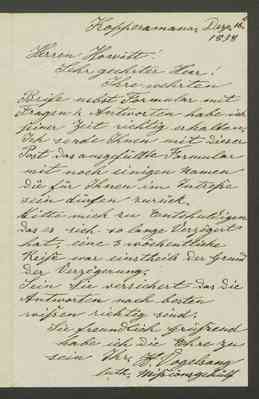 Koppermana, December 16, 1878
Mr. Howitt! Very esteemed sir! I have received your [wehrten?] letters, along with questions and answers, (every?) time without fail. I am sending you this letter in return, with the completed form with yet more names that might be of interest to you. Please excuse me for the long delay, a three-week trip was partially (einstheils: old German? lit: 'one part') the reason for the delay. Are you sure that the answers are right, to the best of our knowledge?
With best regards (or 'yours faithfully' etc.), I have the honour of being your [? Initial? Title?] Vogelsang, Luth.([Lutheran?) [Missionsgehülf].
Kopperamana, Deze, 16th, 1878
Herren Howitt!
Sehr geehrter Herr! Ihre wehrten briefe nebst formular mit fragen n Antworten habe ich jeiner zeit richtig erhalten. Leh mit dieser Post das ausgefűllte farmular mit noch einigen namen Die fűr ihnen im jntrefse sein dűrfen rurűck.
[Ritte? or Kitte?] mich [su? zu?] entshuldigen [enschuldigen?] das es sich so lange Verzȍgerts hat eine 3 suȍchentliche reife war einstheils der grund der Verzȍgerung.
Sein sie versichert das die Antworten nach besten soifsen richtig sind.
Sie freundlich [grűsrend?] habe ich die ehre zu sein Ihr [?] Vogelsang luth missions gehűlf
[English translation via Google translate] Kopperamana, this 16th,
Mr Howitt! Dear sir! Your resisted Letters together with form I have answers get one right time. anyway with this Post the completed form with a few more names The one for them in the future may be back. I apologize that it delays so long has a 3 weekly Maturity was at one and the same time the reason the delay.
She assures you that Answers to the best that's right.
You kindly [grűsrend?] I have the honor to his [?] Vogelsang luth missions belong
Last edit 9 days ago by
ALourie