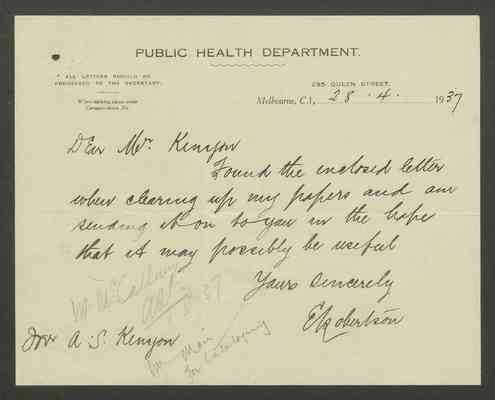 Public Health Department 295 Queen Street Melbourne, C. 1, 28.4.1937
Dear Mr Kenyon Found the enclosed letter when clearing up my papers and am sending it on to you in the hope that it may possibly be useful Yours sincerely E Robertson
Mr A. S. Kenyon
[written in pencil] Mr McCallum ask 1.5.37
In Man For cataloguing
Last edit 5 months ago by
ALourie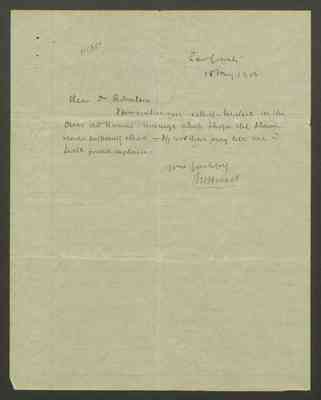 Law Courts 18 May 1906 Dear Dr Robertson I have enclosed you a short treatise on the Dieri and Kurnai marriages which I hope that I have made significantly clear. If not then pray tell me and I will further explain. Yours faithfully A W Howitt
Last edit 15 days ago by
ALourie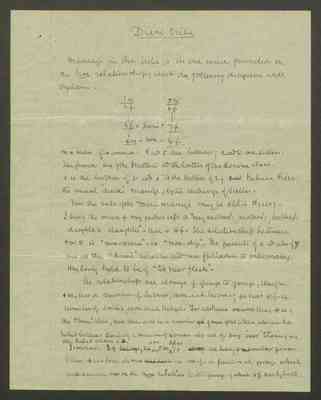 Dieri tribe Marriage in this tribe is in one sense founded on the Noa relationship, which the following diagram will explain.
[diagram] 1m 5m 2f 6f
3f Karni 7f 4m noa 8f
m=man f=woman 1 and 5 are brothers; 2 and 6 are sister: The former, say of the Matteri and the latter of the Kararu class. 1 is the brother of 4 and 5 is the brother of 2; [and- crossed out] We have here the usual "double" marriage; by the exchange of sisters. Now the rule of the Dieri marriage may be stated thus:I being the man + my proper wife is "my mother's, mother's, brother's daughter's daughter - that is 8f. The relationship between 4 and 8 is "noa-mara" i.e. "noa-ship". The parents of 4 and also of 8 are in the "Kami" relation and are forbidden to intermarry, they being held to be of "too near flesh".
As relationships are always of group to group, therefore 4M has a number of brothers, own and tribal; so has 8f a number of sisters, own and tribal. For instance, assume that 4 is of the "Emu" totem, then there will be a number [of th- crossed out] of men of that totem who are his tribal brothers. Similarly a number of women who are of say "crow" totem, are the tribal sisters of 8. Similarly 3f [belongs - crossed out], 2f, 1m, 5m, 6f and 7f [and 8f - crossed out] all belong to [and - crossed out] similar groups. When 4 was born it was [into sis- crossed out] as one of a paternal group which individually was in the noa relations to the group of which 8f was by birth.
Last edit 2 months ago by
ALourie
2 no one can come into such a group except by birth, with one "legal fiction" excepted, which I need only refer to by saying that it places 4m on the level of 1m as his "younger brother".
I now require another diagram in which I shall show how the pirrauru marriage works out. I take 1m and 2f as my starting point.
[diagram] 1m 5m 2f 6f
7son 8son NB 7son and 8son are only used in this diagram
1m/2f are husband and wife; 5m/6f are also husband and wife. These marriages I assume to have been brought about by one of the ways practised in the Dieri tribes - for instance 1 and 2 when children were promised to each other by their respective mother; 5 obtained 6 by gift [from - crossed out] for having prevailed upon a pinya (revenge party) to forgo a blood revenge against someone who could dispose of 6. Being brothers the pirrauru practice permitted [them - crossed out] them to become the pirrauru husband of each others wife. Thus 1 and 5 are the group husband of 2; and also of 6. This is by a formal ceremony which makes them pirrauru.
Since 1 and 5 are the husbands 2 [?6?] they are both the group fathers of 7; also 1 and 5 are the group fathers of 8. As 7 and 8 have the same father they are brothers; 2 and 6 are both "ngandri" that is mother of 7, because 2 is the actual mother, and [the other - crossed out] 6 is [the- crossed out] as we might call it, the step mother of 7.
I think this explained the pirrauru marriage and also why it is that the relationship terms recognise relations which necessarily arise out of "pirrauru"
Last edit 2 months ago by
ALourie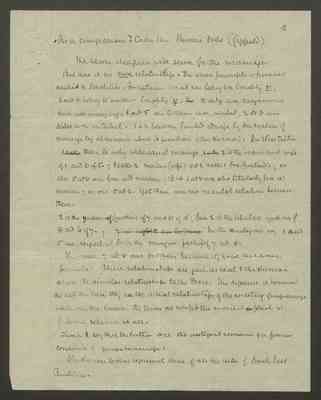 3 As a comparison I take the Kurnai tribe (Gippsland)
The same diagram will serve for the marriages But there is no noa relationship. The same principle is however applied to localities. For instance 1m and 2m belong to a locality x, 2 and 6 belong to another locality y. [The- crossed out] x and y are exogamous and intermarrying. 1 and 5 are brothers own, or tribal, 2 and 6 are sisters own or tribal. 1 + 2 became husband and wife by the system of marriage by elopement which is peculiar to the Kurnai. In this tribe [1 calls - crossed out] there is only individual marriage, [1 is the - crossed out] 2 is the individual wife of 1, and 6 of 5; 1 calls 2 maiau (wife) and 2 calls 1 bra (husband); so also 5 and 6 are bra and maiau. But 1 and 6 are also titularly bra and maiau; as are 5 and 2. Yet there are no marital relations between them.
2 is the yukan [of - crossed out] (mother) of 7, and 6 of 8; but 2 is the titular yukan of 8 and 6 of 7; [7 and eight 8 are brothers- crossed out] In the analagous way 1 and 5 are respectively both the mungan (father) of 7 and 8.
The men 7 and 8 are brothers because they have the same parents. These relationships are just as real to the Kurnai as are the similar relationships to the Dieri. The difference is however that with the Dieri they are the actual relationships of the existing group-marriage which with the Kurnai the terms do not fit the marital [or - crossed out] filial or fraternal relatives at all.
Though I say that the latter are the vestigial remains of a former condition of group marriage.
The Kurnai terms represent those of all the tribes of South East Australia
Last edit 22 days ago by
ALourie
Displaying Page 1 - 5 of 6 in total