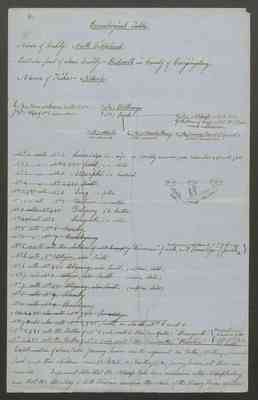 Genealogical Table
Name of Locality: North Gippsland Particualr Part of above locality: Bidwell in locality of Croajingalong Name of Tribe: Maap
6. (M) Name unknown, brother to No 1 1. (M) Wothango 7 (F) Wife of No 6 name unknown 2. (F.) Loah 8. (F) Māap, sister to No 2. 9. (M) Man of Bega (N.S.W.) Tribe name unknown 3 (F) Māak 4. (M) Makathung 5. (M) Jemmy Lawson (Informant) Not married Not married Not married
No 1 calls No 2 Lowandya i.e.wife or possibly woman, see below what 3,4 + 5 call 7 + 8 No 1 [ditto] Nos 3, 4, + 5 Leidt i.e. child No 2 [ditto] No 1 Māarpka i.e. husband No 2 [ditto] Nos 3, 4, + 5 Leidt Nos 3, 4, + 5 call No 1 Lung i.e. father Nos 3, 4 + 5 call No 2 Yeckun i.e. mother No 3 calls Nos $=% Detyung i.e. brother Nos 4 + 5 call No 3 Lunyuck, i. e. sister No 5 calls No 6 Kamby No 5 [ditto] No 7 Bambyung No 5 would call the children of Nos 6 and 7 "Kooman" if male, and "Lowandya" of female and some of children of 8+ 9 if any No 6 calls No 3 Atyin, also Leidt No 6 calls Nos 4+5 Atyung, also Leidt (nephew, child) No 7 calls No 3 Atyin, also Leidt ([?niece?], child) No 7 calls Nos 4+5 Atyung, also Leidt (nephew, child) No 5 calls No 9 Kamby No 5 calls No 8 Bambyung Nos 3,4 +5 also call Nos 7 + 8 [?Lowandya?] Nos 7 and 8 also call Nos 3, 4 + 5 Leidt, as also do Nos 6 and 8 Nos 3,4 + 5 call the Father of No 1 (who would be their Grandfather) "Banyack" Banyack and Bambin both Nos 3, 4, + 5 call the Mother of No 1 (who would be their Grandmother) "Bambin" call Nos 3, 4 + 5 Leidt
Explanation of above Table. Jemmy Lawson was the informant. His Father (Wothango) married Loah and their children were (F) Māak, (M) Māathang + (M) Jemmy Lawson, all three unmarried. Informant states that the Māap tribe has a subdivision called Māapkoolong and that the territory of both divisions occupies the whole of the Snowy River watershed.
[chart on right side of page] F. B Father F.B.W. Kamby Leidt Lung leidt Leidt Bambyung child
Last edit 3 months ago by
ALourie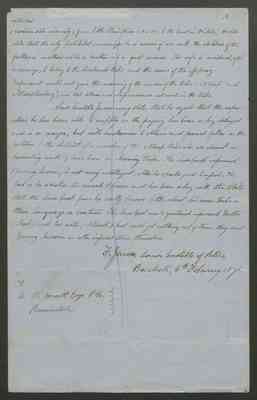 watershed. (eastern side river only) from Little Plain River (N. S. W.) to the Coast in Victoria. He also states that the only prohibited marriages he is aware of are with the children of the father's or mother's sister or brother - i. e. first cousins. The wife is considered, after marriage, to belong to the husbands tribe and the same of the offspring.
Informant could not give the meaning of the names of the tribe - "Māap" and "Māapkoolong", and that totems and class names are not used in the tribe.
Senr Constable James may state that he regrets that the information he has been able to supply in the foregoing has been so long delayed and is so meagre, but will endeavour to obtain and forward fuller on the return to the district of a number of the Māap tribe who are absent on harvesting work + have been on shearing trips. The Senr Const's informant (Jemmy Lawson) is not very intelligent, altho' he speaks good English. The fact is he smokes too much Opium and has been so long with the whites that the Senr Const fears he really knows little about his own tribe or their language or customs. The Senr Const saw + questioned informant's mother (Loah) and his sister (Māak) but could get nothing out of them, they sent Jemmy Lawson as better informed than themselves. F. James, Senior Constable of Police Bendock, 6th February 1876
To A. W. Howitt Esqr P.M. Bairnsdale
Last edit 3 months ago by
ALourie