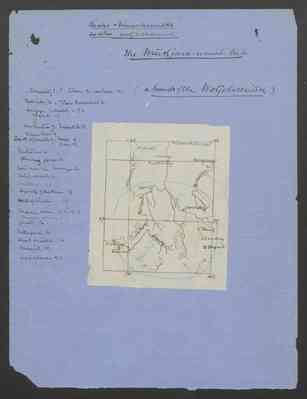 Last edit about 1 month ago by
ALourie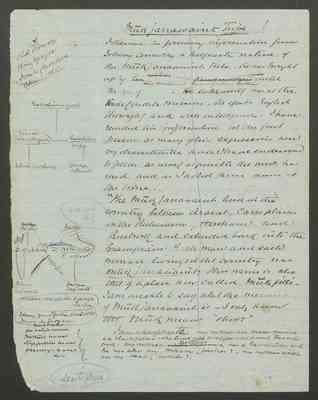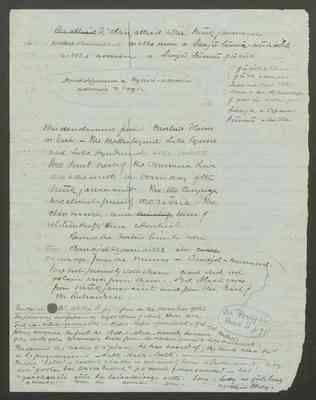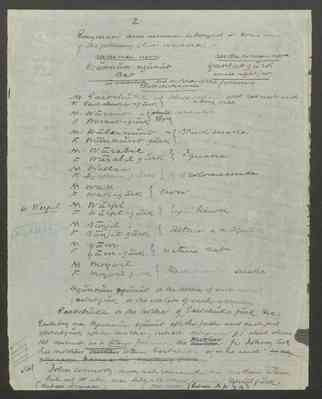 2 Every man and womanbelonged to some one of the following class names:
All the men were [underlined] All the women were [underlined] [Ngŭnnŭn ngŭnŭt?] [Yartat gūrk?] Bat [underlined] small night jar [underlined] in [association?] one or other of the following class divisions -------------------------------------------------------------[M. & F. below bracketted together] M. Gartchŭka = white cockatoo with red crest and a long bill F. Gart chuka-gūrk M. Wūraut = black cockatoo F. Wuraut-gūrk M. Wūlernŭnt = Black snake F. Wūlernŭnt gūrk M. Wūrabil = Iguana F. Wūrabil gūrk M. Djallan = Buff coloured snake F. Djallan gūrk M. Wak = crow F. Wak gūrk M. Wŭrpl = Eagle hawk or Werpil F. Wŭrpl gūrk M. Būnjil = Altair = [α Aguiles?] F. Būnjil gūrk M. Yūrn = native cat F. Yūrn gūrk M. Moywil = black headed snake F Moywil gūrk
Each boy was [Ngŭnnŭn ngŭnŭt?] after his father and each girl [Yartat gŭrk?] after her mother, but see diagram pi which shows the descent as to totem followed. the motherfrom Johnny took his mothers when [Gart-chuka?] or as he said [all crossed out]
John Connolly does not remember his mothers totem but not that she was like all other women [Yartat gŭrk?]. (But see description) (See over) (but A p2A)
Last edit over 1 year ago by
J Gibson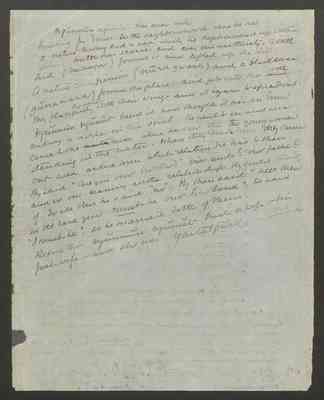 Ngŭnnŭn njŭnŭt was once out hunting for emus. In the neighbourhood where he was a native turkey had a well which he kept covered up with a stone. Water was scarce and every one was thirsty. A little bird (tree creeper) found and lifted up the lid.
A native companion [Nūrk gwark?] and a black swan ([gŭnawara?]) found the place and got into the well. They flapped the water with their wings and it began to spread out. Ngŭnnŭn njŭnŭt heard it and thought it was an Emu making a noise in the scrub. He went to see and [?] came to the river where he saw the two young women standing in the water. When they saw hihim they came out and asked him what relative he was to them. They said "Are you our brother?' our uncle? our father? and so on naming all the relationships they could think of. To all this he said "no". They then said "Well then in that case you must [underlined] be our husband". He said "I must be". So he married both of them. Before this Ngŭnnŭn njŭnŭt had a wife - his first wife - and she was [yartal gūrk?].
Last edit over 1 year ago by
Christine
Displaying Page 1 - 5 of 31 in total