See also Mukjarawaint See also Jupagalk wonndeler
The Wotjo-Balluk tribe Wimmera River
Boundaries + clans 1 Bunjil 1A classes, divisions + totems 2 marriages + descents 3/5 Betrothal +c 6. 8/10 - Marriage ceremony 8 Tribal council 9 Barter 9 Medicine men 10 45 Rainmakers 10 Totems 12 dreams 12 ghost 14 magic 14/17 Initiation ceremonies 18 Division of Game 20 Food rules 20 Sky 41 messengers message sticks 21/23 country they travel +c 22 [??] 31 34 47 Set fight ordeal 24 Elopement 24 25 Avengers of blood 25 omens charms +c 32 33 Telling lies 26 Magic kidney fat +c 26 27 28 Aurora 32 Burials 29 33 Birgalk 34 widows 30 Infanticide 31 moon + sun 44 cannibalism 31 Folklore 35/41 43 45 46 Gestures 44 47 Pleiades 45 First man 46 vocabulary 48 Sex totems 46/47 Signals 47
[map]
Last edit about 2 months ago by
ALourie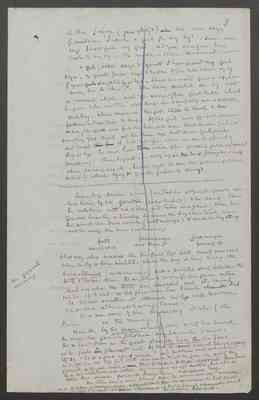 3 at the jaine (jeru of Wotjo) [wh- crossed out] one man says for instance "I want a girl for my boy" - some one says I will give my girl and you can give his sister to my boy. The matter is then discussed.
"Girl's father says to youth I have promised my girl to you. The youth's father says to the former if you like to have my boy for your [girl - crossed out] daughter by and bye - I have his sister growing up, can marry her brother." - This being settled the boy with a mussel shell cuts off some of the girl's hair which he gives to his mother who keeps it carefully in a small net bag. When married the girl takes it back to her father and mother to keep. If the girl ran off with some man, the youth will put the hair with some black snakes fat or something of the kind and tie them up with some guliwills and roast [the bo- crossed out]it before his fire when no one is about By and bye he can hear the voice of her gulkin gulkin (spirit) complaining.Then he puts it away up in the bark forming his camp where he can see it. In the night he sees her gulkin gulkin sneaking about trying to get the guliwill away.
Before boys whiskers come and before he is quite grown up he is taken by his guritch (sisters husband) to his camp. Then he rubs him with red ochre and takes care of him. When he goes out hunting or travelling he carries the boy when tired and he sounds the bull roarer (mānunga) to make the boy strong and he sings this song continually:
pata manunga jirarunga wait a while don't touch it growing up
This song also makes the two front top teeth easily removed when the boy is being initiated. While the song is being sung the barn-būngal (medicine man) puts a pointed stick between the teeth to loosen them. If any blood comes from the gums either now or when the teeth are knocked out it must not be spit out - or let flow down his breast [else h -crossed out] but he must swallow it, otherwise his legs will become crooked and he would become lame.
This was done by the Jajawrong and also by the tribes on the Murray
When the boy has grown so [?much?] older so that his beard has come his gurech + the old men take him away to be made a man. He is laid down on the ground and all the hair from his face and his pubes [are - crossed out] is plucked out. If this comes out easy and [anil - crossed out] without blood coming they say "he is a good young man" and rub him with red ochre and after his two top front teeth are knocked out - he goes only with his gurech + the old men. This is called pūrki-worruk. For a time he is only rubbed with red ochre and remains quite naked, but after a time his oldest gureich brings him a possum rug. The other one is said to have been too much with the women and is called a bad young man, is painted white from the waist over the head down the back to the waist and wears a brandy yep in front + behind of possum skin strands. He is called Liba-auk.
[written in left side margin] The ganich ceremony
Last edit about 2 months ago by
ALourie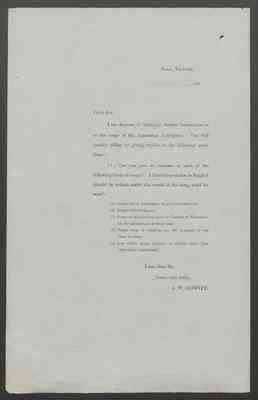 [printed query]
Sale, Victoria
........188
Dear Sir I am desirous of obtaining further information as to the songs of the Australian Aborigines. You will greatly oblige by giving replies to the following questions: (1) Can you give an instance of each of the following kinds of songs? A literal translation in English should be written under the words of the song, word for word: (a) Songs which accompany dances (corroborees) (b) Songs without dances (c) Songs or incantations used by Doctors or Wizards as, for instance, to procure rain: (d) Songs sung to children - as, for instance, to put them to sleep; (e) Any other songs, chaunts, or charms other than those above mentioned.
I am Dear Sir Yours very truly, A. W. Howitt
Last edit about 1 year ago by
Stephen Morey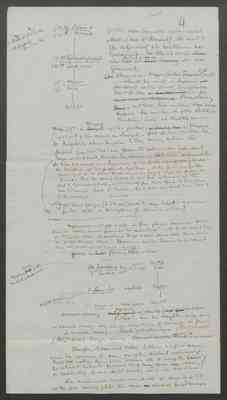 4 [chart] (1) M Barim + (1) F Mim ①
(3) M Tenamet-jaurlich (4) F Sera nim
(5) major (6) wife
no child
(1) This man belonged to a place called Marr (near St Arnaud). He went to the Wotjo country at Pine Plains near Yellamjip. He claimed a wife [then - crossed out] [who was at Lake Coorong - crossed out] from that place who was Ganutch. [(2) - crossed out] Their son Major's father Tenamet-jaurlich who claimed his country at St Arnaud [at - crossed out] also claimed as his country Pine Plains His wife was [a Laitchi- Laitchi - crossed out] from [and was a Kilpara - crossed out] Pine Plains. [Then -crossed out] and took her mother's clan name Kilpara. Her mother was of the Laitchilaitchi tribe at Kulkyne.
Major (5) is [Bunjil - crossed out] Wrappel after his father, [or speaking - crossed out] and Wrappel (Eagle hawk) is the same as Bunjil. But after his mother he is Kilpara when he goes to the Murray tribes. His paternal grandmother was gamulet and as to her tribe descent runs in the female line [??] where is [??] tribe is Gamutch. He takes his country as a Jajauworung from his father + grandfather; he also has Pine Plains after his father who lived there, and also from his grandfather whose wife was from that place. He also claims the country where his father was buried. Thus the country of which he was "free" is bounded in the west by Yanambrak creek, on the north from Lake Tyrrel to Pine plains near Yellamjip, South to Murtoa (where his father was buried) and East to to St Arnaud.
(7) the child of Major (had he one) would he says take his name from his mother a Woring class from Alexandra - but ?
Major could not get a wife at Pine plains because it was there his mother came from - and his "mother's blood" would be too near to him in the people there. He would have to go to some place where there were no people "too near to him". Horsham would do because he had friends there who would find him a wife.
yaur= flesh = totem = class
M Nga-pung brother + mother - brother F Kukuk sister + sister sister
F Lera-nim ngalŭk daughter
Major - māp-gurk daughter
cannot marry [māp-gurk - crossed out] ngaluk (daughter of [mo gra - crossed out] mother's brother) nor his daughter - māp-gurk -cannot marry any one in this line of descent as far as could be traced. Read "forbidden degree" of Wotjoballuk ([?Bob ?Nephew?]) Major said "cannot marry those" Therefore I amount to this to obtain a wife a man must be [??] to some one of the distant intermarrying localities - where there is some woman who is not of the "Yaur" of the intended husband. He must therefore marry some [one -crossed out] woman of the opposite class from some distant locality who is not near to him.
This matter would require consideration and therefore it is that great meeting of tribes the men discussed [?preferred?] marriages.
[written in the left side margin] += Paternal grandfather =① paternal grand mother
ngapung - [father - crossed out] mother's father kukun = mother's mother
Major's mother
Last edit about 2 months ago by
ALourie