Pages That Need Review
XM760_ICDMS_lowres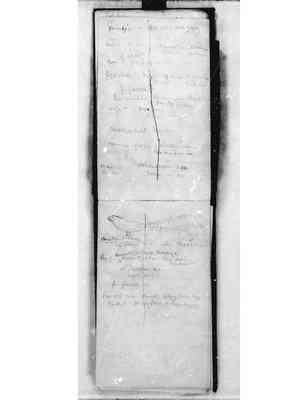 Mudji - Murrangang
[???] - Kaualgar - Billinga[????][of faith?]
[????]
Bega Charley - najalija BatngaribaWaterhen
fr father
his sister murunbut[??]wife - wagoora[??]
Chidren both najalaga
Woman sister = tintegallan[??]
Man's brother mūrrōwra emu wren
[next page][illustration of what appears to be an emu wren with its distinctive bared tail feathers]
[Bradin Boy??]his fath was also nuri..[?]
boy from Bungully [??] Moruya meritjigar long nosed bandicootand jarauratnight owl
for father
one old man died along time agocalled Winbore = Eaglehawk
Last edit 4 months ago by
ALourie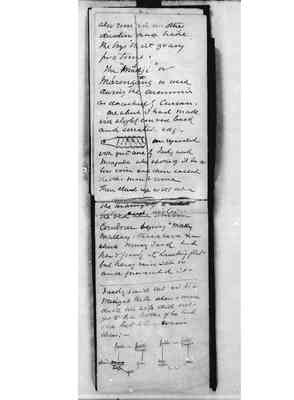 also run in anotherdirection and hidethe boys hen go awayfor a time.The "Mudji" or Màrengang is usedduring the ceremoniesas described by Curran.One which I had made with slight convex backand serrated edges.[Illustration of object]. Regardedwith great awe by Jacky and Mragula who spoke of it in a low voice and then calledthe other men to comeThere closed up so that not a
[Next page]
the marriage of a [???][???]Corroboree beginning "MallyMallay - tariarara" for whichMurray Jack hadheard formerly at Lambing Flatbut heavy rain set in and prevented it.
Jacky said that in theWalgal tribe when a man died his wife did notgo to his brother if he hadone but his cousinthen: [diagram of relationships]
Last edit 26 days ago by
ALourie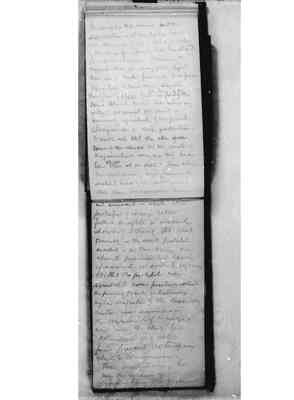 It would be the same as to the mother - it would be her grandson only who would belong to the class [could be clan] for which her husband could be chosen. I cannot regard this in any other light than as a rule formed to enforce separation between those eligible theretofor by class [underlined] but [??] being of the same blood could not intermarry without [??] that which is universally regarded by the present Aborigines as a [?deep pollution?] I doubt not that the idea that the male is the [??] source may have been at the distant time when the subdivisions were formed distinctly held by the aborigines That these subdivisions are
[next page]
not universal - which the prohibit of marraige between father + daughter is imorral shows only I think that which generally - the social prohibition existed - in this case a special permission had been [?formed?] in order to [?enforce?] it. That the prohibition was directed to the practice of such intermarriage may be [?conjectured?] by the [?Kunandday?] custom which accompanied the [??] of marriage. Where ever the class ties of kindred are not present the temporary return to communism The [?Kunand obey here?] not the [??] of the classes - [?having?] the more
Last edit over 2 years ago by
ALourie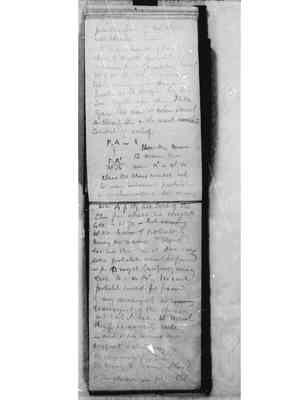 primitive form of this class with totems. - It may be here the place to speak of another prohibition [??] [??] [?unusual?] to Australia [??] that if the slightest intercourse between a woman + her daughter's husband. A diagram may let some light upon this. I like again the case of [??] descent [??] the most ancient condition of society.
[diagram] It is clear that there would not be any inherent prohibition in the class rules in [??] marry
[new page]
him. A pity [?all?] both if the class for which he might take a wife - but assuming that the horror of [?polluting?] by mixing the same "blood" existed there as it does now some prohibition would be formed -for B might lawfully marry either A or A', no such prohibition could be found by any arrangement or rearrangement of the classes and sub classes. It must therefore be a social rule - and it has become one of as great stringency as the class rule prohibits the [?mixing?] the same blood in the classes - [?only?] that
Last edit over 2 years ago by
ALourie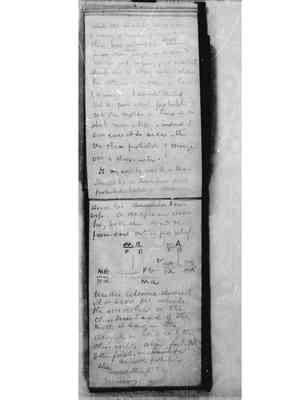 while that inability is a man to marry a woman of the same class does not appear either when he is single or married [?unless?] [?only?] inquiry it instantly stands out in strong relief when he obtains a mother in law by marriage. I do not think that the social prohibition as to the mother in law is a [?whit? - could be white] [?man? - looks like mon] [?story? - could be strong] - indeed I am sure it is [??] - than the class prohibition of marriage with a class = sister. It may now be said - there should be a corresponding prohibition between a man
[next page]
and his son's wife. A diagram will bring both this and the former case out in good relief
[diagram]
Under [??] descent it is seen that while the son in law is the class husband of the mother in law - the daughter in law is by the class rules already forbidden to the father. No further prohibitions [?issued?] therefore be necessary
Last edit over 2 years ago by
ALourie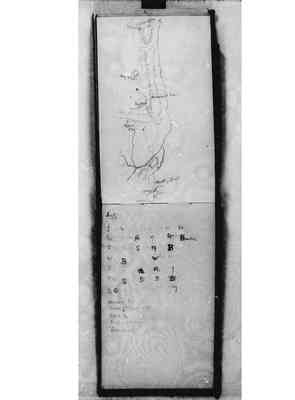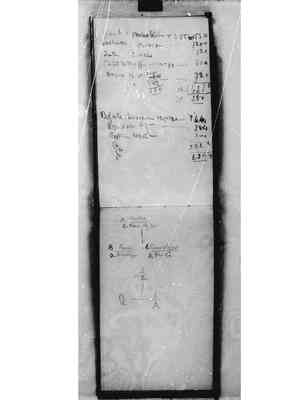 Grant + Omeo Station - 255 - 1530 Walhalla - [?two100?] - 1200 Foster [?2p160?] - 320 [?Strat?] + Maffra = [?12?50?] - 600 Wagra 2 @ 135 [45, 180 * 2 and 360 written below] - 320 [could be 720] [12, 470, 77 and ?? written underneath] Bdale steamer 12 @ 120 - 1440 Rosedale Bay - 384 Post - coach - 200 [2024 and 6394 written underneath]
[next page]
[diagram]
Last edit over 2 years ago by
ALourie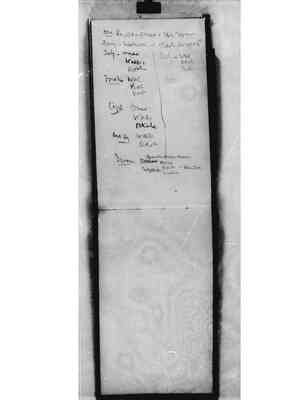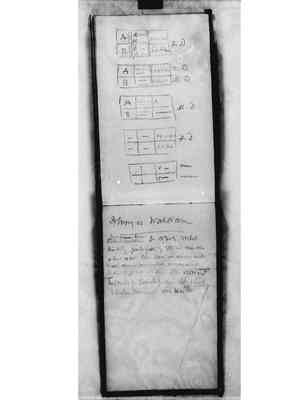 [diagrams]
[next page]
Johnny is [?Walkan?]
Court House [??] Slate + [??] St [?arbor?] value [could be valise] [??] by joints filled by [??] and iron ore about [?40 or 400?] [?tons?] iron on [??] side [??] much [??] corrugated [??] by joints - [difficult to read this next bit] half mile [?for or from?] twonship [??] left bank [?Scister?] sediment [??] [??]
Last edit over 2 years ago by
ALourie
XM581_ICDMS_lowres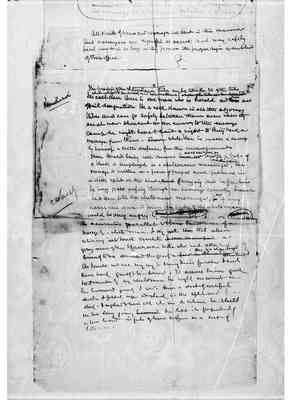 [Most is a repeat of page 6]
[two words corssed out] of the [Kulin?] [sub clnas?] as the Red Kangaroo totem[?] messenger [?] of the same sub clan as when -------------------------------------------------------------------------
All kinds of news are sent in this manner Such messengersare regarded as sacred and may safely travel anywhereso long as they possess the proper sign or emblem of their office. 8.----------------------------------------------------------------------------------------------------------
[Left hand margin: Kamilaroi ]
The fracture of the Kamilaroi tribes may be taken from that of the tribes which inhabited the country now near Maitland, [rest of line crossed out]In each clan there is one man who is herald and has an official [?nation?]. He is well known in all the adjoining tribes and can go safely between them even when they are at war. When sent as an envoy to the enemys camp he might have to wait a night to bring back a message from them. While there he makes a camp by himself a little distance from the encampment. These Heralds being well known did not need to carry any badge or emblem of office but if a black is employed as a white mans messenger, the message is written on a piece of paper and fastened in a stick split at the end. Carrying this before him he may pass safely through an enemys country because he is seen to be the white mans messenger, and if any harm wermy [?]e done to him the tribe of the white man would be very angry. [Rest of line crossed out]As a curious parallel & this [?] if a messenger a white man of [such?] note that when returning into South Australia [rest of line crossed out] a young man of the Yaurorka tribe then had [attached?] himself to me accompanied the [part?] and [words crossed out] to a stage beyond [offical limits?]
As I could not see my [?] to bring him further I sent him back greatly to his sorrow. To ensure him good treatment by any whitemen he might encounter in his [?] journey I wrote him a sort of certificate which I folded up and stood in the split end of a stick. I explained to him all it was & when he started in his long journey he had its [?] in his hand in front of himself as a [?] if [?].
Last edit 26 days ago by
ALourie