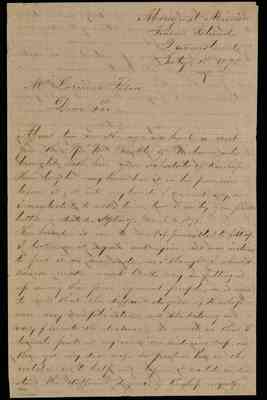 Aboriginal Mission Fraser's Island Queensland July 15 1872
Mr Lorimer Fison Dear Sir
About two months ago we had a visit from the Rev Mr Buckle of Brisbane, who brought with him you Schedule of Kinship. How long he may have had it in his possession before it got into my hands I cannot say, as I neglected to ask him, but I see by your printed letter is dated Sydney March 6 1871. He handed it over to me (if possible) to fill up. I looked over it again and again, and was inclined to put it on one side, as I thought I should scarce make much head way in filling it up among this poor ignorant people, as it seem'd to me that the different degrees of Kinship were very complicated, and stretching out very far into the distance, so much so that I had to put on my own considering cap and then get my dear wife and partner here in the wilderness to help me before I could understand the different degrees of Kinship myself.
Last edit about 1 month ago by
ALourie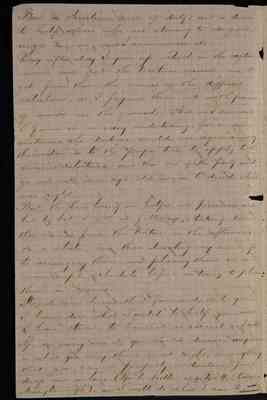 But a christian sense of duty, and a desire to help others who are striving to do good urged me on, and I commenced it. Day after day I gave up School in the afternoons and got the Natives around me, to get from them the names of the different relations, as I figured them out with pieces of wood on the ground. And as I surmised I found it no easy undertaking, for in some instances the Natives could not agree "among themselves" as to the proper term to apply to the various relations, and then one of the part would go and ask some aged old woman to decide which was right. But, the Lord being our helper, we persevered, and bit by bit I got it filled up, - taking down the names from the Natives in the afternoons on a slate, and then devoting my evenings to arranging them and placing them in a manuscript schedule, before venturing to place them in yours. And now herewith I forward it to you, I have done what I could to help you, and I have strove to have it as correct as I could. If, on going over it, you should discover any error or what you may think is not right, or anything that you cannot properly understand, just drop me a line (Rev. E. Fuller care of Rev. H. I. Lavers Maryborough) and I will do what I can to
Last edit 27 days ago by
ALourie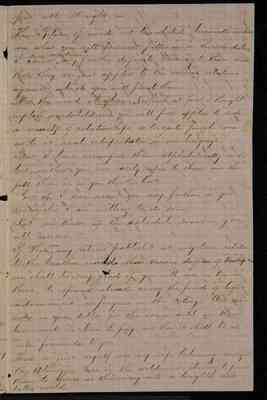 put all straight. The "Return of words not translated" herewith enclosed are what you will find not filled in in the schedule. I cannot ascertain any farther definite meaning to them, than that they are just applied to the various relations against which you will find them. And the word Mybeen (which at first I thought implied grandchildren) you will find applied to such a variety of relationships as to quite puzzle one as to its real interpretation in our language. But I have arranged them alphabetically on the list, so that you can easily refer to them, and then fill them in as you think best. And if I can assist you any farther in your researches I am willing to do so. Let me know if the schedule reaches you all correct. If there are any returns published at any time relative to the heathen worlds, their various degress of Kinship +c we shall be very glad if you will send us two or three, to spread abroad among the friends of light advancement and progress in this colony. And consider us your debtor for the same until we know how much we have to pay, and then it shall be at once forwarded to you. There is just myself and my wife labouring amongst the Aborigines here in the wilderness, striving to point them to Jesus as their way into a brighter and better world.
Last edit about 2 years ago by
ALourie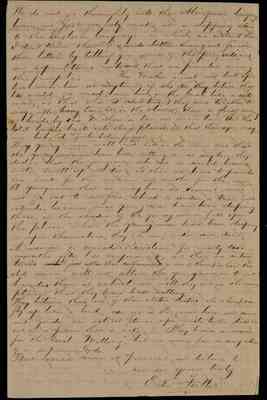 We do not go thoroughly into the Aboriginal language here, we just merely make it a stepping stone to the English language, in which we instruct them. I don't know that I can do better than just finish this letter by telling you some of the prejudices and superstitious notions that are prevalent among this people. The mother must not look upon her son-in-law at anytime, if she did they believe that he would go mad, and live in the bush like a wild man. So that when (at school time) they come together to sing, after being taught in the classes, there is a great covering of heads by the Mothers-in-law and sons-in-law, and the old ladies back into their places so that their eyes may not behold forbidden fruit. The young men will not sit on the same seat that the young women have been sitting on at any time, they declare that they young men who did so would become sick, swell up and die. So that we have to provide one seat for the women and another for the men. A young woman that we may have a as servant must not go out to our fire, which is under a tree just outside, because some young men have been sleeping there, if the shadow of the young women fall upon the place where the young men have been sleeping or upon themselves, they (the men) sicken and die. A woman is considered "unclean" for nearly two months after her confinement, and there are certain times (just after their confinement is one of them) when the old women will not allow the young women to sit besides them at school, nor will they sit on the same place that they have been sitting. They believe that one of their Native Doctors (who is here) can fly up like a bird, can go in the ground here and come out yonder, can extract stones, rope, nails, broken glass +c out of a person that is sick. They have a name for the Devil - "Mellong", but no name for, or any idea of a supreme God. But excuse more at present and believe to remain yours truly Edw Fuller
Last edit almost 2 years ago by
J Gibson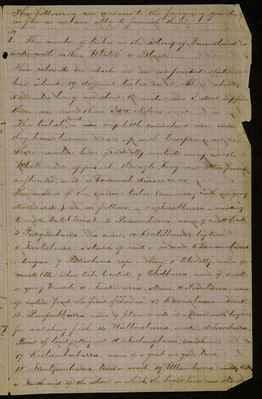 The following are answers to the foregoing questions as far as we are able to furnish them. No. 1 The number of tribes in the colony of Queensland is unknown to either "Whites" or Blacks. This island on which we are at present stationed has about 19 different tribes on it. It is about 85 miles long and about 12 wide, and I don't suppose there are more than 300 Natives on it. The tribal bond is very little cared about now since they have become mixed up with Europeans and as there [sic] numbers have gradually wasted away at the White man's approach, through "Grog" and other pernicious influences, such as Venereal disease +c +c. The names of the various tribes (commencing South and going Northwards) are as follows - 1. Turobburra - meaning to make Huts (Turra). 2 Purreenburra, name of small birds 3 Purgunburra - sea coast. 4 Kōntilburra, big trees. 5 Tuntuburra a stretch of sand on sea coast. 6 Kunnumburra tongue. 7 Pokorburra rope or string. 8 [?Elitelly?], name of creek (Eli) where tribe located. 9 Elidburra, name of small or young mussels. 10 [?Tucki?urra?] stones. 11 Poonburra, name of native food, the fruit of "Tamia" 12 Koonaburra - creek. 13. Punpubburra, name of place made in a creek with boughs +c, for catching fish. 14 Wulloaburra, smoke. 15 Toomburra Point of land jutting out 16 Turlangburra, sunshine 17 Keelumberburra name of a grub and gum trees. 18 Tuntyeenburra, trees or wood. 19 Ullumburra Sandy Cape or North end of the island on which the Light house now stands.
Last edit 5 months ago by
ALourie