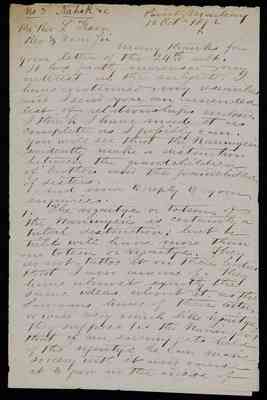 No. 3 Nahik +c Point Macleay 15 Octr 1872 The Rev L Fison Rev & Dear Sir Many thanks for your letter of the 24th ult. It has greatly increased my interest in the subject. I have continued my researches and I send you an amended list of relationships enclosed. I think I have made it as complete as I possibly can. You will see that the Narrinyeri evidently make a distinction between the grandchildren of brothers and the grandchildren of sisters. And now to reply to your enquiries. 1. The ngaitye or totems of the Narrinyeri is certainly a tribal disctinction; but a tribe will have more than one totem or ngaitye. They do not tattoo it on their bodies that I am aware of. They have almost exactly the same ideas about it as the Samoans have of their aitic, a word very much like ngaitye. They suppose (i.e. the Narrinyeri) that if an enemy gets hold of the ngaitye he can make sorcery with it and cause it to grow in the inside of
Last edit about 1 month ago by
ALourie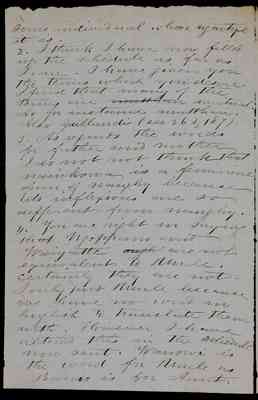 some individual whose ngaitye it is 2. I think I have now filled up the schedule as far as I can. I have given you the terms which you desire. I find that many of the terms are [crossed out- mutthari] mutual. As for instance mutthari. Also yullundi (see 3 6 & 187) 3. As regards the words for father and mother I do not not think that nainkowa is a feminine form of nanghy because its inflexions are so different from nanghy. 4. You are right in saying that Ngoppam and Waiyatte [crossed out - ough] are not equivalent to Uncle. Certainly they are not I only put Uncle because we have no word in English to translate them with. However I have alerted this in the schedule now sent. Wanowi is the word for Uncle as Baruo is for Aunt.
Last edit almost 2 years ago by
ALourie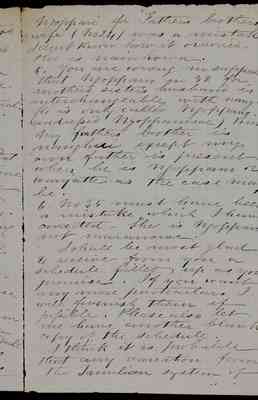 Ngoppari for Fathers brothers wife (No 24) was a mistake I don't know how it occurred. She is nainkowa. 5. You are wrong in supposiing that Ngoppano in 32 for mother's sister's husband is interchangeable with nang. He is only called ngoppano (addressed ngoppanowe). But my fathers brother is nanghai except my own father is present when he is ngoppano [??side of page cut off] waiyatte as the case may be. 6. No 35 must have been a mistake which I here corrected. She is ngoppan not maranowe. I shall be most glad to receive from you a schedule filled up as you promise. If you want any more particulars I will furnish them if possible. Please also let me have another blank copy of the schedule. I think it is probable that any variation from the Tamilian system of
Last edit almost 2 years ago by
ALourie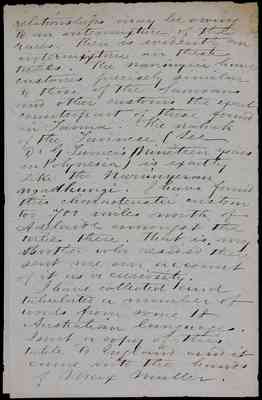 relationships may be owing to an intermixture of the races. There is evidently an intermixture in these tribes. The narrinyeri have customs precisely similar to those of the Samoans and other customs the exact counterpart of those found in Taima. The nahak of the Tannese (See Dr G Turner's Nineteen years in Polynesia) as exactly like the Narrinyeran ngadhungi. I have found this characteristic custom too 700 miles north of Adelaide amongst the tribes there. That is, my Brother who resided there sent me an account of it as a curiosity. I have collected and tabulated a number of words from some 18 Australian languages. I sent a copy of this table to England and it came into the hands of Max Muller.
Last edit about 1 month ago by
ALourie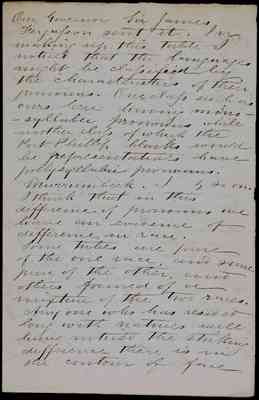 Our Governor Sir James Ferguson sent it. In making up this table I noticed that the languages might be classified by the characteristics of their pronouns. One class such as ours here having monosyllabic pronouns while another class of which the Port Phillip blacks would be representatives have pollysyllabic [sic] pronouns. Murrumbeek. I & so on. I think that in this difference of pronouns we have an evidence of difference in race. Some tribes are pure of the one race, and some pure of the other, and others formed of a mixture of the two races. Any one who has resided long with natives will have noticed the striking difference there is in the contour of face
Last edit almost 2 years ago by
ALourie