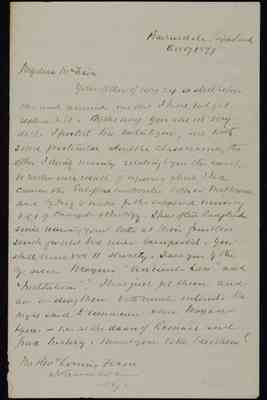 Bairnsdale Gippsland Oct 17 1877
My dear Mr Fison Your letter of Aug 24 is still before me and reminds me that I have not yet replied to it. By the way you were in my [?desk?]. I posted two notes to you, one with some particulars about the class names, the other I think mainly relating to you the result, or rather non result of enquiries which I had caused the Post Office Authorities both in Melbourne and Sydney to make for the supposed missing vol 1 of Principles of Biology. I have often laughed since receiving your letter at their fruitless search for what had never been posted. You shall have vol II shortly. Have you by the bye seen Maynes "Ancient Law" and "Institutions"? I have just got them and am reading them with much interest. He may be said to commence when Moyan begins - i.e. at the dawn of Roman and Greek history. Would you like to see them?
The Revd Lorimer Fison Navulua Fiji
Last edit 13 days ago by
ALourie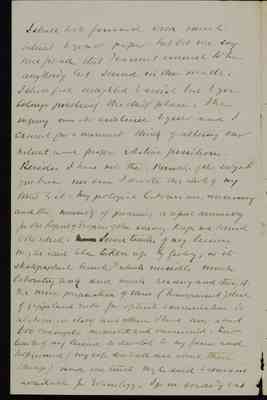 I shall look forward with much interest to your paper but let me say once for all that I cannot consent to be anything but second in this matter. I shall feel delighted to assist but to you belongs positively the chief place. The inquiry owes its existence to you and I cannot for a moment think of altering our natural and proper relative positions.
Besides I have not the knowledge of the subject you have nor can I devote the whole of my time to it. My geological labours are necessaray and the necessity of producing a report annually for the Report of Progress of the survey keeps me bound to the wheel. Seven tenths of my leisure may be said to be taken up by geology, in its stratigraphical branch which necessitates much laboratory work and much reading and thought. The mere preparation of this (transparent) slices of Gippsland rocks for optical examination is a labour in itself and of these I have now about 600 examples mounted and examined. Two tenths of my leisure is devoted to my farm and hop ground (my wife sees to all else about these things) and one tenth may be said to remain available for Ethnology. I go on sending our
Last edit 2 months ago by
ALourie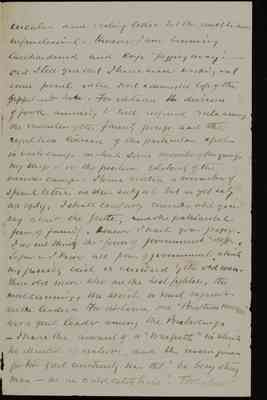 circular and writing letters but the results are infinitesimal. However I am becoming casehardened and keep "pegging away" Did I tell you that I have been working out some points in the social + domestic life of the Gippsland tribe. For instance the division of food according to well defined rules among the members of the family group and the regulation likewise of the particular spot in each camp in which some member of the group may sleep - or the position relatively of the various camps. I have written a number of special letters on this subject but as yet only one reply. I shall carefully consider what you say about the Gentes, and the patriarchal form of family. However I wait your paper. I do not think the "form of government" differs So far as I know all power of government which may possibly exist is exercised by the old men. These old men who are the best fighters, the most cunning, the wisest or most sagacious are the leaders. For instance old "Bruthen mungee" was a great leader among the Brabolungs - I have the account of a "Warpath" in which he directed operations, and the reason given for his great authority was that "he very strong man - no one could catch him". Toolabar
Last edit 12 days ago by
ALourie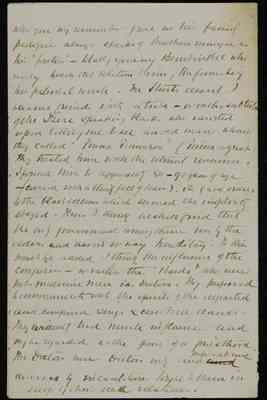 who you may remember gave us his family pedigree always speaks of Bruthen mungee as his "father" - totally ignoring Bembinkel who really holds that relation to him, the former being his paternal uncle. In Sturts desert I became friends with a tribe - or rather subtribe of the Dieri speaking blacks who insisted upon taking me to see an old man whom they called "Pinna Pinnaroo" (Pinna = great) They treated him with the utmost reverence. I found him to apparently [sic] 80-90 years of age (covered with a thick [?fell?] of hair). He gave orders to the blackfellows which seemed to be implicitly obeyed. Thus I think we shall find that the only government among them was by the elders and was in no way hereditary. To this must be added I think the influences of the conjurers - or rather the "Bards" who were not medicine men i.e. Doctors. They professed to communicate with the spirits of the departed and composed songs + corroboree dances. They evidently had much influence and may be regarded as the germ of a priesthood. The Doctors were Doctors only and professed to cure [could - crossed out] diseases by incantations taught to them in sleep by their dead relatives.
Last edit 26 days ago by
ALourie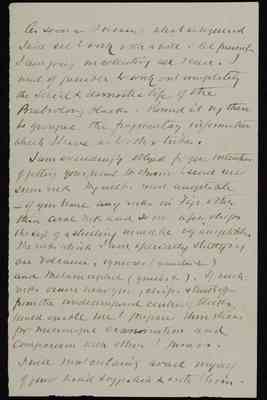 As soon as I know what is required I will set to work with a will. At present I am going on collecting as I can. I want if possible to work out completely the social + domestic life of the Brabrolung blacks. round it may there be grouped the fragmentary information which I have as to other tribes.
I am exceedingly obliged for your intention of getting your friend Mr Brown to send me some rocks. They will be most acceptable - if you have any rocks in Fiji other than coral rocks and so on a few chips the size of a shilling would be very acceptable. The rocks which I am specially studying are volcanic, igneous (granites +c) and metamorphic (gneiss +c). If such rocks occur near you, chips struck off from the undecomposed centres of blocks would enable me to prepare thin slices for microscopic examination and comparison with others I possess.
I will most certainly avail myself of your kind suggestion + write to him.
Last edit 21 days ago by
ALourie