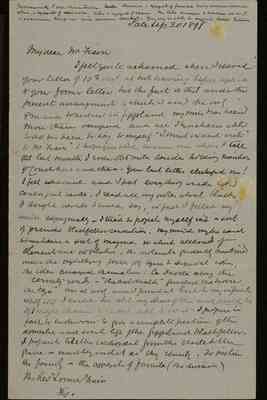 [written at top of page] Previously I use these terms [Tribe - crossed out] Division = aggregate of families having common descent clan, = aggregate of divisions; tribe = aggregate of classes. The tribe recognizes a common descent, a common language and common territory. You may be able to suggest better terms.
My dear Mr Fison I feel quite ashamed when I received your letter of 10th inst at not having before replied to your former letter but the fact is that under the present arrangements by which I am the onyl PM and Warden in Gippsland my time has been more than occupied and all I have been able to do has been to say to myself "I must in and write to Mr Fison". I hope you will excuse me when I tell that last month I rode 565 miles besides holding numbers of Courts here and there. Your last letter electrified me! I feel ashamed and I put everything aside that I could put aside. I read all my notes about blacks I thought over all I could say, in fact I filled my mind aboriginally. I tried to project myself into a sort of pseudo blackfellow condition. My mind may be said to have been a sort of a magma in which all kinds of elements were in relation, the molecules gradually combined under the crystallizing forces; they began to shape out ideas, the ideas arranged themselves. As I rode along the country roads - "the automaton" guided the horse the "ego" was at work avail found at last to my infinite relief that I could see what my share of the work could be If I might chance to be only able to do it. I propose in fact to endeavour to give a complete portion of the domestic and social life of the Gippsland blackfellow. I propose to take the individual from the cradle to the grave - and beyond it as they think. To [?mention?] the family - the aggregate if families (the division) The Revd Lorimer Fison Fiji
Last edit 3 months ago by
ALourie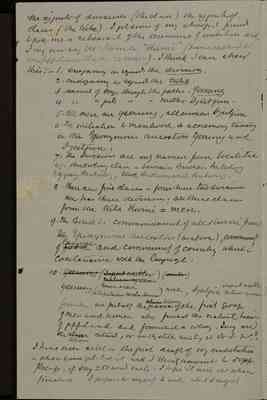 the aggregate of divisions (the clan) the aggregate of clans (the tribe). I got some of my aboriginal friends to give me a rehearsal of the ceremonies of intitiation and I may now say that I am a "Kurni" (name applied to all Gippsland blacks = man). I think I can shew this:- 1. exogamy as regards the division 2. endogamy as regards the tribe 3 descent of boys through the father Yeerung 4 [ditto] [ditto] girls [ditto] [ditto] mother Djeetgun 5 All men are Yeerung, all women Djeetgun 6 The initiation to manhood is a ceremony turning on the Eponymous ancestors Yeerung and Djeetgun 7 The Divisions are only named from localities e.g. Brabrolung clan - 3 divisions Bruthen Brabrolung [?Wyqung?] Brabrolung, [Wuk - crossed out] Bullumwarl Brabrolung 8 There are five clans - four have two divisions one has three divisions; all these clans form the tribe Kurni = men 9 The [?Bond?] is common descent of all Kurni from the two Eponymous ancestors (as above), community of [food - crossed out] language and communuty of country which is coextensive with the language. 10 [Yeerung (superb warbler) (male) - crossed out] [malurus cyaneu- crossed out] Yeerung (Emu wren) male, Djeetgun (Superb warbler) (Stipiturus malachurus) (malurua cyabeus) female are probably the [class - crossed out] totem names of the first group of men and women who faced the natural barrier of Gippsland and founded a colony. They are the [classes - crossed out] totems [??], or are they still existing in N.S.W.?
I have now written the first draft of my contribution -when completed it will I think amount to 50pp. flscap of say 250 words each. I hope it will do when finished. I propose to myself to write what I might
Last edit 3 months ago by
ALourie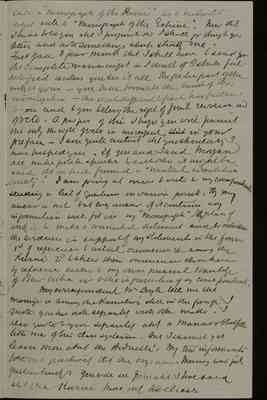 call a "Monograph of the Kurni" as a naturalist might write a "Monograph of the Echini". Now that I have told you what I propose to do I shall go through your letter and note somethings which struck me.
First of all I fear much that I shall have to send you the complete manuscript as I doubt if I shall feel satisfied unless you see it all. The greater part of the work is yours - you have borne all the brunt of the investigation - the most difficult part has fallen to you and to you belong. The right of final revision and of veto. Apropos of this I hope you will permit me only the right of veto in one respect, [thit - crossed out] in your preface - I am quite content that you should say I have helped you. If you and I and Morgan all make polite sparks to each other it might be said that we had formed a "mutual admiration society". I am going at once to write to my correspondents sending a list of questions on various points. They may answer or not but every answer if it contains any information will fit in my "monograph"". My plan of work is to make a connected statement and to introduce the evidence in support of my statement in the form 1st of references to actual occurrences +c among the Kurni 2nd to shew their occurrence elsewhere by references either to my own personal knowledge of other tribes or to the information of my case findings.
My correspondent Mr Doyle tells me that marriage is among the Kamilaroi still in the group I quote you his work separately with other matters. I also quote to you separately what a Maneroo blackfellow tells me of his class system. But I cannot yet learn more about the Biduelli. My two informants told me positively that the boys were Mercung and girls Yackembracks You will see from what I have said that the Kurni have only two classes.
Last edit 4 months ago by
ALourie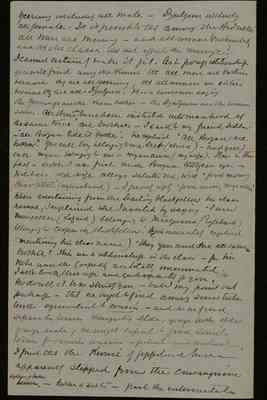 Yeerung including all males - Djeetgun including all females. Is it possible that among the Biduelli all men are Merrung - and all women Yuckembrack and that the classes do not affect the marriage? I cannot certainly make it fit. As to group relationships you will find among the Kurni that all men are brothers because they are Yeerung; that all women are sisters because they are all Djeetgun. It is a common saying the Yeerungs are the men's brothers - the Djeetguns are the women's sisters. All those who have been initiated into manhood at the same time are brothers - I said to my friend Toolebar -"all Brogan like it brother" he replied "All Brogan are brother". You call boy belonging to me leet (child) - and you call myan belonging to me - my andown (my wife). This is the fact - since I was first made Brogan two years ago Tooleba's old wife always salutes my with "good morning Brarbittel" (my husband) - I gravely reply "good morning my andown" When ascertaining from the Darling blackfellow his class names, I explained what I wanted by saying "I am mungaller (Lizard) belonging to Mūquaa (Eaglehawk) belonging to Cooper Ck blackfellow." He immediately replied (mentioning his class name) "then you and me all same as brothers". This was a relationship in the class - for his tribe and the Cooper Ck are totally unconnected. I will look this up and [?quote?] separately for you. No doubt it has struck you -but I may point out perhaps - that we ought to find among some tribes terms equivalent to cousin - and as we find separate terms designating elder, younger brother, elder younger sister, we might expect to find similar terms for various cousins - paternal and maternal I find that the Kurni of Gippsland have apparently stopped from the consanguine [terms - crossed out] system + terms - brothers + sisters - past the intermediate
Last edit 3 months ago by
ALourie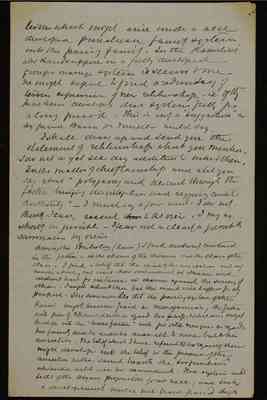 terms which might arise under a well developed punduan family system into the pairing family. In the Kamilaroi who [I - crossed out] are I suppose in a fully developed group = marriage system it seems to me we might expect to find a redundancy of terms expressive of new relationships - i.e. if they have been developing that system fully for a long period. This is only a "suggestion" as my friend Baron von Mueller would say.
I shall draw up and send you the statement of relationships which you mention. I do not as yet see any additions to make to them. In the matter of chieftainship and what you say about "polygamy and descent through the father bringing disintegration and reqaining control authority" - I must say a few words. I do not think I can assent to that view. I may as shortly as possible - I fear not as clearly as possible summarise my views. Among the Brabrolung (Kurni) I find authority centred in the father - in the elders of the division - in the elders of the clan. I find a belief that the spirits of the ancestors not only wander about, but visit their descendents in dreams and in [?silent?] forms for instance in charms against the sorcery of others. I might extend this but this much will suffice for my purpose. It is conceivable that the pairing system of the Kurni might become fixed as monogamian, the fathers with power of life and death as regards his wife + children might develop into the "house father" with jus vitae necisque as regards his family and he would be aswerable to none but to his ancestors. The belief which I have referred to as regarding them might develop into the belief in the presence of the ancestors as the sacred hearth the "Lar familiares" who would watch over his descendents. This system would be that of the Aryan progenitors of our race; and such a development would not have passed through
Last edit 3 months ago by
ALourie