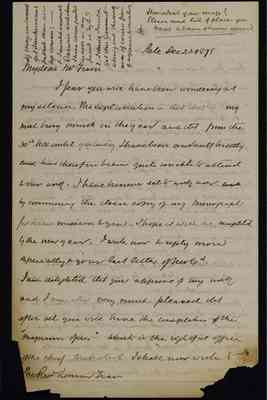 [Written in upper left margin] If Morgan cannot get Smithsonian's publish [sic] there are two courses:1. I would consult Darwin with whom I have corresponded as well as my friends in England. 2. I think I could get this Government to bring out the work [as a - crossed out] of course free of expense to ourselves. AWH
[Written in upper right margin] How about your map? Please send list of places you want to have shewn upon it.
My dear Mr Fison I fear you will have been wondering at my silence. The explanation is that this is my most busy month in the year and that from the 30th Nov until yesterday I have been constantly travelling and have therefore have been quite unable to attend to our work. I have however set to work now [and - crossed out] by commencing the clean copy of my monograph for trans mission [sic] to you. I hope it will be completed by the new year. I write now to reply more especially to your last letter of Nov 6th. I am delighted that you approve of my work and I am also very much pleased that after all you will have the completion of the "Magnum opus" which is the rightful office of the chief architect. I shall now write to The Revd Lorimer Fison
Last edit 5 days ago by
ALourie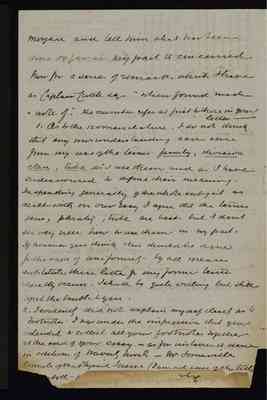 Morgan and tell him what has been done as far as my part is concerned. Now for a series of remarks which I have as Captain Cuttle says "when found made a note of." The numbers refer at first to those in your letter. 1. As to the nomenclature, I do not think that any misunderstanding can arise from my use of the terms family [underlined], division[underlined] clan, [underlined], tribe, [underlined] as I use them and as I have endeavoured to define their meaning. In speaking generally of the whole subject as dealt with in our Essay I agree that the terms gens, phratry, tribe are best but I don't see very well how to use them in my part. If however you think this should be done for the sake of uniformity - by all means substitute these latter for my former terms where they occur. I shall be quite willing but shall regret the trouble to you.
2. I evidently did not explain myself clearly as to footnotes. I was under the impression that you intended to collect all your footnotes together at the end of your essay - as for instance is done in editions of Waverley novels - Mrs Somerville's Connection of the Physical Sciences (I am not sure of the title
Last edit 5 days ago by
ALourie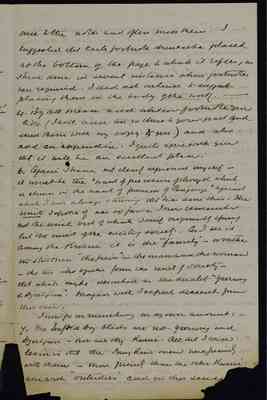 once to the notes and often miss them. I suggested that each footnote should be placed at the bottom of the page to which it refers, as I have done in several instances where footnotes were required. I did not intend to suggest placing them in the body of the work. 4. By all means add whatever footnotes you like (I will add two or three to your part and send them with my copy to you) and also add an appendix. I quite agree with you that it will be an excellent plan. [No point 5.] 6. Again I have not clearly explained myself - it must be the "want of precision of thought which is shown in the want of precision of language" against which I am always striving that has done this. The unit [underlined] I spoke of was so far as I now remember not the unit out of which society originally sprang but the unit of the existing society. As I see it among the Kurni it is the "family" - or rather in strictness "the pair" - the man and the woman - the two who together form the unit of society that which may be described as the duality - "Yeerung + Djeetgun." Morgan will I expect dissent from this view. I now go on numbering on my own account. 7. The Twofold Bay blacks are not Yeerung and Djeetgun - nor are they Kurni. All that I can learn is that the Snowy River men were friendly with them - more friendly than the other Kurni were with "outsiders" and in this sense
Last edit 5 days ago by
ALourie
was that I think my informant called them "cousins" - He said "they are like our cousins" - but I remember that the Kurni recognise no cousins although in the "pairing family" they might do so; and as you have shown there can be no cousins [among - crossed out] in the other system I wait for your appendix before hazarding any more remarks. 8. Your offer as to my manuscript is most generous and I accept it in the spirit in which it is offered. I have endeavoured to write my clean copy as well as possible but I fear at the best it is but bad. If it will pass muster all the better - if you think the printers will become fogged - well! Then I fear you will have to undertake your most kind but most troublesome office of scribe. I fear that my hand must not only be [??] bad but that constant scribbling had made it worse - it has resulted in a kind of shorthand to keep pace with thought.
9. Now as to Eumenides. I enclose the two communications which my friend here made me on the subject. The term seems if the reference had been looked up at the right passage (I think it is) ?ŏμuμov - [?the same Word?]. If any more is wanted let me know. I hope to write soon. I enclose a photo of my wife she hopes Mrs Fison will place in her I shall then "not feel lonely" Yours faithfully A W Howitt
Last edit 26 days ago by
ALourie