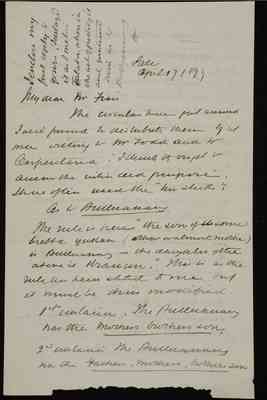 [written across top of page] I enclose my first reply to yours. I delayed it as I met Tulaba when in the act of posting it and questioned him as to Bulleranang AWH
My dear Mr Fison The circulars have just arrived I will proceed to distribute them by at once writing to Mr Todd and to Carpenteria. I think they ought to answer the [??] [??] purpose I have often used the the "[??] sheets"
As to Bulleranang The rule is here "the son of [the- crossed out] some brebba yukan (other or almost mother) is Bulleranang - the daughter of the above is Krauun." This is as the rule has been stated to me but it must be thus modified 1st instance The Bulleranang was the mother's brother's son 2nd instance The Bulleranang was the Father's, mother's, brother's son
Last edit 21 days ago by
ALourie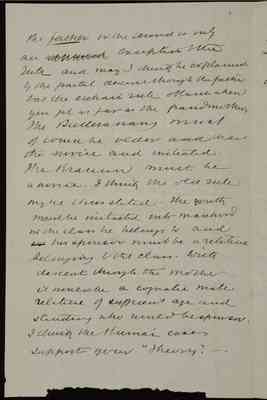 the father in the second is only an exception to the rule and may I think be explained by the [??] descent through the father but the archaic rule [??] when you get as far as the grandmother. The Bulleranang must of course be older than the novice and initiated. The Krauun must be a novice. I think the old rule might thus stated. The youth must be initated into manhood in the class he belongs to and his sponsor must be a relative belonging to that class. With descent through the mother it [??} a [??] male relative of sufficent age and standing who would be sponsor. I think the Kurnai cases support your "theory".
Last edit 7 months ago by
ChrisK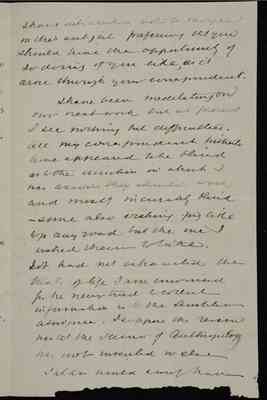 I have not sent a note to Morgan on this subject preferring that you should have the opportunity of so doing if you like, as it arose through your correspondent.
I have been [meditating?] on our next work but at present I see nothing but difficulties. All my correspondents hitherto have appeared to be blind as to the direction in which I was [??] they should [walk?] and [most?] incurably blind - some also wishing [??] [??] up any road but the one I wished them to take. [??] had not exhausted the [trials?] of life I am convinced for he never tried to collect information as to the [Australian?] [??]. I suppose the reason was that the science of Anthropology was not [??] or else I [??] would [??]
Last edit 7 months ago by
ChrisK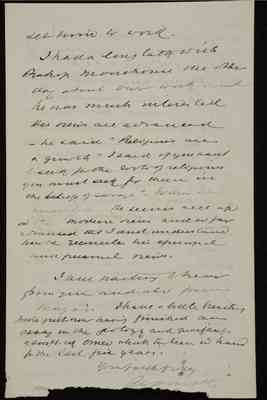 set him to work.
I had a long talk with Bishop Moorhouse the other day about our work and he was much interested His views are advanced - he said "Religions are a growth" I said if you want to seek for the roots of religions you must seek for them in the beliefs of savages. In this he assented. He seems well up in the modern views and so far advanced that I don't understand how he reconciles his episcopal and personal views.
I am waiting to hear from you and [other persons?] [??]. I have a little breathing time just now having finished an essay in the geology and great forests of Swifts Ck Omeo which has been in hand for the last five years. Yours faithfully, A W Howitt
Last edit 7 months ago by
ChrisK