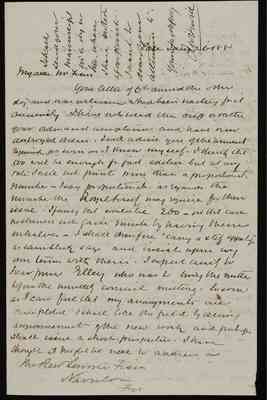 [Written in the upper margin] I shall send your manuscript in a day or two when I have noted a few points I want to draw your attention to. Yours faithfully A.W. Howitt
My Dear Mr Fison Your letter of the 6th arrived the other day and was welcome. I had been waiting for it anxiously. I have not used the draft or rather your order and acceptance and have now destroyed them. I will advise you of the amount required as soon as I know myself. I think the 500 will be enough for first edition but at any rate I will not print more than a proportionate number - I say proportionate as regards the number the Royal Society may require for their issue. I fancy that would be 260 - in that case we should not gain much by having them in halves. I shall therefore carry a "stiff upper lip" as Sam Slick and insist upon my terms with them. I expect directly to hear from Elley who was so busy the matter before the monthly council meeting. So soon as I can feel that my arrangements are completed I shall take the field by issuing announcements of the new work and perhaps shall issue a short prospectus. I have thought it might be well to address the Rev Lorimer Fison Navuloa Fiji
Last edit 5 days ago by
ALourie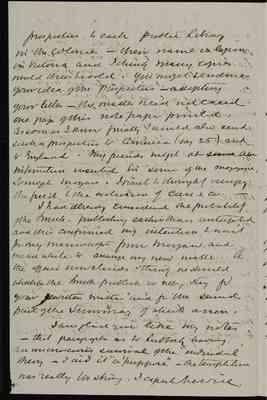 prospectus to each public Library in the colonies - their name is legion in Victoria and I think many copies would thus be sold. You might send me your idea of the prospectus - adopting your titles - the matter need not exceed the page of this note paper printed. As soon as I know finally I would also send such a prospectus to America (say 25) and to England. My friends might at [some-crossed out] information inserted in time of the magazines, So might Morgan. I want to thoroughly occupy the field to the exclusion of Curr and co.
I had already considered the probability of the Smith publishing earlier than anticipated and this confirmed my intention to wait for my manuscript from Morgan and mean while [sic] to arrange my new matter. As the affair now stands strictly we should whether the Smith publishes or not, stay for your rewritten matter and for the second part off the summary of which anon.
I am pleased you like my notes - that paragraph as to Lubbock having an unconscious survival of the "individual" theory - I did it "a' puppose" - the temptation was really too strong. I expect he will
Last edit 5 days ago by
ALourie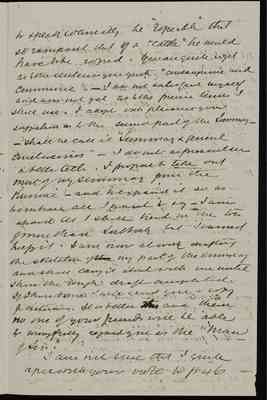 to speak colonially be "ropeable" that so rampant that of a "cattle" he would have to be roped. You are quite right as to the sentences you quote "consanguine and commune" - I was not satisfied myself and am not yet to the precise terms I shall use. I adopt with pleasure your suggestion as to the second part of the Summary -shall we call it "Summary + general conclusions" - I do not at present see a better title. I propose to take out most of my summary from the Kurnai - and to expand it so as to embrace all I want to say - I am afraid that I shall tread on the toes of more than Lubbock but I cannot help it. I am now at work drafting the skeleton of [the -crossed out] my part of the summary and shall carry it about with me until I have the rough draft completed. If I have time I will send you a copy for criticism. It is better thus and then no one of your friends will be able to wrongfully regard me as the "Man of Sin."
I am not sure that I quite agree with your note to p.46
Last edit 15 days ago by
ALourie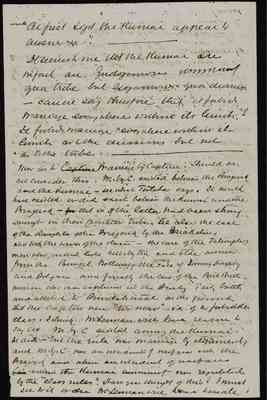 --"At first sight the Kurnai appear to answer +c."
I seems to me that the Kurnai are in fact an Endogemous community qua tribe but exogemous qua division - can we say therefore thus "it forbids marriage everywhere within its limits."? It forbids marriage "everywhere within its limits as to the divisions but not as to the tribe. Now as to [Capture- crossed out] Marriage by Capture. Should we not consider this. M. by C. existed between the Brajerak and the Kurnai - see what Tūlaba says. It would have existed or did exist between the Kurnai and the Brajerak - [for -crossed out] that is of the latter had been strong enough in their familiar tribe. See also the case of the slaughter of the Brajerak by the Briakalūng who took the wives of the slain - the case of the Tatungulung men who crossed Lake Wellington and stole women from the Bunjil Nellung, the case of Tommy Doughboy and Boljan and finally the case of the Brit Britta woman who was captured in the Bushy Park battle and alloted to Bundahwaal on the ground that the captors were "too near" - ie. of a forbidden class. I think McLennan will have reason to say that M. by C. existed among the Kurnai. It did - but the rule was marriage by elopements and M. by C. was an incident of warfare with the Brajerak and where an incident of warfare [in -crossed out] within the Kurnai community was regulated by the "class rules." Have you thought of this? I must see to it or else McLennan willl have handle
Last edit 14 days ago by
ALourie