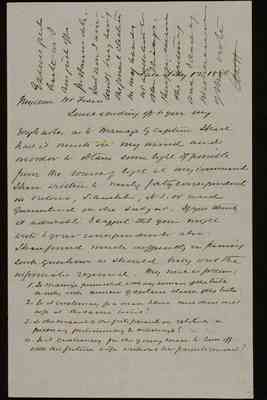 [Written in the upper margin]
Excuse great haste as I am just off for Bairnsdale. Just now I am terribly busy having the general election on my hands in addition to other things. therefore excuse the writing and I daresay incoherence of this note. AWH
My dear Mr Fison Since sending off to you my rough notes as to Marriage by Capture I have had it much in my mind and in order to obtain some light if possible from the source of light at my command. I have written to nearly forty correspondents in Victoria, S. Australia, NS.W and Queensland on the subject. If you think it advisable I suggest that you might write to your correspondents also. I have found much difficulty in having such questions as should bring out the information required. They were as follows: 1. Is marriage permitted with any woman of the tribe or only with women of certain classes of the tribe? 2. Is it customary for a man to have more than one wife at the same time? 3. Is the consent of the girls parents or relatives a necessary preliminary to marriage? 4. Is it customary for the young man to run off with his future wife without her parents consent?
Last edit 6 days ago by
ALourie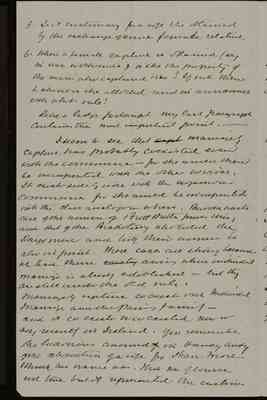 5. Is it customary for a wife to be married by the exchange of some female relative. 6. When a female captive is obtained (say in war or otherwise) is she the property of the man who captured her? If not then to whom is she allotted and in accordance with what rule?
Like a ladys postscript my last paragraph contains the most important point.-------
I seem to see that [capt crossed out] Marriage by Capture has probably existed even with the commune for she would then be incorporated with the other cowives. It exists side by side with the exogenous community for she would be incorporated with the class analogous to hers. Bunda naals case of the woman of Britt Britta proves this, and that of the Brakolung who killed the Dargo men and took their women is also in point. These cases are strong because we have them [existing crossed out] arising where individual marriage is already established - but they are still under the old rule.
Marriage by Capture co exists with individual marriage and the pairs family - and it co exists or co existed now or very recently in Ireland. You remember the ludicrous [??] [of- crossed out] in Handy Andy of the abduction of a wife for Shan More I think her name was. This was of course not true but it represented the customs.
Last edit 21 days ago by
ALourie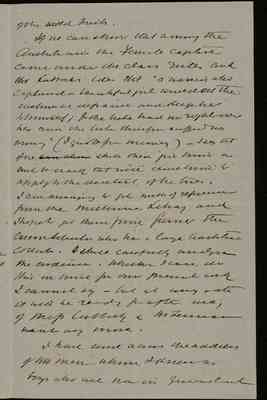 of the wild Irish.
If we can then show that among the Australians the Female capture came under the class rules and thus Lubbock's idea that a "warrior who captured a beautiful girl would see the customs as defiance and keep her to himself; for the tribe had no rights over her and the tribe therefore suffered no wrong" (I quote from memory) - I say that if he [can show -crossed out] shall then give him a nut to crack that will cause [??] to apply to the dentist if he tries. I am arranging to get works of reference from the Melbourne Library and I hope to get them from [?Gumer?] the [??] who has a large Australian collection. I shall carefully analyse the evidence. Whether I can do this in time for our present work I cannot say - but at any rate it will be ready for after use, if Messrs Lubbock + McLennan want any more. I have come accross the address of two men whom I knew as boys who are now in Queensland.
Last edit 7 days ago by
ALourie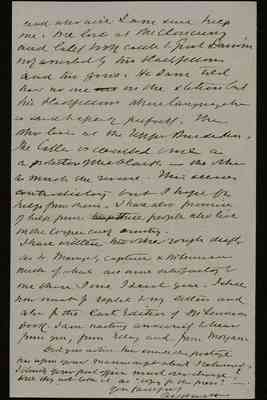 and who will I am sure help me. One lives atthe Cloncurry and lately took cattle to Port Darwin only assisted by his blackfellows and two gins. He [??] told how no one [are- crossed out] on the station but his blackfellows whose language he is said to speak perfectly. The other lives at the Upper Burdekin, The latter is described to me as a protector of the blacks - the other as much the reverse. - this seems contradictory but I hope for help from them. I have also promises of help from [two-crossed out] three people who live in the Cooper creek country.
I have written the other rough drafts as to Marriage by Capture & McLennan neither of which are more satisfactory to me than I once I sent you. I shall now wait for replies to my letters and also for the last edition of McLennan's book. I am waiting anxiously to hear from you, from Ellery and from Morgan.
Did you notice how small the postage was upon your manuscript when I returned it? I think your post office must over charge? Will they not take it as a "copy for the press." Yours faithfully AW Howitt
Last edit 6 days ago by
ALourie