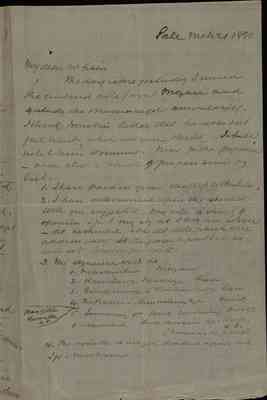 My dear Mr Fison The day before yesterday I received the enclosed note from Morgan and yesterday the manuscript arrived safely. I think from his letter that he does not feel hurt, what do you think. I shall write to him tomorrow. Now for the progression - and also a report of progress since my last. 1. I have paid in your draft for collection 2. I have determined upon the second title you suggested. My wife is strongly of opinion - for I may say that title which will address itself for the general public as well as to Anthropologists 3. The sequence will be 1. Indtroduction Morgan 2. Kamilaroi Marriage Fison 3. Group marriage + Relationships Fison 4. The Kurnai, their customs +c Howitt Theory of the Kurnai +c L.F 5. Summary general conclusion Howitt 6. Appendix Food division +c AWH LF (have you anything for this?) 4. The vignette is not yet decided upon till I go to Melbourne
Last edit about 7 hours ago by
ALourie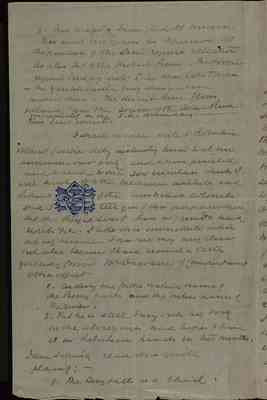 5. Two maps. I am glad that Morgan has sent me yours as I perceive that the position of the Dieri requires alteration as also that of the Herbert River. The former require bringing into S.A. near Lake Torrens the Yantruwunta being where you have marked them. The Herbert River flows inland from the source of the Albert River immediately on the S.A. Boundary. This I will correct.
I shall at once write to Robertson without further delay instructing him to at once announce our work and to have printed and to send to me 300 circulars which I will send off to the Mechanics Institutes and Libraries of the Australian colonies. Did I tell you (this parparenthese) that the Royal Society have no funds and [??] +c. I like this immediate action not only because I now see my way clear but also because I have received a letter yesterday from Mr Dawson of Camperdown to this effect 1. Asking me for the native name of the Berry falls and the native name of the river 2. That he is still busy with his book on the Aborigines and hopes to have it in Robertson's hands in two months.
I can I think read this quite plainly:1. The Berry falls is a blind
Last edit about 8 hours ago by
ALourie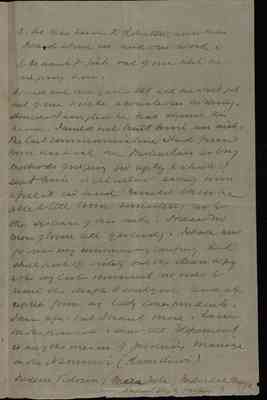 2. He has been to Robertson and has heard about us and our work. 3. He wants to fish out of me what we are going to do
I need not tell you that all he will get out of me will be a courteous nothing. However I am glad he has shown his hand. I would not trust him an inch. The last communication I had from him was to ask me particulars as to any methods of inquiry in reply to which I sent him a circular asking him to fill it in and I would then be able to tell him something as to the system of his tribe. I heard no more of him till yesterday. I shall now go over my summary very carefully and shall put off writing out the clean copy to the very last moment in order to revise the drafts I sent you and also replies from my tardy correspondents. I have a few but I want more. I am in the position to show that Elopement is one of the means of producing marriage on the Nammoi (Kamilaroi) western Victoria (Mara tribe, Individual marriage descent through father)
Last edit about 7 hours ago by
ALourie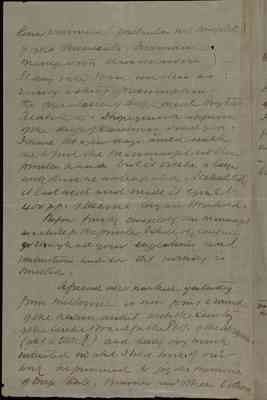 Lower Wimmera (particulars not complete) Yorke Peninsula (Individual marriage with class divisions) At any rate I can use this as raising a strong presumption of the prevalence of Elopement thoughout Australia. I hope you will approve of the draft of summary I sent you. I think that a few days would enable me to put the manuscript in the printers hands but it will be a larger work than we anticipated. I calculated it last night and made it equal to 400 pp. of Hearn's Aryan Household.
Before finally completing the manuscript as a whole for the printer I shall very carefully go through all your suggestions and instructions and see that nothing is omitted.
A friend who was here yesterday from Melbourne is now going a round of the Western district with the Secretary of the Central Board for the Prot. of the Aborigines (what a title?) and being very much interested in what I told him of our book he promised to jog the memories of Messrs Stahle, Kramer and others to whom
Last edit about 1 month ago by
ALourie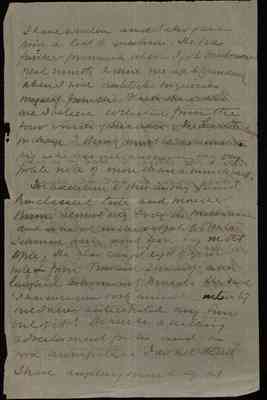 I have written and I also gave him a list of questions. He has further promised when I go to Melbourne next month to drive me up to Coranderrk where I will institute inquiries myself from the Blacks there who are I believe collected from the four winds of heaven. The Superintendent in charge I think must be a discourteous pig as he has not answered my very polite note of more than a month back.
In addition to this as my friend has classical tastes and moreover knows almost everybody in Melbourne and as we got on the subject of [??] I showed him what you say on that topic. He also caught sight of your note from Tristam Shandy and laughed enormously there at. He said "I was sure your book would be interesting but I never anticipated any fun out of it." He will be a walking advertisement for us and a good trumpeter. I do not think I have anything much say at
Last edit about 1 year ago by
ALourie