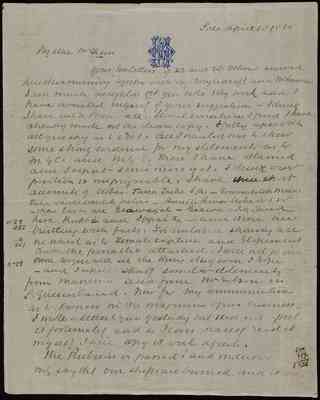 My dear Mr Fison Your two letters of 22 and 26 ultimo arrived here this morning together with my rough draft and McLennan. I am much delighted that you like my work and I have availed myself of your suggestions - I think I have used them all. Several corrections I find I have already made on the clean copy. I fully agree with all you say as to No 1. All I wanted was to show some strong evidence for my statements as to M by C and M by E. These I have obtained and I expect some more yet. I think our position is impregnable. I have three short accounts of tribes Turra Tribe S.A. - Gournditch Mera tribe - Lake Condah Victoria - Hunter River tribe NSW - these last are Geawagal - Geawa = [no] and have Kubbai and Ipai - and these are bristling with facts; For instance showing all we want as to Female captives and Elopement and the penalties attached. I will not go into more as you will see the thing itself soon I hope - and I expect shortly similar statements from Maneroo and from Mr Gibson in S. Queensland. Now for my communications as to progress in the magnum opus business. I wrote a letter to you yesterday but still not post it fortunately and as I can scarcely read it myself I will copy it out afresh. The Rubicon is passed! and indeed I may say that our ships are burned and there
IN LEFT MARGIN UPSIDE DOWN 62,,10 500/4 250 62.10
IN MARGIN BOTTOM RIGHT 500 (underlined) 250 175 (underlined) £325 (underlined)
Last edit 11 days ago by
ALourie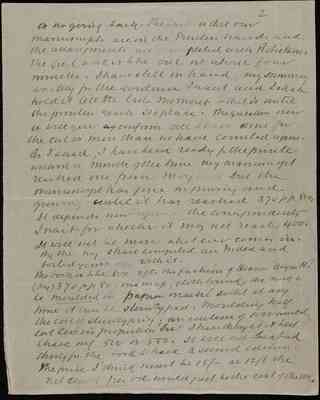 2 is no going back. The fact is that our manuscripts are in the Printer's hands and the arrangements are completed with Robertson. The great work is to be out in about four months. I have still in hand my summary waiting for the evidence I want and I shall hold it till the last moment - that is until the printers reach its place. The question now is will you confirm all I have done for the cost is more than we have [counted] upon. As I said, I have been ready for the printer within a month of the time my manuscript reached me from Morgan but the manuscript has gone on growing and growing until it has reached 370pp 800, It depends now upon the correspondents I wait for whether it may not reach 400. It will not be more whatever comes in. By the way I have completed an Index and boiled yours up with it.
The book is to be 800 after the fashion of Hearn's Aryan H? (say) 370pp 80, one map, cloth bound, the work to be moulded [underlined] in papier maché so that at any time it can be stereotyped. Moulding half the cost of stereotyping: an certain of 1000 would cost less in proportion but I have thought it best to have my 500 or 550. It will not be a bad thing for the book to have a second edition. The price I think must be 15/- at 12/6 the net result per vol would just be the cost of the vol.
Last edit about 2 months ago by
ALourie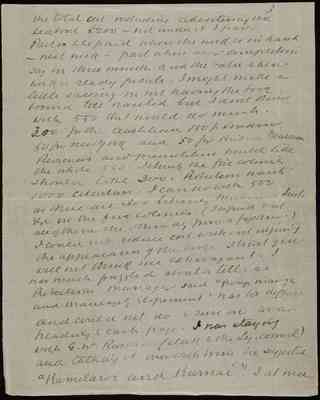 3
the total cost including advertising will be about ₤200 - not under it I fear. Part is to be paid when the work is in hand - next week - paid when near completion say in three months and the balee[balance] when work is ready for sale. I might make a little saving in not having the book bound till wanted but I don't think with 550 that would do much. 300 for the Australian 150 for London 50 for New York and 50 for British Museums.
Reviewers and presentations would take the whole 550. I think the five colonies should like 300. Robertson wants 1000 circulars. I can do with 500 as there are 300 Libraries, Mechanic's Inst. &c in the five colonies. (I copied out all off them the other day from a gazetteer.) I could not reduce cost with out inquiring the appearance of the book. I trust you will not think me extravagant. I was much puzzled about a title as Robertson's manager said "group marriage and marriages by elopement" was too diffuse and could not do to run on as a heading to each page. I was staying with G.W. Rusden (elected to the Leg. Council) and talking it over with him he suggested "Kamilaroi and Kurnai". I at once
Last edit about 2 months ago by
ALourie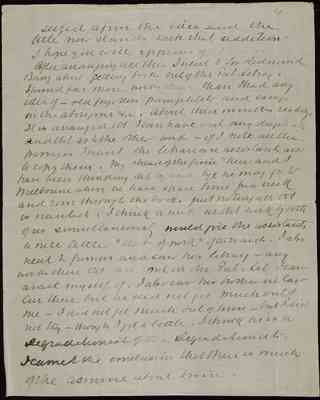 4
seized upon the idea and the title now stands with that addition. I hope you will approve of it also.
After arranging all this I went to Sir Redmond Barry about getting books out of the Pub. Library.
I found far more works there than I had any idea of - old forgotten pamphlets and essays on the aborigines &c. About three months reading. It is assumed that I can have out any duplicates and that as to the other works - if I note all the passages I want the librarian assistants are to copy them. My "head of the firm" here and I have been thinking that by and bye we may go to Melbourne when we have spare time for a week and run through the books just noting all that is wanted. I think a week at that work by both of us simultaneously would give the assistants a nice little "seat of work" afterwards. I also went to [??] and saw his library - any works there that are not in the Pub. Lib. I can asail myself of. I also saw his brother in law Cur there but he did not get much out of me - I did not get much out of him - but I did not try - though I got a little. I think he is a Degradationist of the Degradationists.
I came to the conclusion that there is much of the asinine about him.
Last edit 24 days ago by
ALourie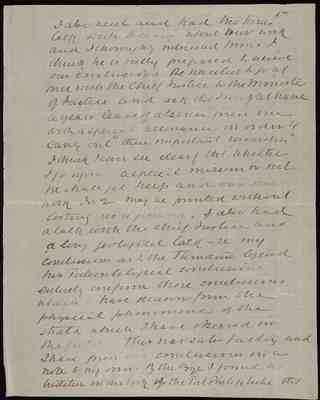 5
I also went and had two hours talk with Hearse about our work and I thoroughly interested him. I think he is fully prepared to receive our conclusions. He wanted to go at once with the Chief Justice to the Minister of Justice and ask that I might have a years leave of absence given me with a special allowance in order to carry out "these most important researches".
I think I can see clearly that whether I go upon a special mission or not we shall get help and our next work also 2 may be printed without costing us a penny. I also had a talk with the Chief Justice and a long geological talk - re my conclusions as to the Tūrndūn legend his Palaeontological conclusions entirely confirm those conclusions which I have drawn from the physical phenomenon of the strata which I have observed in the field. This was satisfactory and I have given his conclusions in a note to my own. By the bye I found a tradition in the book of the Port Philip tribe that
Last edit about 2 months ago by
ALourie
Displaying Page 1 - 5 of 7 in total