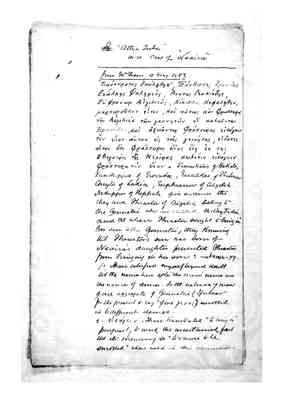 "Attic Tribes" in the case of "Neaira" from Mr Fison. 4 May 1882 [underlined]
[First 9 lines in Greek] = Timestratos of Hekale, Xanthippus of Eroiadoe, Eualkes of Phalerum, Anyts of Lakia, Euphranor of Algilia Nikippes of Kephale give existence that they and Phrastor of Aigilia belong to the Gennetai who are called the Brytidai and that when Phrastor sought to bring in his son to the Gennetai, they knowing that Phrastor's son was born of Neaira's daughter prevented Phrastor from bringing in his son: - Neaer 79. (1) I have satisfied myself beyond doubt that the names here after the men's names are the names of demes. So that we have 7 men of one aggregate of Gennetai (I forbear for the present to say "of one γενος) enrolled in 6 different demes. 2. (Greek script) I have translated "to bring in" purposely to match the ascertained fact that its meaning is "to cause to be enrolled" when used in this connection.
Last edit about 1 month ago by
ALourie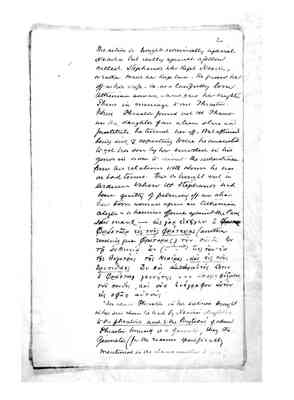 The action is brought nominally against Neaira but really against a fellow called Stephanos who kept Neaira or rather made her keep him. He passed her off as his wife -ie as a lawfully born Athenian woman - and gave her daughter Phano in marriage to one Phrastor. When Phrastor found out that Phano was the daughter of an alien slave and prostitute, he turned her off. But afterward being sick + expecting to die he consented to get his son by her enrolled in his genos in order to divert the inheritance from his relations with whom he was on bad terms. This is brought out in evidence to show that Stephanos had been guilty of palming off an alien base born woman upon an Athenian citizen - a heinous offence against the law. New mark - [Greek script] (another reading from [Greek script]) [9 lines of Greek script]
"For when Phrastor in his sickness brought in his son whom he had by Neaira's daughter to the phrators and to the Brytidai' [underlined] of whom Phrastor thimself is a Gennetes, they the Gennetes (for the reasons specifically mentioned in the clause omitted by me)
Last edit 9 months ago by
ALourie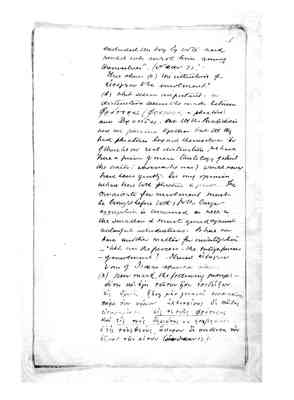 3 excluded the boy by vote and would not enrol him, among themselves". (Neaer 77). This shows (a) the intention of είοαγεη the enrolment.' (b) What seems important - a distinction seems to be made between [Greek script (= phratros) and [Greek script]. But that the Brulididas were not phratores together but that they had phatores beyond themselves. For if there be no real distinction, we have here a piece of men tautology of which the orator (whoever he was) would never have been guilty In my opinion we have here both phratria + genos. The candidate for enrolment must be brought before both, for the larger aggregation is concerned as well as the smaller + must guard against unlawful introductions. So here we have another matter for investigation -"What was the process - the entire process of enolmernt? I traced [Greek Script] to one of Isaeas speeches also. (3) Now mark the following passage: [Greek script 7 lines] (Neaer 17)
Last edit 9 months ago by
ALourie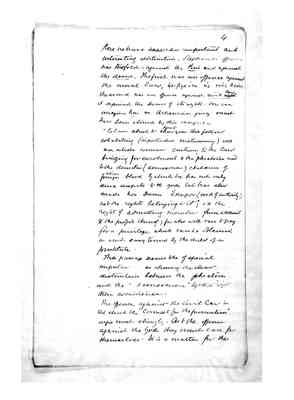 4 Here we have [some - crossed out] an important and interesting distinction. Stephanos offence was twofold -against the Kin and against the deme . The first was an offence against the moral law, [Greek script]. The second was an offence against civil [rights - crossed out] law. It deprived the Deme of its rights. One can imagine how an Athenian jury must have been stirred by this charge:-
" So I am about to show [prove to - written above] you this fellow cohabiting (in pretended matrimony) with an alien woman contrary to the law bringing for enrolment to the phratores and to the demotai (demesmen)] children of [alien- written above] foreign blood by which he has not only done disrepute to the gods but has also made his Deme [Greek script ] (void of authority ) as to the rights belonging to it;" i.e the right of admitting members from without & the profit thereof; for who will care to pay for a privilege which can be obtained on such easy terms by the child of a prostitute.
This passage seems to be of special importance as showing the clear distinction between the phratores and the "Demesmen" together with their coexistence.
The offence against the civil law is that which the "Counsel for the prosecution" argues most strongly. As to the offence against the Gods they must care for themselves. It is a matter for the
Last edit 9 months ago by
ALourie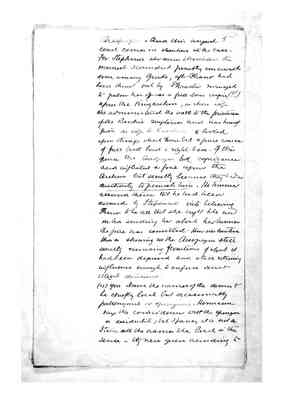 5 Areopagus And this august court comes in elsewhere in the case. For Stephanos who seems to have been the meanest I considered possibly concurable even among Greeks, after Phano had been thrust out by Phrastor managed to palm her off as full born virgin (!!) upon the Knigarchen, as whose wife she administered the oath to the priestesses of the Bacchi mysteries and was herself "given as a wife to Kaechre + looked upon things which none but a pure woman of full birth had a right to see. Of this offence the Areopagus took cognizance and inflicted a fine upon the Archen but secretly because they had no authority to punish him. He however assured them that he had been deceived by Stephanos into believing Phano to be all that she ought to be and on his sending her about her business the fine was remitted. How instructive this is showing us the Areopagus still secretly exercising functions of which it had been deprived and still retaining influence enough to enforce secret illegal decisions.
(4) You observe the names of the demes to be chiefly local but occasionally patronymic or eponymic. Hermann says the coincidence with the eponym is accidental, but I fancy it is not so. I take all the names to be local in the sense - they were given according to
Last edit 9 months ago by
ALourie