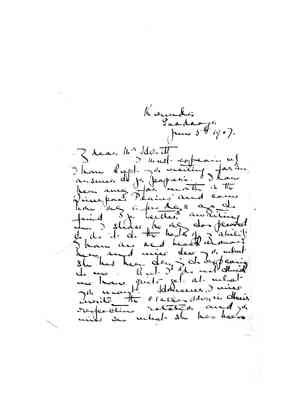 Kerunda Goodooga June 5th 1907
My dear Mr Howitt I must explain why I have kept you waiting for an answer to your papers. I have been away for months in the "[??] Plains" and came home only a few days ago to find your letter awaiting and I shall be only too pleased to do it to the best of my ability. I have an old black woman here and will tell you what she has been trying to explain to me. But I do not think we have quite got at what you want. However, I will write the classes down in their respective notation and you will see what she has been
Last edit 20 days ago by
ALourie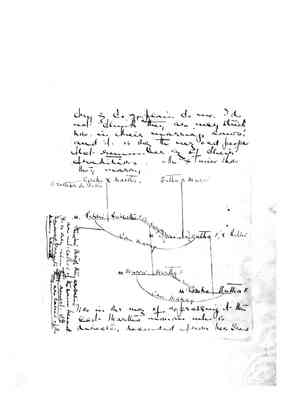 trying to explain to me. I do not think they are very strict now in their marriage laws and it is only the very old people that remember any of their traditions. The x will show they marry.
Combo x Martha Butha x Murri Brother to Butha
M Kubbi Kubotha F can marry Ipai Ipatha F x Kubbi can marry
M Murri Martha F can marry M Combo Butha F can marry
Last edit 12 months ago by
ALourie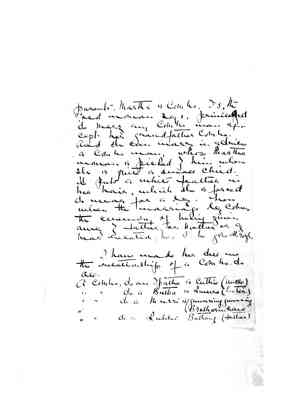 parents, Martha & "Comho?". As the old woman says, privileged do marry any "Comho?" man ex cept her grandfather "Comho?". And she can marry in [......] a Comho man, whose Martha woman is picked for him when she is quite a small child. He puts a white feather in her hair, which she is forced to wear for a day. Then when the marriage the ceremony of being given away the father the mother as is hear [.......]has to be [.... the "right?"].
I have made [... ... ..] the relationship of a "Comho? to all. A Comho, to an Ipatha is Cuttine (Uncle) " " to a [.....] is [.....] (Sister) " " to a Murri is [....... .......] Brother in law " " to a "Kublai Buthany?" (father)
Last edit almost 3 years ago by
nburgess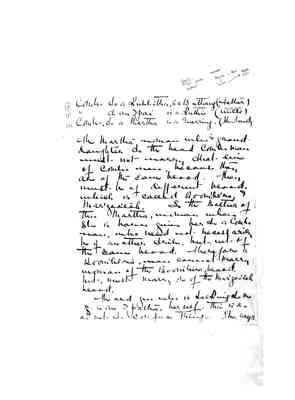 E) "Conho?" to a "Kublitha?", is a "Buttiang?" (father) F) " to an "Ipai?" is a "Kuthie?" (Uncle) G) " to a Martha is a [.......] (Husband)
The Martha woman who is grand daughter to the head "Conho?" man must not marry that line of "Conho?" man, because they are of the same blood. They must be of different blood, which is called [.........] [........]. So the matter of this Martha woman when she is [.......] gives her to a "Conho?" man, who need not necessarily be of another tribe, but not of the same blood. Therefore a [Boo.....] man cannot marry woman of the [Booni.....] blood but must marry of the [..........] blood. The old "gin?" who is talking to me is an "Ipatha?" herself. This is so as not to confuse things. She says
Last edit almost 3 years ago by
nburgess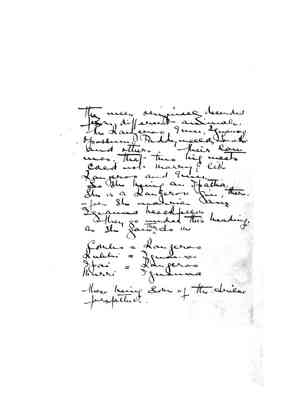 they were "originally?" decended from different animals. The Kangaroo, "Emu?", Iguana, Opossum, "Paddymelon?", Snake and others. Their law "means?" that "two big?" [.....] [....] not marry; like Kangaroo and "Iguana?" So she having an "Ipatha?", she is a Kangaroo gin, there fore she marries an Iguana blackfellow. They go under this heading, as she gave them to me.
"Conho?" = Kangaroo "Kublai?" = Iguana "Ipai?" = Kangeroo Murri = Iguana
these being some of the tribal forefathers.
Last edit almost 3 years ago by
nburgess