[Hand-drawn image of a map of the river system at the Queensland -NSW border.]
[Left column]
Paroo } Warrego } Darling tributaries Widgee } Nebine } Tributaries Nungalala } of Narran into narran lake + overflows per Wallan } Culgoa Hospital creek into Bokahra Birie runs out of Bokahara into Culgoa Bokahara runs into Cabo Creek + billabong of Barwon
Last edit about 14 hours ago by
ALourie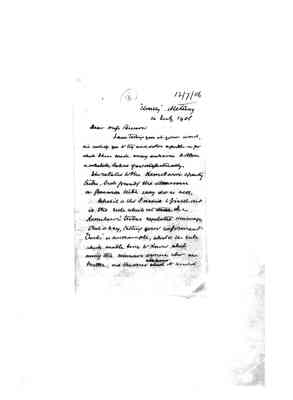 12 / 7 / 06 "Clovelly " Metung 12 July 1906
Dear Miss Benson
I am taking you at your word and asking you to try and solve a problem for which I have made many endeavors to obtain a solution, but so far ineffectually. It relates to the Kamilaroi speaking tribes, but possibly the Murawari or Gooamoo tribe may do as well.
What it is that I desire to find out is the rule which in [these - crossed out] the Kamilaroi tribes regulates marriages. That is to say, taking your informant "Combo" as an example, what is the rule which enables him to know which among the numerous women who are Matha, are the ones [which with - crossed out] it would
Last edit about 1 month ago by
ALourie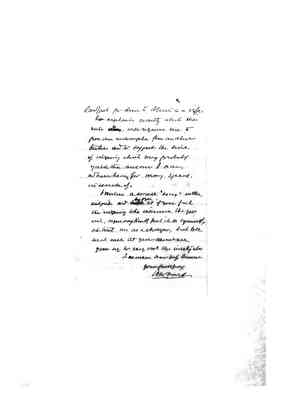 lawful for him to obtain as a wife,
To explain exactly what this rule is will require me to give an example from another tribe and to suggest the line of inquiry which may probably yield the answer I am, and have been for many years in search of.
I enclose a small "essay" on the subject and beg of you that if you feel the inquiry to be irksome then you will, as you very kindly put it as to yourself, not treat me as a stranger, but tell me at once that you cannot see your way to carry out the investigation.
I remain Dear Miss Benson Yours faithfully A W Howitt
Last edit 16 days ago by
ALourie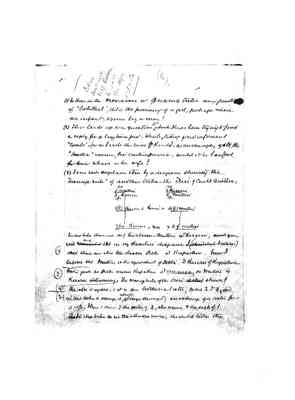 [Note on angle at top reads] Letter sent -asking Miss Benson to make the [??] 12/7/06 (8)
(1) Is there in the Morrawari or Guama tribe any practice of "betrothal" that is the promising of a girl, perhaps when an infant, to some boy or man? (2) This leads up to a question to which I have been trying to find a reply for a long time past. Which taking your informant "Combo" - (or as I wrote the name Kumbo) - as an example of all the "Matha" women, his contemporaries, would it be lawful for him to have as his wife? (3) I can best explain this by a diagram showing the "marriage rule" of another tribe - the Dieri of Central Australia
1. (m) Matteri 2. (m) Kararu 3. (f) Kararu 4. (m) Matteri
In this tribe there are only two classes -
Matteri
and
Kararu
, and you
will [remember - crossed out] see that in my
Kamilaroi
diagram [I should - crossed out] (which I return)
(1) that there are also two classes Delbi and Kupathen. Now I
believe that
Matteri
is the equal of Delbi and
Kararu
of Kupathen
(3) Now - just as Delbi marries Kupathen and vice versa so
Matteri
and
Kararu
intermarry. The marriage rule of the
Dieri
[is that - crossed out] shown by
(4) the above diagram. 1 and 4 are brother and sister, so are 2 and 3 and
(2) in this tribe a marriage is almost always accompanied by an exchange of a sisterfor
a wife. Thus 1 marries 3 the sister of 2 who marries the sister of 1.
[As - crossed out] In this tribe as in the Murrawari the child takes the
Last edit about 1 month ago by
ALourie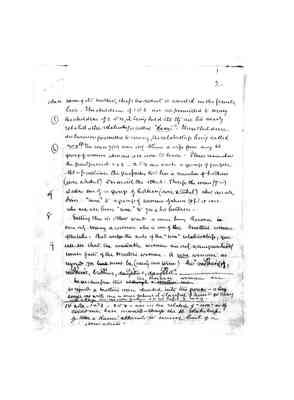 2 class name of its mother, therefore the descent is counted in the female line. The children of 1 and 3 are not permitted to marry nor may (5) the children of 2 and 4, it being held taht they are too nearly related - the relatonship is called "Kami". Their children are however permitted to marry, the relationship being called (6) noa (1) The man 7 (m) can only obtain a wife from among that group of women who are all noa to him. Please remember the grandparnets 1 + 3 - 2 and 4 are each a group of people -that is for instance the grandfather 1(m) has a number of brothers (own and tribal) and so on with the others. Therefore the man (7m) is also one of a group of brothers (own and tribal) who are all 7 born "noa" to a group of women of whom (8f) is one who are all born "noa" to 7m + his brethren.
8 Putting this in other words a man being Kararu [is - crossed out] can only marry a woman who is one of the Matteri women of the tribe. But under the rule of the "noa" relationships, you 9 will see that the available women are only a comparatively small part of the Matteri women. A noa woman as regards 7m must be (using our terms) his "mother's (5) mother's (3), brother's (2), daughter's (6), daughter (8)". ___________
We see therefore that [although a Matteri man - crossed out] the Kararu women are as regards a Matteri divided into two groups - a [lar - crossed out] small one with one or more of whom it is lawful for him to marry + a large one the women of which it is not lawful to marry ___________________________ (1) note - 1 and 3 - 2 and 4 -were in the relative of "noa" or they could not have married - therefore the relationships of Noa + Kami 'alternate in removal level of a generation'.
Last edit over 1 year ago by
ALourie
Displaying Page 1 - 5 of 13 in total