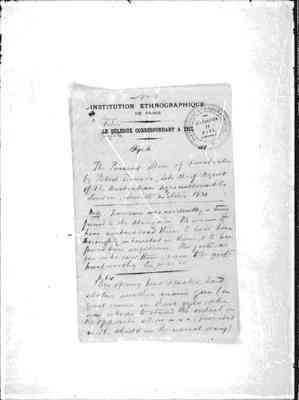 INSTITUTION ETHNOGRAPHIQUE DE PARIS I.E. DELEGUE CORRESPONDANT A FIJI Institution Ethnographique Delegation De Fiji Australie
Fiji
The Present State of Australia\by Robert Dawson, Late Chief Agent of the Australian Agricultural Co. London, Smith and Elder 1830 ---------------------------------------------------------------Note Dawson was evidently a true friend to the Aborigines. He seems to have understood them to have been throughly interested in them, to have gained their confidence. This [?], as far as he saw them, seem to be [?] trustworthy See pp 20 21
__________________________________________
p. 64
One of my best blacks had stolen another man's [?] (a great crime in their eyes, then was ordered to stand the ordeal on the opposite [?] xxx (provided with sticks in the usual way).
Last edit 4 months ago by
HelenB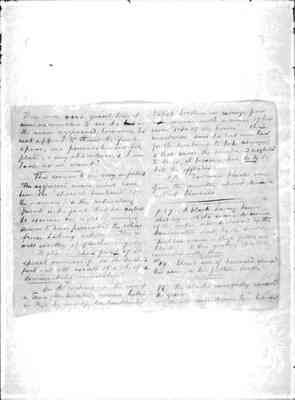 There were vast quantities of men [?assembled] to see it: (word crossed out) as the man aggrieved, however, did not appear to throw the first spear, no punishment took place, & my [?champion] & I [?] back as we went.
This seems to me very important. The aggrieved man must have been the "special husband" of the woman & the interesting point is the fact that his neglect to exercise his right of revenge seems to have prevented the others from taking action. This is well worthy of further enquiry.
It also is clear proof of a special ownership on the husband's part - at all events of a chief [?] ownership.
On the contrary - in the case of a [?Tana] [?] [?] woman killed in Fiji by one of her husband's tribal brothers in revenge for [?interference] with a man of her own "side of the [?river]" this murderer said he had [?] won her for the husband to take revenge: & that since the husband neglected to do so, it became his duty to kill the offender.
N.B. Dawson's blacks were from the country about [?Newcastle] and Port Stevens.
P.87 A black having been shot by a white man, the [?bearers] of the corpse were distressed by the examination made by the doctor. [?] [?] [?] - black fellow no like it. Is there anything [?special connected with this.
P.89 Eldest son of deceased changed his name on his father's death.
P. 88 The blacks carefully [?covered] the grave. (This is the custom of some Fijian tribes (?))
Last edit 4 months ago by
HelenB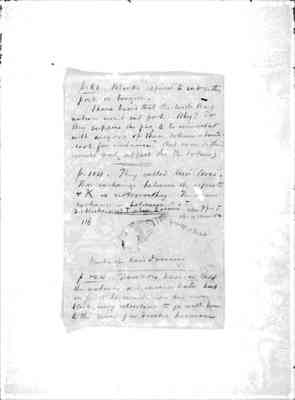 P.82 Blacks refused to eat either pork or tongue.
(I have heard that the Wide Bay natives won't eat pork. Why? Do they suppose the pig to be connected with any one of them when [?bands] lost for instance? But even so this [would/could] only affect the B. totem.)
p. 104. They called [?"Horse] [?] This exchange between the [?] & K. is noteworthy. The [?] exchange is between K. & T. [?] Blacks used T. when S. occurs. Also P. for F. up to [?comments]
116. [ Sketch of man's head dressing inserted here] [Sketch is entitled "Mode of hair dressing"
p.124. Dawson denies that the natives are cannibals but on P. 125 he records how his own black being reluctant to go with him to the river for ducks because
Last edit 4 months ago by
HelenB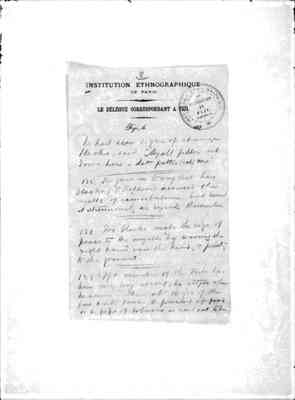 2.
INSTITUTION ETHNOGRAPHIQUE DE PARIS
-------------------[Stamped with official stamp of Institution Ethnographique de Fiji Australie - No. 788] -------------------------LE DÉLÉGUE CORRESPONDANT A FIJI
--------------------------
Fiji, to
he had seen signs of [?strange/stranger] blacks, said "Myall fellow [?out] down here - dat [? patter] (eat) me."
------------------------125. He goes on to say that his blacks, (P. Stephens) accused the Myalls of cannibalism, but denied it strenuously as [?regards] [?]
----------------------------
128. D's blacks made the sign of peace to the Myalls "by waving the right hand over the head, & pointing to the ground. -----------------------------133. If a member of the tribe has been very long absent, he stops when he comes within about 10 yards of the fire, & sits down. A present of food or a pipe of tobacco is sent out to him.
Last edit 4 months ago by
HelenB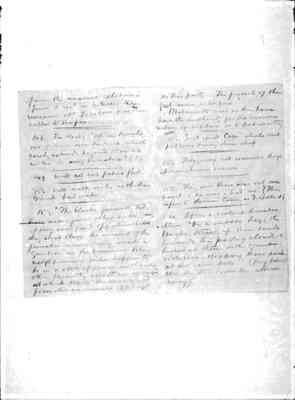 from the nearest relative. given & [?] in silence. He remains abt [sic] 1/2 an hour & is then called to the fire. -----------------------148. The blacks seldom travels out of their own district, which rarely extends beyond 15 or 20 miles in any direction. (?) ------------------------149. Will not eat putrid flesh. -------------------------150. Will walk miles rather than drink bad water. -------------------------153. "The blacks generally take their [?wives] from other tribes, if they can find opportunities they steal them, the consent of the females never being made a question in the [?business]. When neighbouring tribes happen to be in a state of peace with each other, friendly [?] are [?] [?] at which [?tribes] [?] [?]. [?] females [?] are [?] [?] --------------------------either parts. The friends of the [?] never interfere." (statements such as this have been the authority for the erroneous notion of [?captive] as to Australian [?] ---------------------------[?153.] Evil spirit "Coon" steals black fellows during their sleep. ----------------------------154. Polygamy not common though sometimes occurs. ----------------------------155. They saw there was only one [?devil] & he was a bad one. " (This refers to [remainder of line illegible] ----------------------------220. After a violent thunder storm "On a sudden they (these blacks) tossed up their hands towards the parting clouds & [?looked] at them with great violence, clapping their hands at the same time." (They believed that they [?] drove the storm away)"
Last edit 4 months ago by
HelenB
Displaying Page 1 - 5 of 68 in total