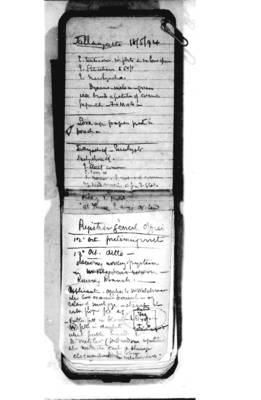 Tallangatta 18/5/94 E. tereticornis in flats + in lower [?spaces?] E. Stuartiana to 50 ft E. macrorhyncha
[??] - [were?] in grasses with bands + patches of coarse [??] F + M + Q
Look up papers pest in pouch
Tallangatta ck - Eucalypts Darbyshire Ck E. Stuart common E. Vim & E Macro E mel not common rep [??] sources for E Glob
Patch of E [??] at Lower E arm of E [??] [Seed?]
[next page]
Registra general office 12 Oct preliminary visit 13 Oct ditto observing working of system in [Mr Blayden's room - crossed out] Receiving Branch Applicant applies for Mr Welchman who examined document +c release of mortgage - stamps it with proper fee eg [diagram] Public fill in block W fills in duplicate what public hands to Mr Metzler (Mr Davidson's representative) who receives the cash + stamps document [??] to him Mr Welshman
Last edit 3 months ago by
ALourie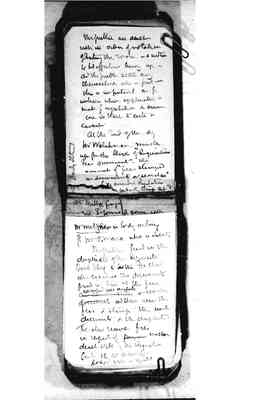 [Left margin note] Daily Statement
The public are dealt with in order of rotation of entering the room - a [??] to that effect is hung up - and the public settle any themselves [??] is put - this is important as for instance when application is made for representation & some one is there to write a caveat.
At the end of the day Mr Welshman [??] up from the blocks of "Requisitions Fees Documents" - the amount of fees stamped on documents or searches [words crossed out] amended Regulation under the Stamp Act" &
[next page]
at Wabba Gap are E. gonio [&?] some [??]
Mr Metzner is today acting for Mr O'mara who is absent.
The public hand in this duplicate of the Register [bond?] belong to the [Fee?] [clash?] who examine the assessments [pound?] in to see that the fees careful with duplicate [line crossed out - are ?? ?? & that the] [crossed out - documents] and then seen the fees &stamp the several documents & the duplicate.
The above service fees in respect of [crossed out - purpose] [??] dealt with by the [Registrar?] [General?] re?] all documents - lodged with or [requested?]
Last edit 6 months ago by
Christine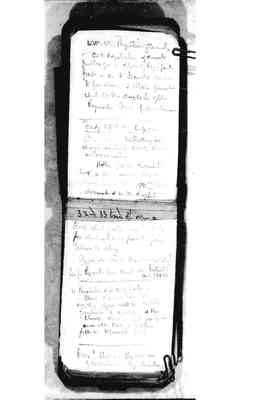 with the Registrar General - as to registration of documents public go to officer of Reg. Genl. first - as to [searches?] [??] to fees [??] & [??] permit which is the duplicate of the [Regis?] [Genl?] for searches -
[Line across page]
Friday 15th Oct [??] [Underlined] String [unable to read word] Mr. Flattery in charge during Mr. [Baretts?] absence on leave. -
Public free [??] requisition book & clerk assesses fees - stamps [rest of line difficult to read]
Last edit 6 months ago by
Christine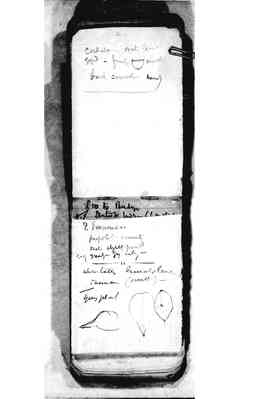 cordate - ovate leaves opposite - fruit [diagram of nut] smooth bark smooth - [??]
[next page]
E. perriniana perfolate [connate? or cuneate?] ovate slightly [pointed?] [young?] nearly - [sq?] [ately?] - [underlined] when taller lanceolar leaves Tasmar (south) - Young plant [diagram of three leaves]
Last edit 6 months ago by
Christine