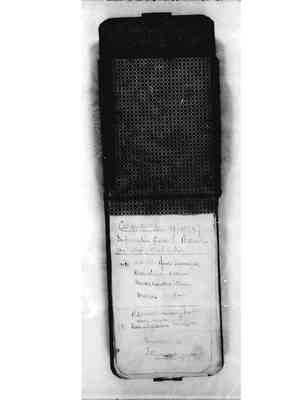 Coranderrk 9/10/97 Information given by Berak and Dick Richards.
46 Did not know Warrigal Bon-[??] Willam mimamet-willam Marine-willam
Bāt-but - moving bird ? Yarra-yat [nan-ngerra - crossed out] nimer
Uillam eck
Illam [??]
Last edit 28 days ago by
ALourie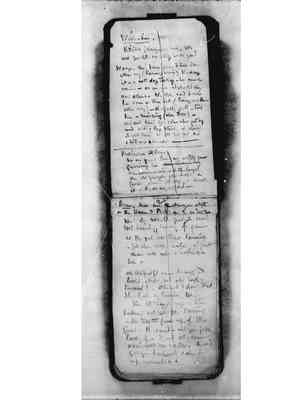 War-in Koim (Kangaroo) [?and?] W. will you eat me stop will you?
[?Waap?] No! I am going to lie down this my (leaning over) K. says it is a wet day today - too much rain - we are wet and should dry our skins. W. then said I will lie down on this seat (leaning over the other way) - K. getting cold - took his - moreing (thin [??]) and [??] tail off W. - who got up and with a long stick and struck it with him so that he has had a tail ever since.
Kurburu (N Bear) No one gave him any wattle gum (gurrŭng) [then he ?? bring- crossed out] [me some water - and they brought- crossed out] the other people [?got?] water + [??] round its [??] + + [??] it. K. [??] [??] [??]
[next page] 2 [??] there are 2 dangers [?shifts?] on the [??] [??] + 2 in no 2 next day all the people went out hunting, looking for gum and K get another tamŭks - fill this with water and put them all into a hold of a tree.
All the people came back and looked about, said who took tarmŭk? [??] said I do not know I have lost my tarmŭk too!
Then they saw up a tree Kurburu [??] all the Tarmŭk - this tree that grew up from the ground. K. said - what you fellas looking for - They went [??] [??] [??] with the water. K. said [??] your [??] + [??] up [??]
Last edit 5 months ago by
Christine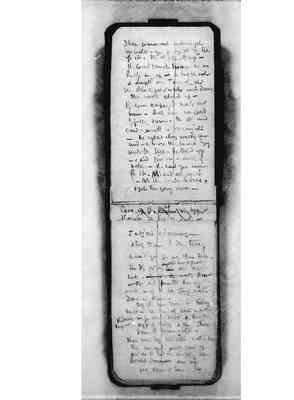 Then [?woman?] the base got the water - you go up that big tree for it. Then they climbed up K. looked round him - he was half way up - and took the water + emptied on Tarmuk over the Blackfellows - who went down. Then another climbed up K. again capsized water over him - both men [??] by falling down. The N wind cast a smell to Mamingata - he walked along smelling the wind - + he saw the brothers lying under the tree. He looked up - + said give me a drink of water. - K. said you come for it. M: said all right! - M than went home, + got two young men
[next page] 4 [Look up the leases at upper - crossed out] [Thornton at Golden [?Dust?] - crossed out]
[?Tadjou?] + [?Tarning?] + took them to the tree, + said you go up this tree. [He - crossed out] They got up another tree to practice on one each side - [when K the water down - crossed out] and practised bending aside as if K was throwing water down on them.
Up the tree there was living nests on the tree they cut a hole in from each side + took the eggs of Kŭring + [?cast?] them down to Mamingata then went up tree [??] water was Then one each side went up and as K heard the chopping he looked down - one was very close to him
[written in left side margin] Kŭring [??] [??]
Last edit 5 months ago by
Christine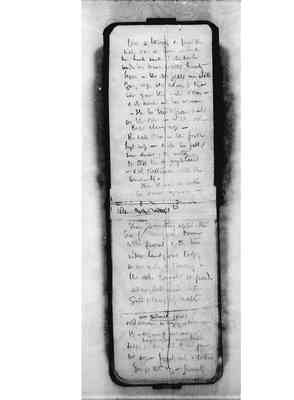 took a tarmŭk + [??] the water down at him - but he bent aside and it went under his arm without hurting him - the other fellow was still going up very close to Kwho [??] [??] water down + it went under his arm. Then he tried to pour water over the other - and the other kept climbing up K. sate down on the fork high up - + the two fellows were drinking the water [??] that K was frightened - + they killed him with their tomahawk.
Then they said we will go down again -
[next page] 6 [re. - crossed out]
Then something split the tree from the fork down to the ground + the two sides bending over Tadjou on one side + Turning on the other reached the ground and everbody [??] then got plenty of water.
[old - crossed out] mŭnde-gorŭk old woman was crying - where are they - every one gone away wants to kill some one Tadgery + Turing If all gone that [??] pointing out a doctor You go that way pointing
Last edit 9 months ago by
ALourie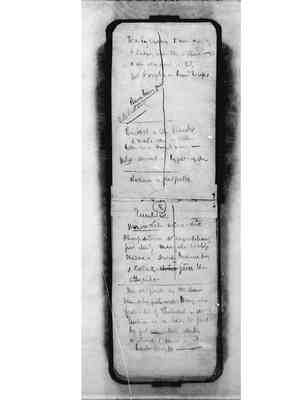 to a big cave. T run one way + Tadjery ran the other + when she went in they got boughs and bound it up.
[?Baim Beim gurk?]
Binbeal is the Rainbow + makes rain - William [??] he is Bunjil's son
Wotjo Binbeal - big fellow up the
Kokom = Mopoke
[next page]
8 [??] Wurindil wŭrn-dil Sharpstones at Cape Schank put there by mangata to stop the sea. [?Durding?] Marine bay + Colak [thun- crossed out] jūn the other side.
The old people by the [then - crossed out] [was a big fish in the - crossed out] Mang-alin [??] + [??] of Thŭndal in the [??] at the heads to great big fish is like whales or shark they came in and hurt people.
Last edit 28 days ago by
ALourie