Hillsborough July 29. 1769
Sir When you was at Court I forgot to tell you that William Chizenhall & Phillip Dosett Jun.r wou'd be wanted to make conveniences in the New Barn for hanging Tob.co therefore shall esteem it afavour if you will inform them to get it done in time, I agreed with them when they built the house to do what was necessary in the inside for Tob.co tho' they probably may have forgot, at the Sherriffs request I inclose you some advertisements which he desires you'll put up, If James Boyd calls for aload down let him have the flower in the salt house, I think there are Nine Casks, you know to whom it is to be sent, I am, Sir y.r H'ble Servt. W.m Johnston
Last edit 6 days ago by
abates1066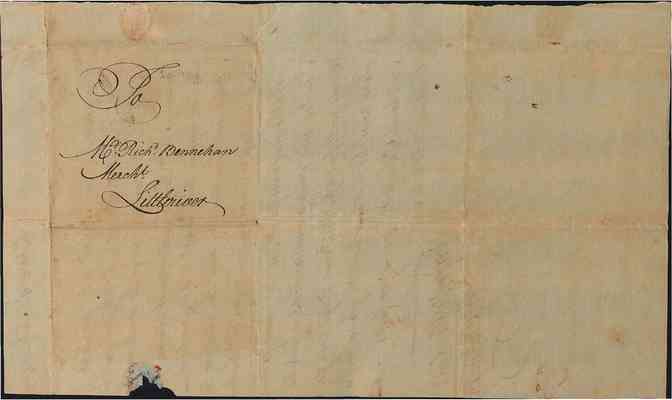 To
Mr. Richd. Bennehan
Mercht.
Littleriver
Last edit 3 days ago by
abates1066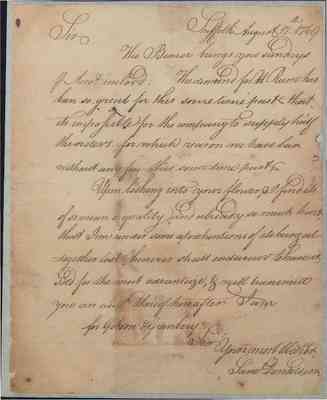 Sufolk August 17th, 1769
Sir
The Bearer brings you sundrys per Accot. inclos'd; The demand for [ ? ] Rum has been so great for this some time past that its impossible for the company to supply half the orders, for which reason we have been without any for this some time past.
Upon looking into your flower, I find its of so mean a quality, and already so much hurt, that I'm under some aprehensions of its being altogether lost, however shall endeavour to have it sold for the most advantage, & will transmitt you an accot. thereof hereafter. I am
for Gibson & Grombery
Sir
Your most Obedient,
Sam'l Donaldson
Last edit 6 days ago by
abates1066