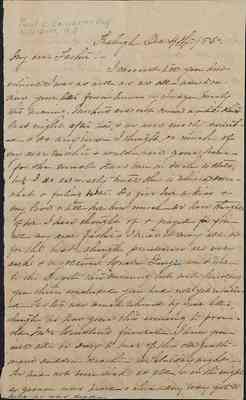 Paul C. Cameron Esq Hillsboro, N.C.
Raleigh Dec 4th/65
My dear Father!--
I cannot tell you how relieved I was as well as we all were to receive your letter from home by Judge Manly this morning. Workers did not come until this last night after tea, & we were greatly disturbed & so anxious__ I thought as much of my dear mother & would have gone home for she must have been in such a state, but I do earnestly trust she is relieved somewhat & feeling better. Do give her a kiss & my love & tell her how much we have thought of her. I have thought of & prayed for you all my dear father & I trust it may all be for the best though providences are very dark & mysterious. Uncle George went over to the Depot this morning but not finding you there concluded you had not yet returned. He too was much relieved by your letter, though he has gone this evening to poor old Mr Winston's funeral. I know you will all be sorry to hear of this old gentleman's sudden death on Saturday night. He had not been sick at all & in the night a groan was heard & when any body got to him he was dead.
Last edit 8 months ago by
nkaiser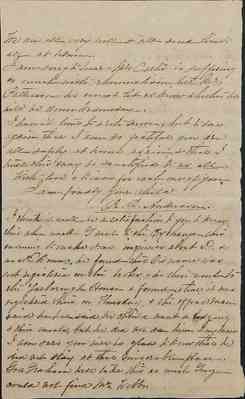 We are all very well & all send love to all at home. I am sorry to hear Mr Curtis is suffering so much with rheumatism . Tell Mr. Patterson to let us know whether he will be down Wednesday. I haven't time to write more, but to say again that I am so grateful you are all safely at home again & that I trust this may be sanctified to us all. Wish love & kisses for each one of you. I am fondly your child R. G. Anderson I think it would be a satisfaction to you to know that when uncle G went to the Exchange this morning to make some inquiries about D. & uncle Burne, his found that D's name was not registered in the books, & he then went to the Yarborough House & found that it was registered there on Thursday, & the office man said he had said he opened want a lodging & three meals, but he did not see him any more. I am sure you will be glad to know that he did not stay at this miserable place. Gov. Graham will take this as unclle George could not find Mr. Webb.
Last edit 8 months ago by
nkaiser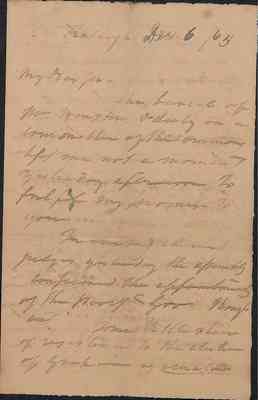 Displaying Page 1 - 5 of 107 in total