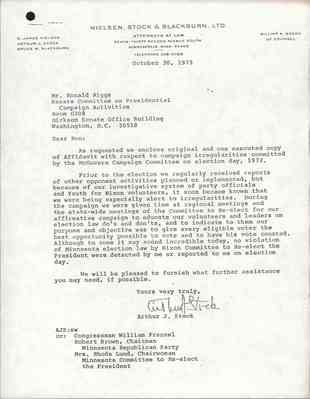 [letterhead D. JAMES NIELSEN ARTHUR J. STOCK BRUCE W. BLACKBURN
NIELSEN, STOCK & BLACKBURN. LTD. ATTORNEYS AT LAW SEVEN-THIRTY SECOND AVENUE SOUTH MINNEAPOLIS, MINN. 55402 TELEPHONE 338-0795
WILLIAM A. GREEN OF COUNSEL]
October 30, 1973
Mr. Ronald Riggs Senate Committee on Presidential Campaign Activities Room G308 Dirkson Senate Office Building Washington, D.C. 20510
Dear Ron:
As requested we enclose original and one executed copy of Affidavit with respect to campaign irregularities committed by the McGovern Campaign Committee on election day, 1972.
Prior to the election we regularly received reports of other opponent activities planned or implemented, but because of our investigative system of party officials and Youth for Nixon volunteers, it soon became known that we were being epecially alert to irregularities. During the campaign we were given time at regional meetings and the state-wide meetings of the Committee to Re-elect for our affirmative campaign to educate our volunteers and leaders on election law do's and don'ts, and to indicate to them our purpose and objective was to give every eligible voter the best opportunity possible to vote and to have his vote counted. Although to some it may sound incredible today, no violation of Minnesota election law by Nixon Committee to Re-elect the President were detected by me or reported to me on election day.
We will be pleased to furnish what further assistance you may need, if possible.
Yours very truly,
Arthur J. Stock
AJS:sw cc: Congressman William Frenzel Robert Brown, Chairman Minnesota Republican Party Mrs. Rhoda Lund, Chairwoman Minnesota Committee to Re-elect the President
Last edit about 1 month ago by
Jannyp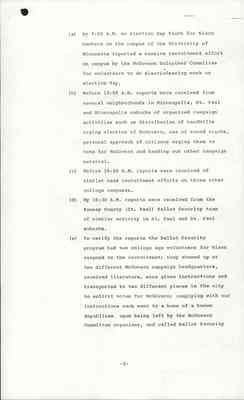 (a) By 9:00 A.M. on election day Youth for Nixon embers on the campus of the University of Minnesota reported a massive recruitment effort on campus by the McGovern Volunteer Committee for volunteers to do electioneering work on election day.
(b) Before 10:00 A.M. reports were received from several neighborhoods in Minneapolis, St. Paul and Minneapolis suburbs of organized campaign activities such as distribution of handbills urging election of McGovern, use of sound trucks, personal approach of citizens urgin them to vote for McGovern and handing out other campaign material.
(c) Before 10:00 A.M. reports were received of similar mass recruitment efforts on three other college campuses.
(d) By 10:30 A.M. reports were received from the Ramsey County (St. Paul) Ballot Security team of similar activity in St. Paul and St. Paul suburbs.
(e) To verify the reports the Ballot Security program had two college age volunteers for Nixon respond to the recruitment; they showed up at two different McGovern campaign headquarters, received literature, were given instructions and transported to two different places in the city to solicit votes for McGovern; complying with our instructions each went to a home of a known Republican upon being left by the McGovern Committee organizzer, and called Ballott Security
-2-
Last edit 24 days ago by
EMS124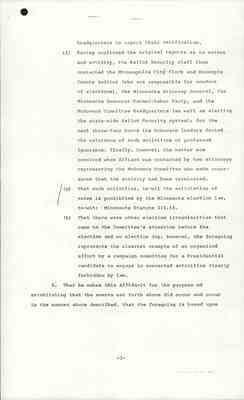 headquarters to report their verification. (f) Having confirmed the original reports as to extent and activity, the Ballot Security staff then contacted the Minneapolis City Clerk and Hennepin County Auditor (who are responsible for conduct of elections), the Minnesota Attorney General, the Minnesota Democraft-Farmer-Labor Party, and the McGovern Committee Headquarters (as well as alerting the state-wide Ballot Security system); for the next three-four hours the McGovern leaders denied the existence of such activities or professed ignorance; finally, however, the matter was resolved when Affiant was contacted by two attorneys representing the McGovern Committee who made assurances that the activity had been terminated. (g) That such activities, to-wit the soliciation of votes is prohibited by the Minnesota election law, to-wit: Minnesota Statute 211.15. (h) That there were other election irregularities that came to the Committee's attention before the election and on election day; however, the foregoing represents the clearest example of an organized effort by a campaign committee for a Presidential candidate to engage in concerted activities clearly forbidden by law. 5. That he makes this Affidavit for the purpose of establishing that the events set forth above did occur and occur in the manner above described, that the foregoing is based upon
-3-
Last edit 24 days ago by
EMS124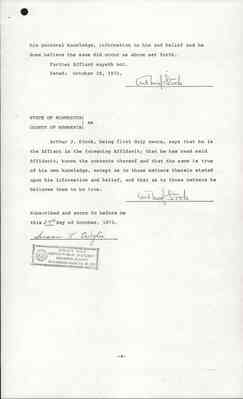 his personal knowledge, information to him and belief and he does believe the same did occur as above set forth.
Further Affiant sayeth not. Dated: October 29, 1973
(Arthur J Stock)
STATE OF MINNESOTA ) ) ss COUNTY OF HENNEPIN)
Arthur J. Stock, being first duly sworn, says that he is the Affiant in the foregoing Affidavit; that he has read said Affidavit, knows the contents thereof and that the same is true of his own knowledge, except as to those matters therein stated upon his information and belief, and that as to those matters he believes them to be true.
(Arthur J Stock)
Subscribed and sworn to before me this 29th day of October, 1973
Susan K. Wylie
SUSAN K. WYLIE NOTAEY PUBLIC MINNESOTA HENNEPIN COUNTY
My Commission Expires July 30, 1980
Last edit 14 days ago by
mjmhanson
Displaying Page 61 - 64 of 64 in total