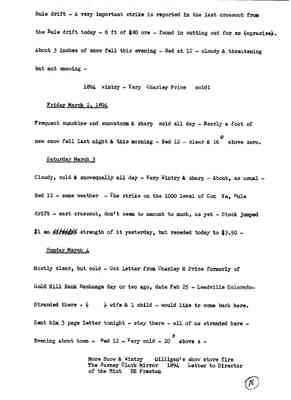 Rule drift -- A very important strike is reported in the last crosscut from the Rule drift today -- 6 ft of $80 ore -- found in cutting out for an [uprasise?]. About 3 inches of snow fell this evening -- Bed at 12 -- cloudy & threatening but not snowing --
1894 -- Wintry - Very -- Charley Price -- cold!
Friday March 2, 1894
Frequent sunshine and snowstorm & sharp cold all day -- Nearly a foot of new snow fell last night & this morning -- Bed 12 -- clear & 16[degrees] above zero.
Saturday Mar 3
Cloudy, cold & snowsqually all day -- Very Wintry & sharp -- About, as usual -- Bed 12 -- same weather -- The strike on the 1000 level of Con Va, Rule drift -- east crosscut, don't seem to amount to much, as yet -- Stock jumped $1 on strength of it yesterday, but receded today to $3.50 --
Sunday March 4
Mostly clear, but cold -- Got letter from Charley H Price formerly of Gold Hill Bank Exchange day or two ago, date Feb 25 -- Leadville Colorado -- Stranded there [?] wife & 1 child -- would like to come back here. Sent him 3 page letter tonight -- stay there -- all of us stranded here -- Evening about town -- Bed 12 -- Very cold -- 20[degrees] above z --
More Snow & Wintry -- Gilligan's show store fire The Barney Clark Mirror -- 1894 -- Letter to Director of the Mint -- RE Preston
Last edit about 2 months ago by
Doten Diaries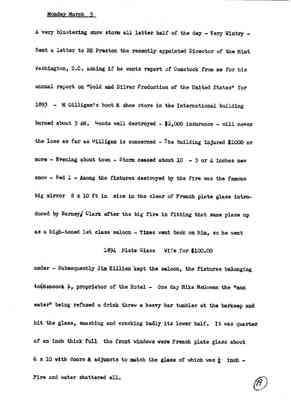 Monday March 5
A very blustering snow storm all latter half of the day -- Very Wintry -- Sent a letter to RE Preston the recently appointed Director of the Mint Wshington, D.C. asking if he wants report of Comstock from me for his annual report on "Gold and Silver Production of the United States" for 1893 -- M Gilligan's boot & shoe store in the International building burned about 3 AM. Goods well destroyed -- $2,000 insurance -- will cover the loss as far as Gilligan is concerned -- The building injured $1000 or more -- Evening about town -- Storm ceased about 10 -- 3 or 4 inches new snow -- Bed 1 -- Among the fixtures destroyed by the fire was the famous big mirror 8 x 10 ft in size in the clear of French plate glass introduced by Barney Clark after the big fire in fitting that same place up as a high-toned 1st class saloon -- Times went back on him, so he went
1894 -- Plate Glass -- Wife for $100.00
under -- Subsequently Jim Killien kept the saloon, the fixtures belonging to [Hancock?], proprietor of the Hotel-- One day Mike McGowan the "man eater" being refused a drink threw a heavy bar tumbler at the barkeep and hit the glass, smashing and cracking badly its lower half. It was quarter of an inch thick full the front windows were French plate glass about 6 x 10 with doors & adjuncts to match the glass of which was 1/4 inch -- Fire and water shattered all.
Last edit about 2 months ago by
Doten Diaries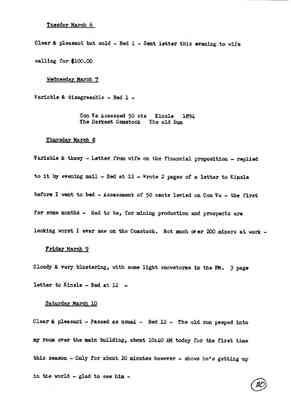 Tuesday March 6
Clear & pleasant but cold -- Bed 1 -- Sent letter this evening to wife calling for $100.00
Wednesday March 7
Variable & disagreeable -- Bed 1 --
Con Va Assessed 50 cts -- Kinzle -- 1894 The Darkest Comstock -- The old Sun
Thursday March 8
Variable & thawy -- Letter from wife on the financial proposition -- replied to it by evening mail -- Bed at 12 -- Wrote 2 pages of a letter to Kinzle before I went to bed -- Assessment of 50 cents levied on Con Va -- the first for some months -- Had to be, for mining production and prospects are looking worst I ever saw on the Comstock. Not much over 200 miners at work --
Friday March 9
Cloudy & very blustering, with some light snowstorms in the PM. 3 page letter to Kinzle -- Bed at 12 --
Saturday March 10
Clear & pleasant -- Passed as usual -- Bed 12 -- The old sun peeped into my room over the main building, about 10:40 AM today for the first time this season -- Only for about 20 minutes however -- shows he's getting up in the world -- glad to see him --
Last edit about 2 months ago by
Doten Diaries
1894 -- Exempts -- Constitution & By-Laws revised $100.00 wife -- Carson team wins at Midwinter Fair Contest War with Hoodlums -- One badly shot
Sunday March 11
Same -- PM attended regular meeting of Exempts -- Adopted report of Committee revising & correcting constitution and By-Laws to date -- I chairman of Committee of 3, Guggenheim and Plunkett the other two -- Recd telegram from wife that $100.00 would arrive on Tuesday -- Bed 12 -- A San Francisco telegram says that in the Midwinter Fair shooting contest today the Carson team won -- 443 points, averaging over 44 points per man -- About 20 teams -- 200 yards, 10 men in a team -- This morning half dozen young 24 yrs old hoodlums, "C & C gang" tried to run the town, drinking and eating where they pleased & having hilarious time without putting up -- Officers finally combined on them, had a fight on Union st about Chinatown -- All arrested & taken to jail -- Pat Hanifan resisting and running away from Deputy Sherriff Burke, got shot in the kidney region -- Bad wound -- & sent home to his folks in Lower Gold Hill --
$100 from Wife -- Night on Enterprise -- 1894 Jerry Bray on Reno business
Monday March 12
Clear & pleasant -- About as usual -- Evening attended lodge -- Nothing new -- Bed 12 --
Tuesday March 13
Same -- Rec'd $100 from wife by mail -- Paid up much of my indebtedness --
Last edit about 2 months ago by
Doten Diaries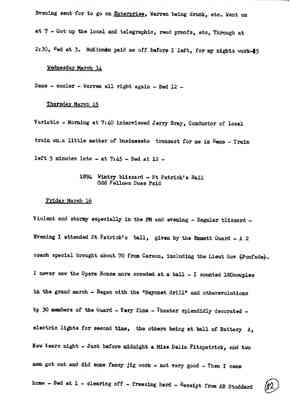 Evening sent for to go on Enterprise, Warren being drunk, etc. Went on at 7 -- Got up the local and telegraphic, read proofs, etc, Through at 2:30, Bed at 3. [McKinnon?] paid me off before I left, for my nights work -- $5
Wednesday March 14
Same -- cooler -- Warren all right again -- Bed 12 --
Thursday March 15
Variable -- Morning at 7:40 interviewed Jerry Bray, Conductor of local train on a little matter of business to transact for me in Reno -- Train left 5 minutes late -- at 7:45 -- Bed at 12 --
1894 -- Wintry blizzard -- St Patrick's Ball Odd Fellows Dues Paid
Friday March 16
Violent and stormy especially in the PM and evening -- Regular blizzard -- Evening I attended St Patrick's ball, given by the Emmett Guard -- A 2 coach special brought about 70 from Carson, including the Lieut Gov [Ponfade?]. I never saw the Opera House more crowded at a ball -- I counted 180 couples in the grand march -- Began with the "Bayonet drill" and other revolutions by 30 members of the Guard -- Very fine -- Theater splendidly decorated -- electric lights for second time, the others being at ball of Battery A, New Years night -- Just before midnight a Miss Delia Fitzpatrick, and two men got out and did some fancy jig work -- not very good -- Then I came home -- Bed at 1 -- clearing off -- freezing hard -- Receipt from AB Stoddard
Last edit about 2 months ago by
Doten Diaries