About
The Nevada Constitution, ratified in 1864, contained a provision for documenting "all property, both real and personal, of the wife owned or claimed by her before marriage and that acquired afterward by gift, devise or descent" so that in the case of the end of the marriage, she could reclaim it. County Recorders kept the records, and this is the register for Washoe County, Nevada, from 1865 through 1913.
The Digital Services Department in the University Libraries collaborated with the Washoe County Recorder's Office to digitize historical records. Transcribing these records will help make them accessible to those who are unfamiliar with 19th century handwriting, and will also make them searchable. If you would like to help with this project, sign up using the tab at the top of this page, and then please contact Special Collections.
Works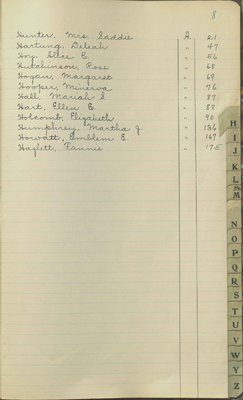 The index to the entries in the Ledger, giving the page number(s) for each woman's inventory of property.
22 pages: 0% transcribed, 100% needs review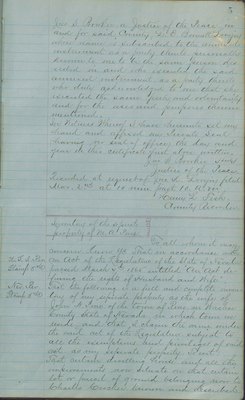 1865-1873. Records of the personally-owned property of Eva Elizabeth Fischer, L.E. Burnett Lovejoy, and Mary A. Pine.
12 pages: 50% transcribed, 50% needs review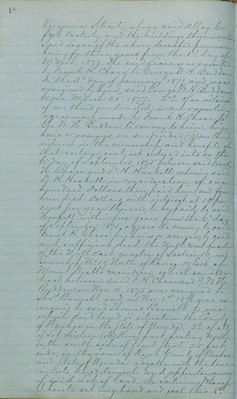 1877-1880. Records of the personal property of Lizzie J Fannon, Josie Cann, Sarah Ann Abbee, Mary L. Budden, Hattie E. Wallace, Lizzie Illidge), Florence L. (Guthrie) Varian, Susan E. Jones, Mary Logan, and Elizabeth V. Borden.
15 pages: 0% transcribed, 27% needs review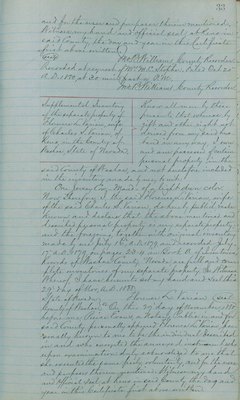 1880-1881. Records of the personally-owned property of Elizabeth V. Borden, Martha D. Smith, Sarah A. Abbee (supplemental), Christena C. Douglas, Mrs. M.C. Stopher, Florence L. Varian, Sarah L. McFarlin, Nettie A. Merrill, Louise Martin, Eliza Lutz, Sirantha McConnaughy, A.E. Barnes, and Mary L....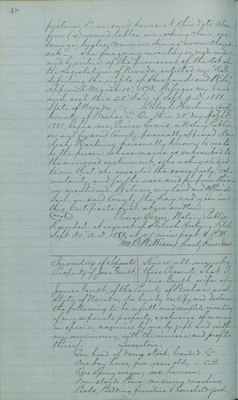 1881-1882. Records of the personally-owned property of Katie Rinehart, Hannah S. Crockett, Columba A. Feratti, Fannie Cahn, Deleah Hartung, Jane Gault, Martha A. Chapin, Abigail C. Sessions, Charlotte E. Jaques, Sarah V. Clark, Lizzie Greiner, Alice E. Hoy, Elizabeth E. Borden (supplemental),...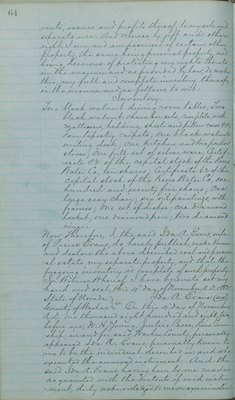 1882-1883. Records of the personally-owned property of Ida A. Maltby, May L. Pryor, Fannie L. Smith, Ida A. Evans, Martha J. Ferguson, Antonetta Bechtel, Rose Hutchinson, Margaret Hogan, Elizabeth Manning, and Sadie Gale.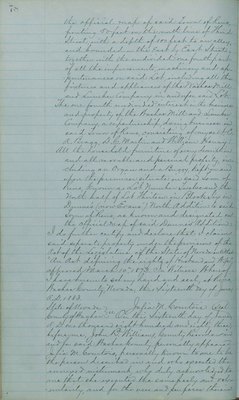 1882-1883. Records of the personally-owned property of Exilda Deloushent, Minerva Hooper, Julia M. Courtois, Lucy M. Ulyatt, Melinda Benham, Harriett B. Giles, Sarah L. McFarlin (supplemental), Lina Odett, Mary I. Fitzgerald, Mariah S. Hall, Ellen E. Hart, and Elizabeth Holcomb.